Casio, traditionally known for its digital wrist watches, calculators and synthesizer keyboards, revealed two new G-SHOCK models the GB-5600AB and the GB-6900AB at a press conference held recently. Both the watches are equipped with Bluetooth 4.0 and can be linked to an iPhone. So has Casio finally launched a "smartwatch"? Well if you're thinking "Pebble", you may be a tad disappointed. While these watches do interface with the iPhone, the functionality is restricted to five key features: Incoming call alert, mail alert, social networking alerts, an alarm-based phone finding system, and time-sync with your phone. More on these features later.
This new collection of G-SHOCK was unveiled by the flamboyant self-proclaimed tough-guy celebrity Rannvijay Singh of Roadies fame. Also present at the product launch was Casio India Managing Director, Mr. Masao Naka who said "Casio is always introducing products with never before features and this new Bluetooth compatible G-SHOCK line of watches has specially designed for generation next by incorporating Bluetooth v4.0 in the new models."
Equipped with the new Bluetooth v4.0 Low energy Wireless Technology, this new series of watches from G-SHOCK is not only tough but it is also claimed to be intelligent. Android users will be chapfallen though and not all Apple guys can rejoice either. The watches are only compatible with only the iPhone 4S and the iPhone 5.
Casio G-SHOCK GB-5600AB & GB-6900AB features:
The watches display notification of incoming calls and e-mails via the watch. The Phone Finder function enables you to locate your phone (if it is within range) by triggering an alarm from the watch. So what happens if the phone is not within Bluetooth range? Well, there's a Warning vibration feature that gives your wrist a little nudge when the watch loses its connection to the iPhone, so you can quickly double back and locate your phone. The time adjustment function, allows synchronizing with time data received from the iPhone.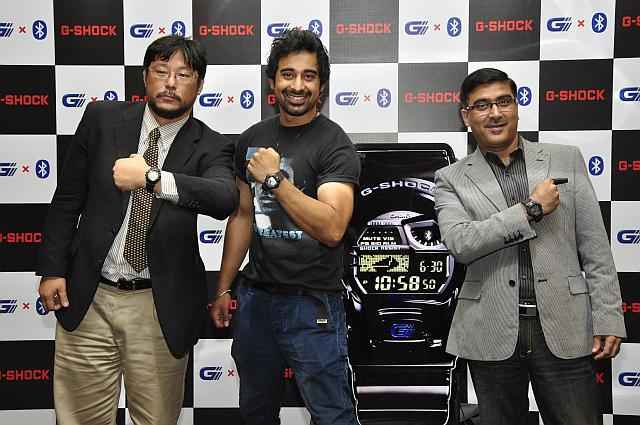 From Left Mr. M.Naka MD Casio India, Mr Rannvijay Singh (Center) and Mr Kulbhushan Seth-VP Casio India
There's also a built-in tilt sensor to detect movement in the watch, while it is in power-saving mode and to automatically reconnect to the iPhone. This means that when the watch is not on your wrist you can let it hibernate and save battery. Speaking of battery, Mr. Kulbhushan Seth, Vice - President, Marketing Casio India, made it a point to state that unlike other smart watches you don't need to charge them everyday as the battery lasts for two years.
Of course apart from these "smart" features, the watches stick to the age old G-SHOCK cred of being of being shock resistant, low temperature resistant, vibration resistant and electric current resistant.
Casio G-SHOCK pricing and availability:
Priced at Rs. 9,995/- these watches are available nationally at Casio's exclusive outlets as well as leading multi brand watch stores.
Note: We're happy to report that at no point during the press conference did Ranvijay appear to be "stunned".