India's telecom giant Bharti Airtel has become fourth largest telecom operator in the world in terms of subscribers, according to the Wireless Intelligence 'Scoreboard' report. At the end of the quarter ended June 2012, the Company had over 250 million mobile subscribers across its operations, representing 13 percent Y-o-Y growth.
"India's Bharti Airtel (#4) was the only other member of the top ten to move up the ranking, recording a 13 percent year-on-year rise in connections (to 250 million) and leapfrogging Telefónica to become the world's fourth-largest operator group in Q2," says the report.
"However, Bharti's US$3.04 billion in mobile revenue in Q2 2012 is significantly lower than the four other operators in the top five, reflecting Bharti's presence in the ultra low-cost, low-margin Indian and African markets."
Bharti Airtel had become the fifth largest mobile operator in the world after it took over Zain Group's mobile operations across 15 African nations in June 2010.
Among the top five operators in the world, China Mobile topped the list with 683.08 million subscribers. Vodafone stands at number two position with 386.88 million subscribers whereas America Movil Group and Telefonica Group occupy third and fifth position with 251.83 million and 243.51 million subscribers respectively.
In the top 20 list, there are three other Indian telecom operators as well - Reliance Communications, Idea Cellular and state-run BSNL. With 154.60 subscribers, RCom is at the 8th position, while Idea ranks 14th with 117.16 subscribers. BSNL is at the bottom in list with 98.28 million subscribers.
Telenor and Sistema foreign firms with a subsidiary in India stood at the ninth and fifteenth position, respectively.
Check out the full report here. Also check out the list of the top operators below: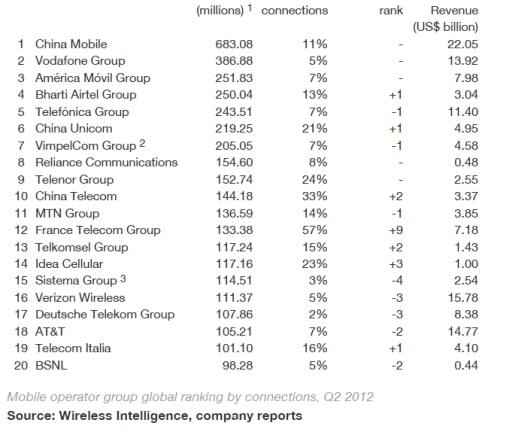 Also read,