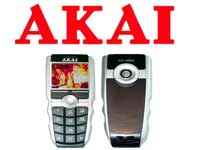 Akai, a major Japanese consumer electronics brand headquartered in Singapore, is looking to diversify its presence in IndiaWhere to buy

65

105

150 with the launch of 10 new mobile phones. All the phones are dual SIM and inexpensive, making it obvious that Akai is aiming to tap into the growing demand for such devices in India.
The 10 Dual SIM handsets will be priced between Rs. 1,895 and Rs. 7,995 according to Akai, and many of them will offer a range of smartphone features from Wi-Fi to social networking and HD video recording. The phones will be launched in India via Global Brands Enterprise Solutions (GBES), along with new ranges of Akai televisions, home theatres, and DVD players. Akai is also looking to launch inverters, netbooks, accessories for mobile phones and fixed line wireless phones as well. GBES also holds marketing rights in countries like Sri Lanka, Bangadesh and Nepal.
Pranay Dhabhai, Managing Director of Akai India and promoter of GBES spoke about the revival of the brand: "The mobile handset market in India is growing rapidly and there is a great demand for quality handsets. With Akai mobiles now being available in India and with our global expertise and understanding of Indian consumer needs, we will be giving a tough time not only to the Indian brand dominating the dual SIM segment, but also the other Multi National brands dominating the Indian mobile Industry"
"We have introduced a range of phones that will cater to the requirements of all segments of consumers across categories. We hope to become a prominent player in the Rs. 700 billion mobile handset market in the coming years," he added.
The handsets will be initially available at 8000 retail outlets in IndiaWhere to buy

65

105

150, and Akai hopes this number will increase to 20,000 by the end of September 2010.