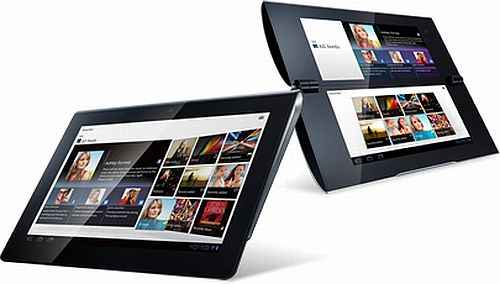 Sony's Android Honeycomb based tablets, S1 and S2, are set to hit the Indian market very soon. According to TabletsLaunch, Sony is presently holding talks with all telecom operators in India and Idea is believed to be the frontrunner. The report says the Sony tablets will be priced at Rs. 29,000.
It may be recalled that Sony had unveiled its tablets at a press conference in Tokyo few months ago. The S1Where to buy

359 and S2Where to buy

566 are both Android Honeycomb devices. The S1 comes with a 9-inch display, while the S2 tablet has two 5-inch displays. You can check out our previous coverage on the tablets here. [RELATED_ARTICLE]
The fresh rumours are that S1Where to buy

359 will be available in four versions namely 16GB Wi-Fi only; 16GB Wi-Fi and 3G; 32GB Wi-Fi; and 32GB Wi-Fi and 3G while the S2Where to buy

566 will come in 6GB and 32GB Wi-Fi 3G models.
Sony has been teasing the devices on its Sony India page for a while now. The company has so far posted four videos or "stories" depicting the glory of its new tablets. The fifth story is expected to come on August 23, the expected date of the launch of the devices in India.

Screenshot of Sony India page teasing S1Where to buy

359, S2Where to buy

566 tablets
Meanwhile, reports claim that the Sony S1Where to buy

359 will be available for pre-order in the UK next month, while AT&T will host the S2Where to buy

566 in the US very soon, most probably next month.
Also read,