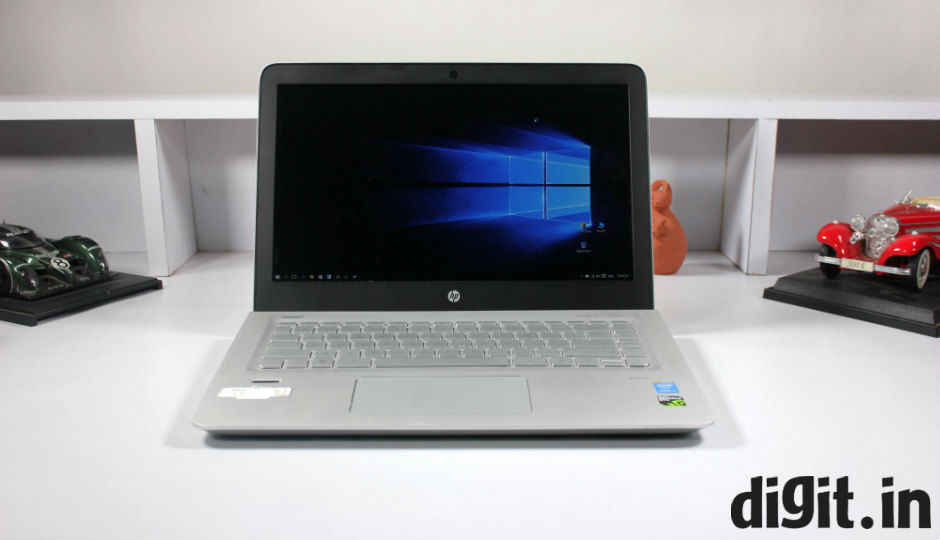 HP Envy 14-J008TX Review: The HP Envy 14-J008TX is a pretty powerful device that is suited for business users inclined towards gaming as well.
HP Envy 14-J008TX Rating

75

100
Our Verdict
The HP Envy 14-J008TX is a business laptop, but one that suits casual gamers in need of a multipurpose device, the best.
PROS
Good display
Good gaming performance
Well built
CONS
Average battery
Function keys are too small
HP Envy 14-J008TX: Detailed Review
The HP Envy range of laptops generally bring dependable hardware in a light and robust chassis and the it continues with the new range as well. This current gen HP Envy 14 - J008TX is the direct successor to last year's HP Envy k102tx. The latest refresh brings a more power efficient 5th Gen processor from Intel, Nvidia 900 series GPU, 12GB of RAM and more. While the laptop is a complete overhaul in terms of specs, HP has kept the design pretty much the same and on first look, the HP Envy 14-J008TX looks quite promising. So, is it worth the money? Let's find out.
Design and Build
Design is kept simple and minimal. The lid as well as the keyboard base is made from aluminum, which makes it sturdy, as well as a premium device. The bottom is made of plastic and host the ventilation grills.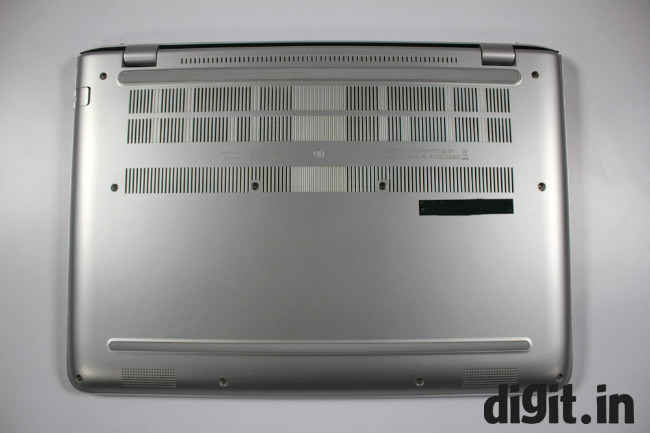 Two rubber strips also run across the bottom of the laptop. There are two rubber feets on the back of the lid as well which drop into place when the lid is opened. This raises the keyboard and provides it the required tilt for typing and also keeps the display rock solid in one position.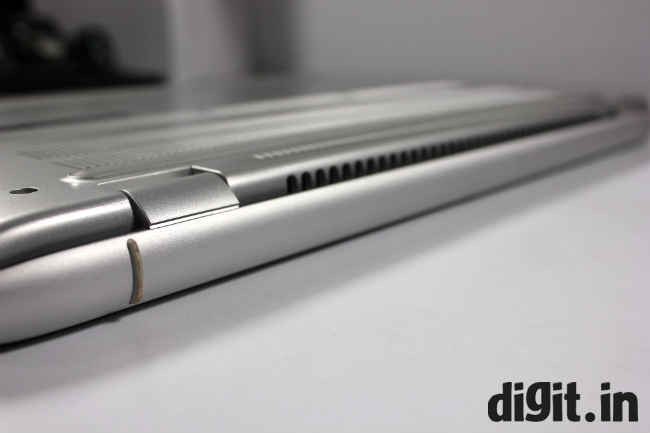 Display
The 14-inch 1080p display is actually one of the best features about this laptop. First of all the viewing angles are very good. The 1080p full HD panel is really nice, with a matte finish, which avoids glare. There is no undersaturation. At first text visibility and sharpness did vary from application to application, which was a problem with Windows 8.1. This was solved when we updated to Windows 10 and updated the graphic drivers.
Keyboard and Touchpad
HP's chiclet type keyboard is not that bad. The keys are aptly spaced, except the arrow keys which do feel a bit congested. There is ample palm rest space and typing on this laptop is not tiring at all. The keyboard is also backlit, but there are no settings to change the intensity, with only an on/off switch. That takes us to the function cum shortcut keys, which work without pressing the 'fn' key making them much easier to use. However, the entire function key (top row) is quite small and may require some getting used to.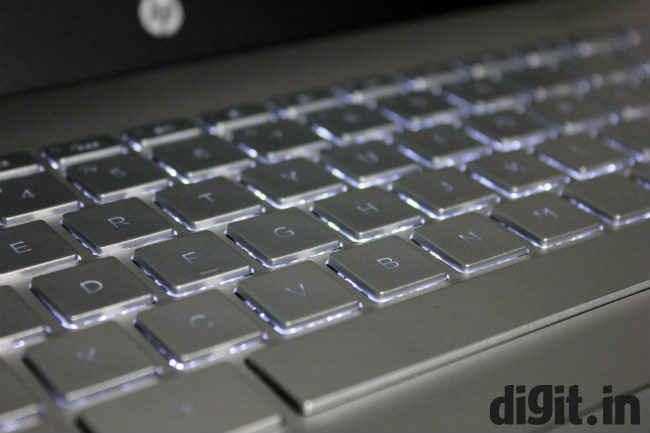 Coming back to the typing experience, every key on the keyboard offers the right amount of resistance and key travel. There is an audible click when pressing a key, making the typing experience much more intuitive. Since the keyboard base is aluminum, there is zero flex in the keyboard, which adds up to the good typing experience. On the left palm rest, there is a fingerprint scanner which works most of the times.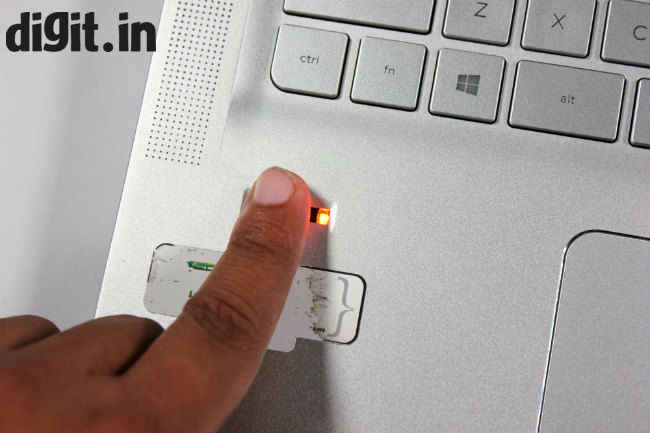 Let's move on to the large TouchPad below the keyboard. This does not have any buttons and has a similar aluminum finish, tying it seamlessly with the rest of the construction. Out of the box, thanks to the unintuitive Synaptics driver, a single swipe across the touchpad was not able to cover the entire display but that can be tweaked within the settings menu. Left and right key presses have an audible click to them and worked without any misclicks during our review.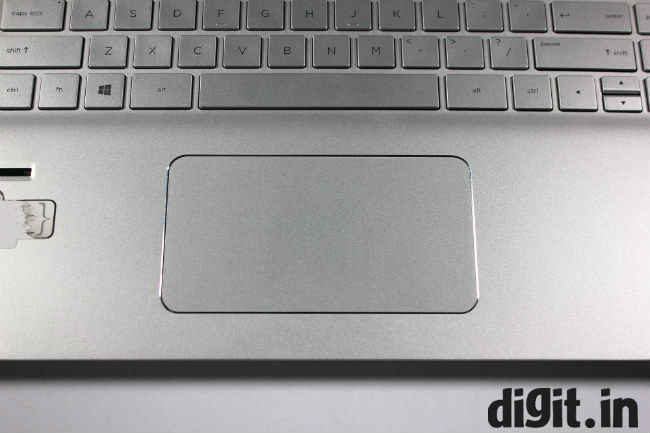 Performance
With a jam-packed spec sheet like this, the performance of this HP Envy 14 is more than enough to take care of office work and games like Witcher 2 run quite well, albeit, not on full settings. The dual core low power Intel Core-i7 5500U may not be the highest performing mobile chip out their but it is no slouch either. We used the laptop for almost a month. In that time we used it constantly for typing, intensive browsing (more than 20-25 tabs in Chrome), playing Metro Last Light and sometimes just keeping everything an Alt-Tab away, and, the laptop worked just fine. Talking more about gaming, the 4GB Nvidia GeForce 950M inside can handle many good games at medium to high settings. Even in demanding games like Call of Duty: Advanced Warfare, the frame rate only dropped during cinematics. As mentioned above, games like Witcher 2: Enhanced Edition worked flawlessly at high graphic settings when played at 720p.
This year HP has a new audio partner 'Bang and Olufsen', but the speaker system is barely loud enough. Even with four speakers and one subwoofer on-board, the laptop is not able to pump out audible sound. We were only able to hear the laptop when the surroundings had no or minimal sounds. Audio quality via the headphones is really good on though.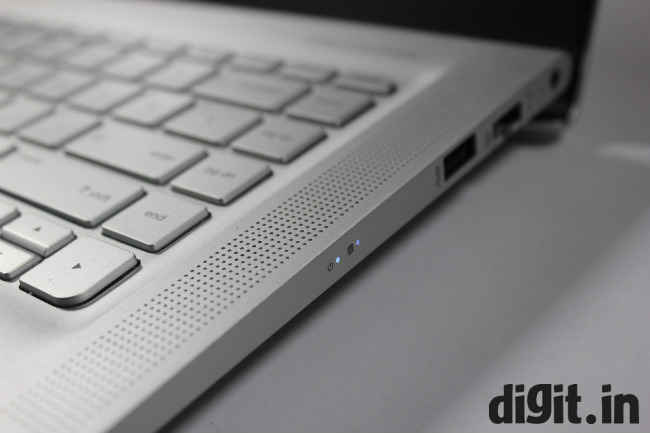 It also has ample ports. There are three USB 3.0 ports, one HDMI, one ethernet jack, and one mic and headphone combo jack. It's thin profile doesn't allow for a DVD drive, but that doesn't really matter much nowadays. The laptop weighs about 2kg, which is just about acceptable.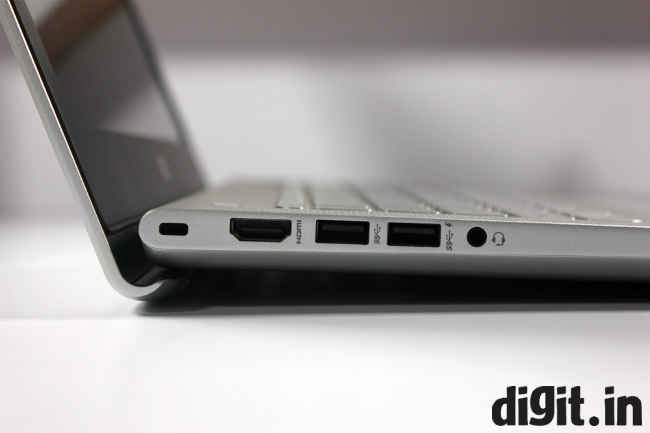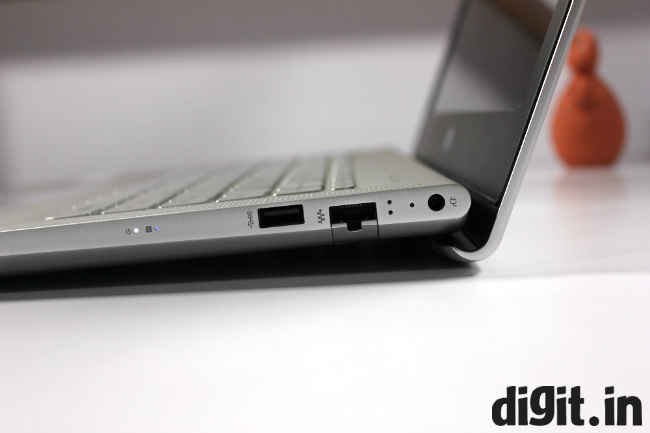 Battery
There is a 3-cell battery on the HP Envy 14, and it supports the laptop for upto three and half hours on normal usage. That means, you can browse, the web, watch a movie, write mails on a single charge. However, when we tried gaming on the laptop, the battery understandably dips very quickly and the battery life is limited to just over an hour. All in all, the battery life is just average and one might have to carry the charger at all times.
Bottomline
The HP Envy 14-J008TX is a multipurpose laptop with good looks. It can work both as your office machine as well as a pretty good gaming laptop. While you will get better gaming laptops that this, it's one that a gaming enthusiast in need of a multipurpose laptop can definitely consider. The device also has a good keyboard, a decent touchpad and very good display. The battery and the small function key row might be the only real downside here and if you don't care about them, this is a very good laptop to buy.
Other Popular Deals
*Includes Cashback