Alongside the ROG Flow x13 convertible gaming laptop, ASUS also launched the ROG Zephyrus G15 gaming laptop. The Zephyrus G15 laptop takes everything that's good about the Zephyrus G14 and brings it in a bigger chassis. Here's everything you need to know about this laptop.
ASUS is bringing two variants of the ROG Zephyrus G15 to India. You get to choose between either the AMD Ryzen 7 5800HS or the Ryzen 9 5900HS. For GPU, you can configure the Zephyrus G15 with either Nvidia RTX 3060 or an RTX 3070, both configured with 80W TGP. Besides that, you essentially get the same set of specs with both laptops.
ASUS ROG Zephyrus G15 Design & Build Quality

The Zephyrus G15 is eye candy, especially the white variant of the laptop which we got to use for review. It's got a thin profile, coming in at just 19.9mm. It's not exactly a thin and light laptop but only 1.9Kgs, which still makes it lighter than most gaming laptops on the market with a similar set of specs.
The Zephyrus G15 body is made out of a blend of magnesium and aluminium, and the chassis is very rigid. It also has ASUS' Ergolift design with which the body of the laptop lifts ever so slightly when the lid is open all the way. The lid of the laptop comes with over eight thousand tiny perforations and it's got thin strips of prismatic film underneath that. It creates an interesting rainbow stripes pattern depending on how the light falls on it.
The ASUS ROG Zephyrus G15 also comes with 6 speakers - two front-firing tweeters and a set of force-cancelling woofers under the palm rest. Unsurprisingly, they sound great. The audio quality is clear with very strong bass and powerful percussion. You can also jump between multiple equalizers thanks to Dolby Access.
ASUS ROG Zephyrus G15 Performance
We reviewed the AMD Ryzen 9 5900HS along with an Nvidia GeForce RTX 3060 GPU. The Ryzen 9 5900HS is an absolute beast of a CPU with 8 cores, 16 threads, and 16MB L3 cache. The base clock speed of the 5900HS is 3.3Ghz and it can go up to 4.6Ghz under load via Turbo.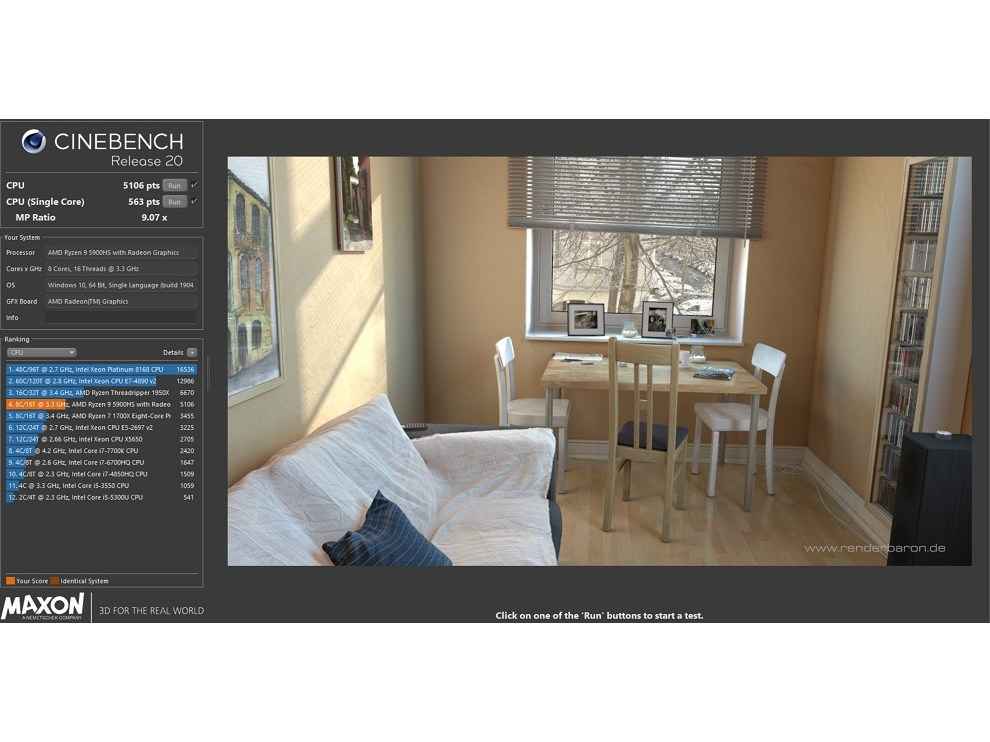 In Cinebench R20, Zephyrus G15 managed to score 563 pts in the single-core test and 5106 pts in the multi-core test. It turned out to be better than the laptops powered by Intel's Comet Lake CPU.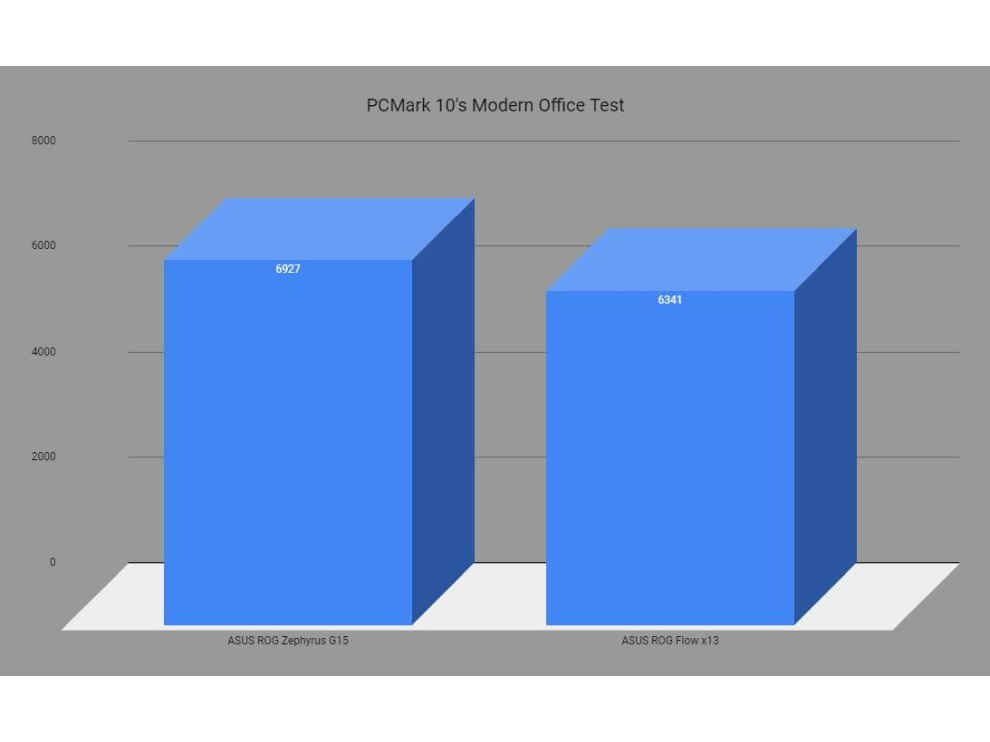 In PCMark 10's modern office test, the Zephyrus G15 scored 6927 pts and outperformed the competition here as well. It's quite evident that the overall system performance is hugely benefited from the fast CPU. Overall, we think the Ryzen 9 5900HS CPU is a solid option for this laptop and it outperforms that competition by up to 10-percent at least on the CPU-centric tests.
Gaming Performance
Moving on to the gaming performance, my ROG Zephyrus G15 review unit comes with an RTX 3060 GPU configured for 80W TGP.
The Zephyrus G15 managed to score 8028 pts in 3DMark's TimeSpy test and scored 18019 pts in 3DMark's FireStrike test at 1080p. Both scores, as you can see are indeed comparable to that of the ASUS ROG Strix Scar 15 that packs the RTX 3080 GPU.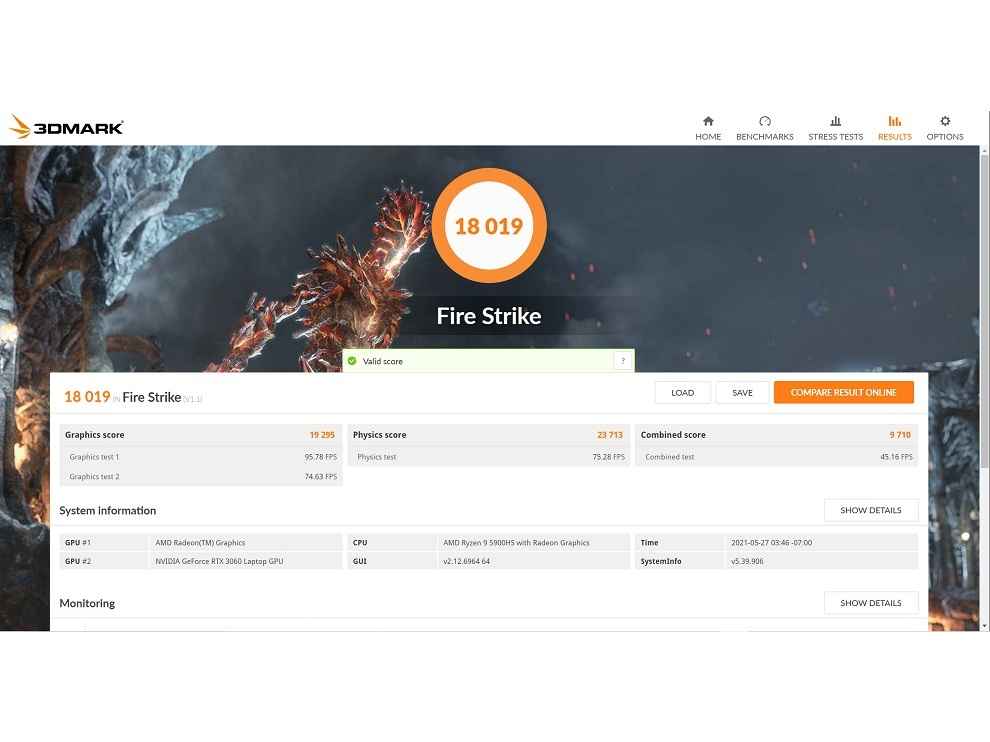 The Nvidia GeForce RTX 3060 can handle the games at the laptop's native resolution i.e. 1440p. Shadow of Tomb Raider was running at around 70FPS at 1440p resolution with the highest graphics preset. Apex Legends also maxed out at around 120FPS at 1440p & maximum settings. Modern AAA titles like Red Dead Redemption 2 are also playable at 1440p resolution with maximum graphics settings.
1440p gaming is definitely possible with this GPU but modern AAA titles will force you to bring down the graphics settings to get better frame rates. Here's an FPS graph to give you an idea of how games run at 1080p on the Zephyrus g15 laptop -

ASUS ROG Zephyrus G15 Creative Workload Test
The ROG Zephyrus G15 sports one of the best laptops panels with high colour accuracy. In Lightroom, the ASUS Zephyrus G15 was able to export batches of 50, 100, and 500 RAW files shot on a Nikon D850 in just about 119, 237, and 1098 seconds respectively. On Adobe Premiere, it was able to export a 5 minutes 4K project in 279 seconds.
ASUS ROG Zephyrus G15 Display
Just like the ROG Strix Scar 15, the Zephyrus G15 also comes with a 15.6-inch 1440p panel with support for up to 165Hz and 3ms response time. 1440p looks noticeably more crip than 1080p panels and ASUS decided to take it up a notch by adding a higher refresh rate and a colour calibrated panel.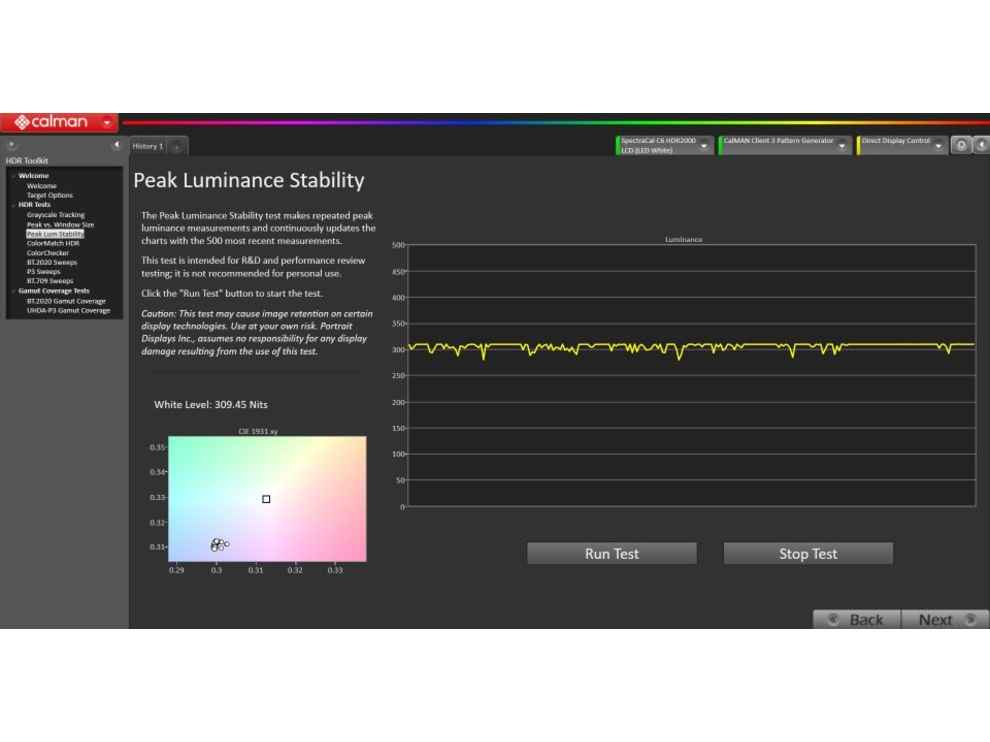 The Zephyrus G15 has a peak brightness of 290cd/m² and it showed a black luminance level of just 0.3cd/m². The display also yielded a contrast ratio of 966:1, which isn't bad by any means for an IPS display. The display certainly shows some blue bias as it showed an average colour corrected temperature of 7133. The display also covers 98.4-percent of DCI-P3 and 146.6-percent of sRGB colour space.
The display showed an average DeltaE value of 3.2 and a maximum DeltaE value of 6.2. These numbers are significantly better than what we got earlier with both the Flow x13 and the ROG Strix Scar 15. Head over to our review section of the laptop to learn more about the laptop's display.