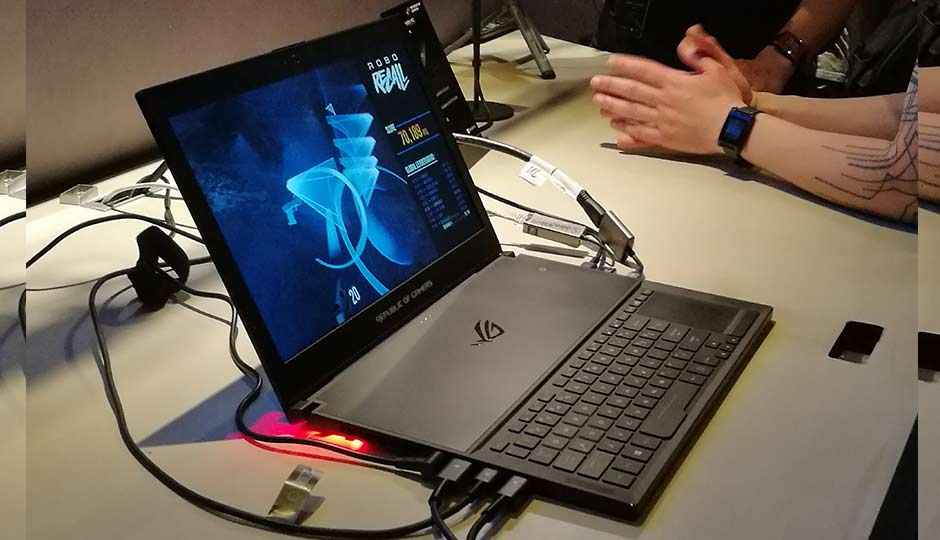 Slim and power-packed
ASUS GX501 Zephyrus Gaming Laptop Rating

83

100
Our Verdict
The ASUS ROG GX501 Zephyrus bridges the gap between performance and portability. At Digit, we simply can't count the number of times that we've been asked for recommendations that could not only provide great portability but also not compromise on performance. Often, the answer was an either-or but never could you have an option with both. The ROG GX501 gives you great portability thanks to its 18 mm thickness and low weight of 2.25 kg. However, it's still a 15.6-inch laptop which will dissuade some buyers. On the performance front, the Max-Q enabled GTX 1080 can easily handle every single AAA game running at Ultra settings. The downside is that the battery doesn't last long and that was never a concern while gaming. However, even with normal everyday tasks, we're gettings 2-2.5 hours at max. There is a solution for that, the CPU and GPU are extremely over-powered for normal day-to-day tasks. So we used Intel Extreme Tuning Utility to ramp down the CPU while we were not gaming. A similar thing can be done to the GPU using MSI Afterburner. We easily managed to get more than 3 hours with these enhancements, however, had we played around with the power profiles a little longer, we could have come out with a better profile. Overall, the ASUS ROG GX501 Zephyrus with its unique proposition offers what no other laptop does in the Indian market right now – a slim and powerful machine. The ball now lies in the competition's court to see when the other Max-Q laptops make it to India.
PROS
NVIDIA MAX-Q GTX 1080
Extremely portable
Great display
CONS
Underside is a bit flimsy
ASUS GX501 Zephyrus Gaming Laptop: Detailed Review
ASUS's GX501 or Zephyrus has been enjoying quite a bit of attention thanks to it being the first gaming laptop to feature NVIDIA's Max-Q technology. NVIDIA's Max-Q is a set of technologies pertaining to physical design, electrical design and thermal design. Currently, the GTX 1060, GTX 1070 and GTX 1080 GPUs have Max-Q variants and the Zephyrus is part of the first wave of laptops to feature them. Others include the Acer Predator Triton 700, GIGABYTE Aorus X5 MD, MSI GS63VR Stealth Pro-002, GS73VR Stealth Pro-033 and the Clevo P950HR. Except the Zephyrus, we couldn't find listings for the other models in India. At the Computex 2017 ASUS press event, it was revealed that NVIDIA and ASUS have a joint design facility from where the Zephyrus was born, which makes it the first ever gaming laptop with Max-Q.
Naturally, we were a bit curious to have a look at how a Max-Q laptop is designed. So we took the unit apart to take a peak inside and discovered an entirely different approach to cooling. Before we get into that, let's have a look at the specs.
ASUS GX501 Zephyrus Specifications
The ASUS GX501 Zephyrus is powered by the Intel Core i7-7700HQ and an NVIDIA GTX 1080 (Max-Q). So we're expecting quite a lot from the unit, what stands to be seen is where the laptop throttles, if at all it does, and how much do we end up losing out on performance, if at all throttling should happen.
ASUS GX501 Zephyrus Specifications

Processor

7700HQ 2.8 GHz

Platform

HM175

RAM FSB

2400 MHz

RAM Capacity

24 GB

Screen Size

15.6–inches 120 Hz G-Sync

Screen Size

1920x1080

GPU

GTX 1080 8 GB DDR5X (MAX-Q)

SSD

Samsung SM961 1 TB NVMe

HDD

NA

Ethernet

NA

Wi-Fi

Intel Dual Band Wireless-AC 8265

Audio

Realtek ALC295

Battery

3255mAh 50 Whr @17.2v

AC Adapter

230 W

Weight

2.25 Kg
Despite the thinness of the laptop, ASUS has managed to squeeze in a 50 Whr battery which is commendable feat, however, with a GTX 1080 that's set to be drained quickly. The other noteworthy addition is that of a 230 W power adapter. We've seen some units from the competition carry lower wattage adapters since the GPU is designed to work for a lower power envelope, with the Zephyrus, it seems we'll not have that issue.
Chassis Build
he Zephyrus has a very minimalist approach. The top half of the clam has a brushed metal finish with a sharp line where it appears as if two halves meet just like the confluence of two streams.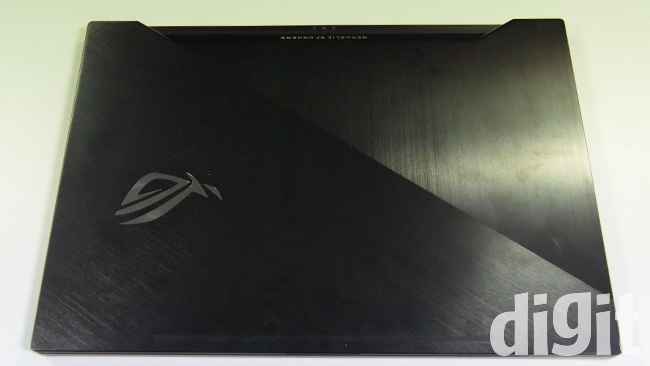 There's hardly any elevation in the centre of the laptop. It's very thing coming in at 17.9 mm.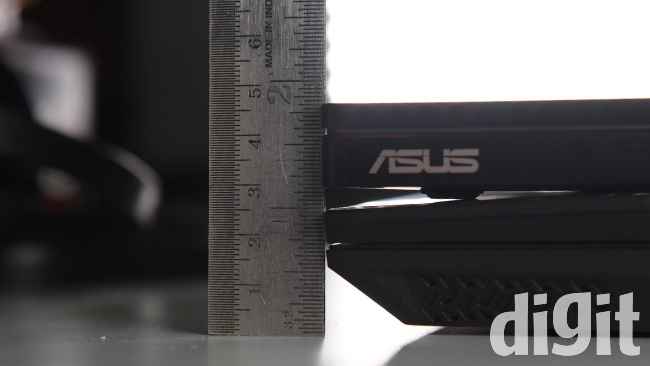 The underside is very different from all the laptops we've seen for a really long time. Why? The absence of vents, that's why. There are two lean vents on either side but they seem ridiculously ill-prepared to handle an NVIDIA GTX 1080.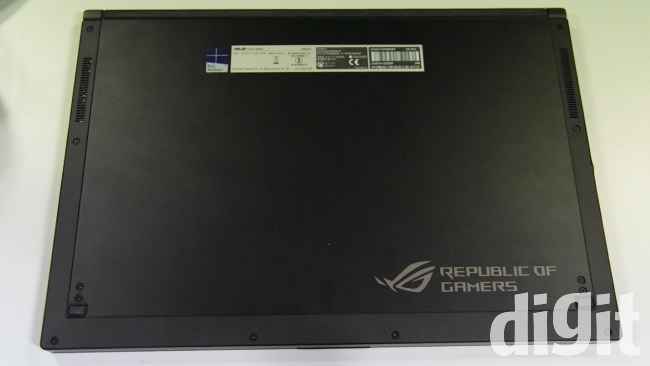 It's only when you open the lid, that you see vents magically appear out of nowhere.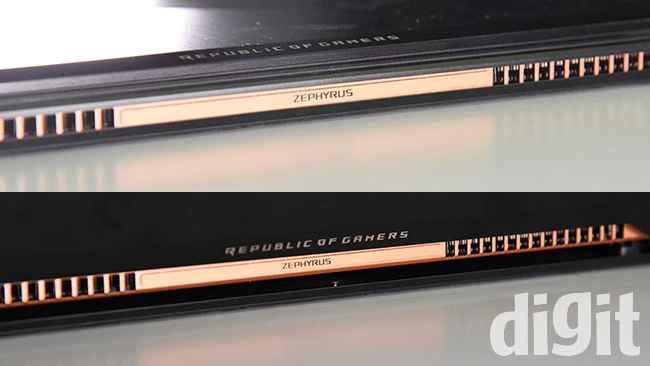 This is because the entire flat panel under the laptop acts as a hatch. Opening the lid extends two levers which adds separation between the hatch and the bottom of the laptop as we can see in the lower portion of the above image. Upon removing the bottom hatch, we see a completely sealed off underside. All that's exposed are two cooling fans which intake from the bottom. And then there's the hinge that extends outwards to elevate the Zephyrus. Let's take a closer look at the hinge.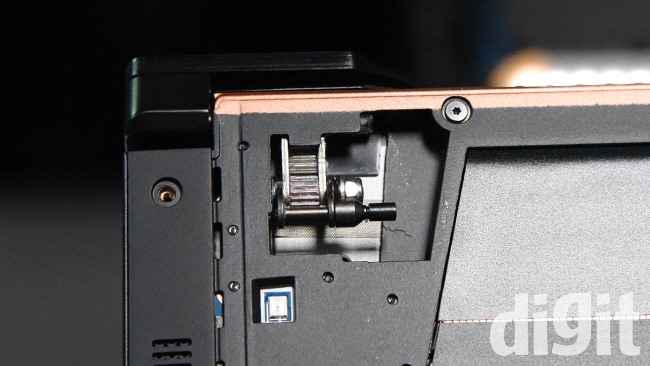 It appears to be fairly sturdy and the thickness of the metal plates that form the hinge mirror what we've seen in other laptops. The small part that's jutting out goes into the plastic guide that's shown below.
The only concern here is that over time, this guide is going to erode a bit. So having metal inserts in the groove or making the entire thing out of machined metal would have been a better approach.
Not being satisfied with a huge plain plastic sheet, we then proceeded to further dissect the laptop only to come across quite a bit of FRCs. Thanks to the thin construction, ASUS has managed to make good use of the limited space they set out to work with. Which is why, once opened up, we ended up with this.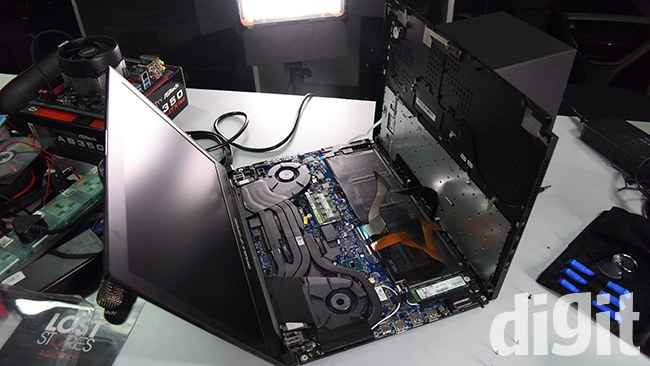 The display panel is on the left and the hatch is on the right. Upon closer inspection, we see that hatch is mostly comprised of a keyboard and vents for hot air to slip out. Since most of the heat is being vented from the rear, there's barely anything coming out through the top hatch. Adding dust filters to the vents on the hatch is a good move.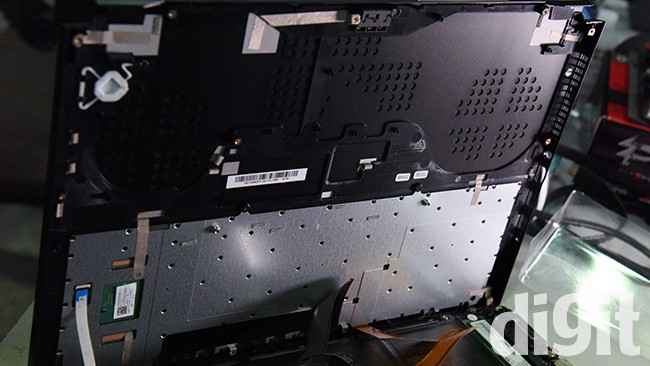 Here's how the motherboard appears from the top. We can see that the cooler takes up the most real estate with the battery coming in at a close second. There's one slot for RAM on this side of the motherboard which is populated by a SAMSUNG 16 GB DDR4 DIMM rated at 2400 MHz.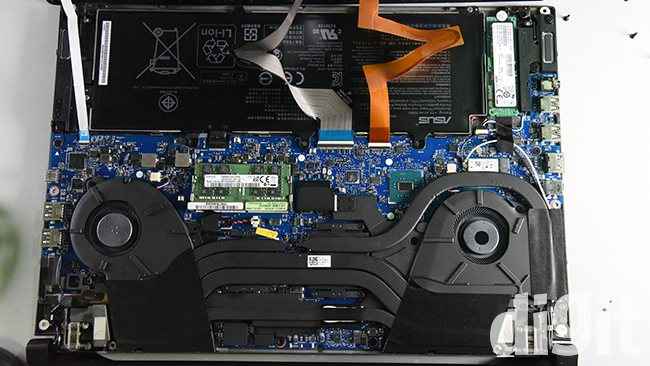 Because of the space taken up by the cooler and the battery, we see why ASUS couldn't squeeze in a memory card reader. The cooling assembly has multiple heatpipes routed right over the CPU, GPU, VRM and the Memory chips for the CPU. Nothing's exposed aside from the PCH.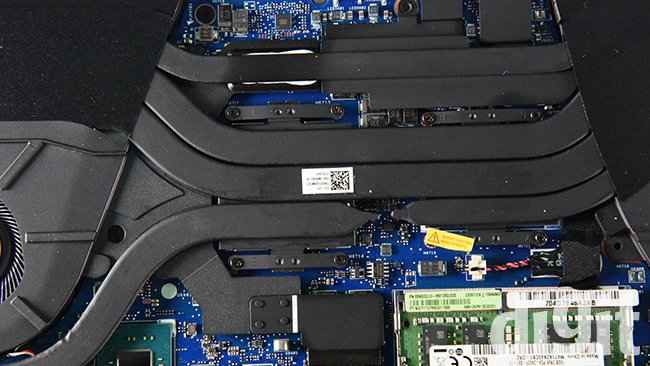 The audio on the GX501 Zephyrus is very standard, and these aren't down-firing speakers which is the common arrangement seen in most laptops today. Such an arrangement ends up being louders which is a nice thing, however, you are also susceptible to dust collection. Since these pores are really minute, you won't have as much dust getting accumulated as compared to an arrangement with really big vents.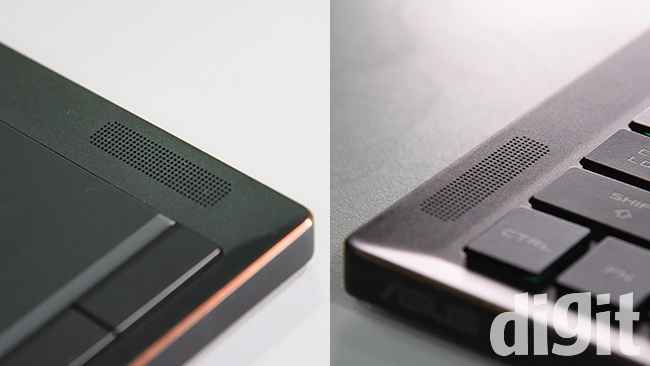 The topside, has a classy ROG logo with activity LEDs placed right near the edge. The LEDs aren't distracting when using the laptops in a dark environment.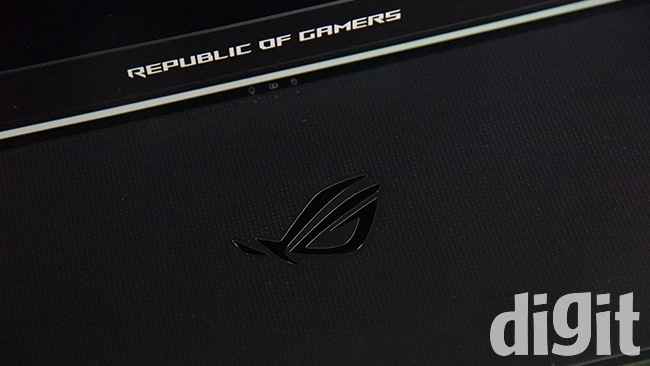 The build of the GX501 Zephyrus is really unique. We can see why NVIDIA chose ASUS as the first partner to come out with the MAX-Q laptops. This was revealed by NVIDIA CEO, Jen-Hsun Huang at the COMPUTEX 2017 press conference. Cramming in all the features expected from a high-end gaming laptops without all the accompanying bulk really sets MAX-Q laptops apart. Moreover, they sport a hefty price tag too. However, with the new Intel Kabylake-G CPUs, we see this trend to become common and affordable soon.
Keyboard and Touchpad
Bringing the keyboard lower on the body isn't a new concept, however, it certainly is necessary in this case as the GTX 1080 should start heating up under load. And since the laptop is particularly thin, the touch temperature would be high. However, with this design the user will not face any discomfort. As seen from the chassis design, the keyboard rests atop the battery so there's no worry of higher touch temperature at all.
The absence of a numpad can be really irksome for those who're used to a gaming on the desktop. Especially, if you're into MMOs wherein a lot of macros are needed. Having the touchpad turn into a numpad makes up for that by a margin. In this case, you still need to glance at the pad since you might end up accidentally pressing the wrong macro as there are no physical marks to distinguish between the different keys. You never want to be "that support guy" who accidentally casts a charm right in the midst of a boss battle instead of a heal. That kind of accidents will get you booted from the raid and possibly from the guild as well.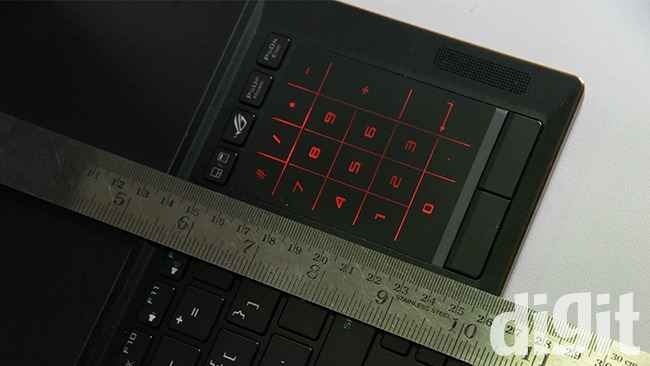 Lastly, it's nice to see that the 'Home' and 'End' keys being incorporated in the last two buttons atop the touchpad. Being one of the most used keys on the keyboard for us, it's an appreciated configuration.
I/O ports
The thing with thin laptops is that you have to resort to thinner ports. If not, then the bezel around the ports end up becoming too thin and tend to bend. Which is why you see USB Type-C ports on thin gaming laptops and convertibles. Since the ASUS ROG GX501 is thicker than most convertibles, they've added USB Type-A ports on both sides. All of them being USB 3.1 except the Type-C port which is 3.2. There's an HDMI port included. The only obvious ports that aren't present are the Ethernet port and a card reader.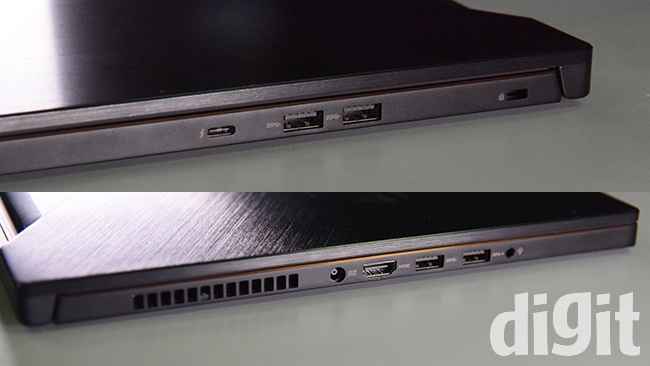 We do get USB Type-C to Ethernet adapters in case you need them. However, an Ethernet port is 13.5 mm tall so once we take out the thickness of the display from the overall thickness of 18 mm and allow for clearance as well, it becomes completely unfeasible to have an Ethernet port. Gaming is generally preferred over wired connections for the better ping, we didn't find a major difference in the ping while playing over Wi-Fi. It should be noted that we played PLAYERUNKOWN'S BATTLEGROUNDS over Wi-Fi and our ping is generally around the 15 ms mark over wired connection. With Wi-Fi, we saw it hover around 18-19 ms which is still very good.
If you look at the GX501 from an internal perspective then the bottom half is devoted for the battery and the top half is devoted for the cooling assembly as shown in the image above. Towards the sides, they've managed to squeeze in a portion of the motherboard onto which the ports and the PCIe SSD are mounted. A card reader slot takes up quite a bit of space both vertically and horizontally. If one had been included, then we're looking at losing out on two existing ports. That's a trade off we'd rather not make. So, we can see that the card reader wasn't included for a very good reason.
Display
The ASUS ROG GX501 features a 24-inch IPS panel with a resolution of 1920x1080. Sure, the GTX 1080 will easily handle 4K gaming but we believe that the 1080p panel was chosen to ensure the GPU didn't get overworked. If you were to switch on Dynamic Super Resolution, then you'll get a the same compute overhead as a 4K panel. And the GPU should heat up to an unnecessary level.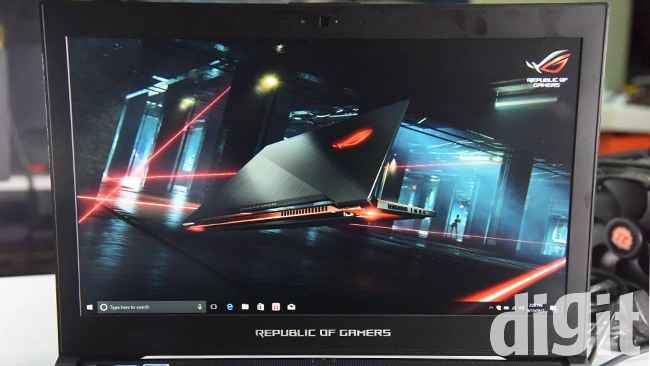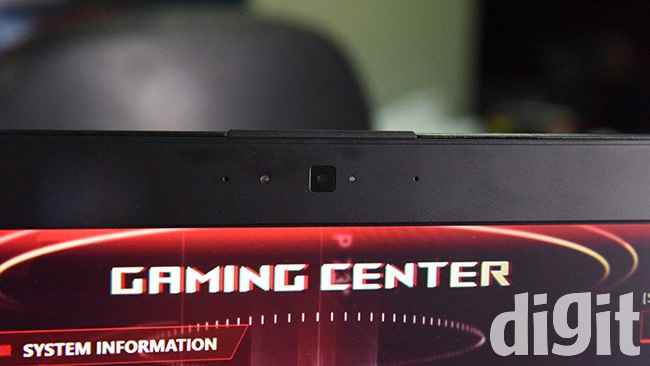 The webcam is HD ready which seems to be the norm these days. Image clarity wasn't out of this world but it's enough for most use cases. Should you need better quality it's always advisable to go with a Logitech C920 or better.
Since the Zephyrus makes use of the fancy hatch system, the rear of the laptop gets a little elevated upon being completely open. At this point, the display is at an angle of 120 degrees from the base. Compared to some of the previously tested units, this seems a bit low if you were to keep the Zephyrus on your lap. Anything over 140 degrees is where things start getting more comfortable. And as mentioned earlier, your lap isn't the right place for this laptop.
The panel is quite well sealed off, there's hardly any bleed which is consistent with most laptops in this price bracket.
Performance
We're looking at a very common configuration with the ASUS GX501 Zephyrus. The Intel Core i7 7700HQ coupled with 24 GB of DDR4 RAM clocked at 2400 MHz ensure a pretty high headroom for most mundane tasks. The GTX 1080 MAX-Q just takes it to a different level. Almost every AAA title gets more than 60 FPS and you can even switch on NVIDIA DSR for some of the titles for some extra smoothing.
We started off with CineBench and R15 and the GX501 Zephyrus scored 160 in 1T and 735 in nT benchmarks. These scores seem to be on par with the other Intel 7700HQ laptops we've tested. WinRAR's compression benchmark scored 7843 KB/s which is very similar to the MSI GE62 7RE and the Acer Nitro AN515-51 that we've tested earlier. As for PCMark8, we used Accelerated to leverage the GPU and ended up with a score of 5288 on PCMark8 Work (Acc.) and 5049 in PCMark8 Home (Acc.). We had a few crashes on our 3DMark FireStrike Extreme runs while all other 3DMark benchmarks ran without any issues.
Storage
The Samsung SM961 is one of the top SSDs you can get in the OEM market. This NVMe SSD can give you about 3,500 MBps in QD32 transfers for large file sizes while for 4K writes you'll end up with about 145 MBps. These are pretty high numbers, after all, Samsung has been leading the SSD race for quite some time now. Honestly, there's no need for RAID 0 in this laptop with such high transfer rates.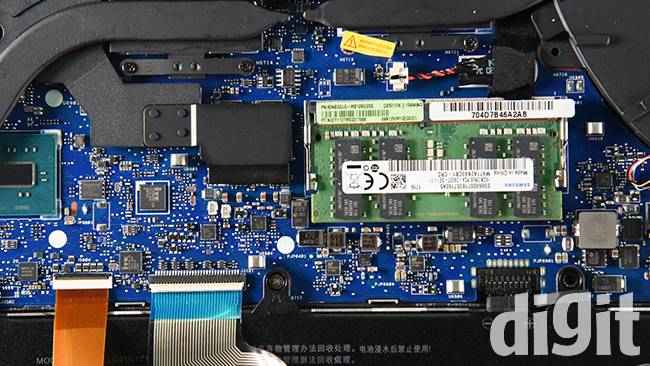 Moreover, this is not a lot capacity unit, it's a 1 TB NVMe SSD. That alone costs upwards of Rs.45,000, so you can understand why this laptop costs about Rs.3 lakhs.
Wi-Fi
For Wi-Fi and Bluetooth, the ASUS GX501 Zephyrus uses an Intel 8265 which is a dual-band 802.11ac module. It uses a 2T2R configuration to obtain a peak transfer rate of 867 Mbps. We used iPerf to see how well the add-on card fared over the 'ac' band. We managed to get 492 Mbps on the throughput and about 92 Mbps via a single stream which is quite good for streaming HD content. In fact, you can stream multiple 4K videos just for the heck of it. For gaming, we always prefer to be wired. Or at least, you need to maintain a clear LOS with the Wi-Fi adapter to keep latency at the minimum.
Gaming
The GTX 1080 MAX-Q is an optimised version of the normal GTX 1080. While gaming on the Zephyrus, we ended up with 110 FPS in Battlefield 1 while on Ultra settings. Similarly, DOOM scored 130 FPS, The Witcher 3 scored 61 FPS and PUBG hit about 78 FPS. We then moved onto 3DMark in which we managed to obtain 18222 in Fire Strike and 31021 in Sky Diver.
In TimeSpy, we scored 5661 which is pretty decent too. Overall, we'd say that the MAX-Q variant of the GTX 1080 is more comparable with the normal GTX 1070 which isn't all that bad when you consider the fact that all that power is clubbed into such a thin form factor.
Pricing
At the end of the day, you are looking at a laptop powered by a GTX 1080 MAX-Q and Intel Core i7-7700HQ laptop. It doesn't match up to the normal GTX 1080, but the normal GTX 1080 would never fit in your back-pack as easy as the Zephyrus does. We've seen how ASUS has picked a really great display and has left no stone unturned to give you your money's worth. The SSD was one such example. It costs roughly 15% of the overall laptop and is one of the best SSDs you can buy. The keypad configuration keeps your hands away from the heat sources giving you the comfort to game endlessly. Also, this is the first every MAX-Q laptop, so ASUS is hoping to learn from user feedback as to what needs to be done in the future. As of now, the GX501 and the Acer Triton 700 are the only MAX-Q laptops available in India which are this thin. Alienware has a MAX-Q variant as well, though the chassis is way thicker. For being in such a unique position, both ASUS and Acer command a hefty price premium for their MAX-Q laptops. Once more variants enter the market, you should see better pricing.
Buy Now
*Includes Cashback