YouTube is reportedly testing a new content discovery feature dubbed as Moodwall. The new tool as the name suggests enable users select videos based on their mood.
According to The Guardian, the new YouTube tool features a series of video thumbnails belonging to different categories on the homepage of the video sharing networking website. These moods range from 'funny', 'cool' to 'adorable'. Clicking on one of these categories will direct users to an endless stream of videos that match to the particular feeling users are trying to discover. It's learnt that the new feature is only available for a few users. There's no word on when Youtube will start rolling out this feature to all users. Moreover, it is unclear how Moodwall can be activated for one's account.

So far general feedback for the new feature hasn't been so well with many users seeking to remove the Moodwall from their browsing page.
"my browse page in youtube has been replaced with some weird page that calls itself moodwall. My homepage is still functional, as are the movies and upload tab, but this moodwall is this weird limited selection of a set of the same 15 videos (they were all posted around 2011)," says a user on Google's product forums.
Interestingly, another user revealed that Moodwall could be replaced by removing browser history/cache/cookies. Check out below a screenshot of YouTube's Moodwall posted by a user on Google product forum: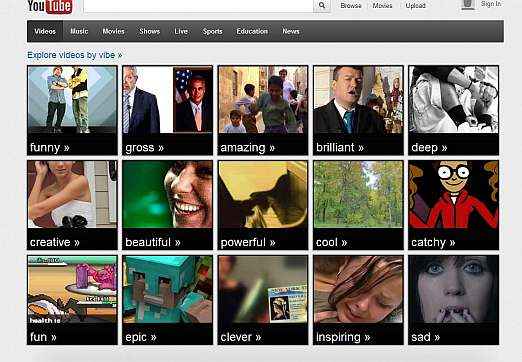 Source: The Guardian
Also read,