YouTube's co-founder and former CEO Chris Hurley has teased a new video site called MixBit. According to Hurley, MixBit will not be a YouTube competitor but rather a supplement.
Hurley said on Twitter: "the future of video is coming soon," inviting interested users to sign up for updates. Referring to Google's April Fools' prank that YouTube is shutting down, Hurley wrote: "Since @YouTube is ending, we're launching a new video site... Welcome to MixBit.com! @MixBit This time it's not a contest!"
Details about MixBit are scarce at this stage. However, Hurley was recently quoted by Adweek saying the service "primarily video based…and gives flexibility for people to work together and create content."
On the MixBit website, a message reads: "instead of sitting around, we thought you'd want a new site to not only watch cat videos, but create them…together!" This indicates that MixBit will not allow users to watch videos but to create and share them as well. The new service may allow users to create/edit videos on cloud.
It is believed that work on MixBit has been finalised and that users might not have to wait much for the official release. Until then, stay tuned for more updates.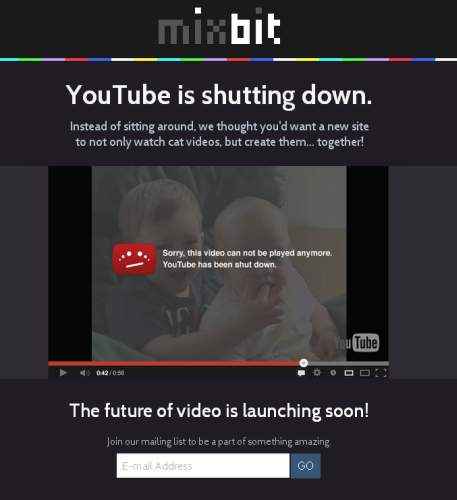 A screenshot of new MixBit website