A new version of Yahoo Mail is available for Android, iOS and Windows 8, with a web version expected to completely roll out globally soon (some of you may already be seeing it).
Marissa Mayer, CEO of Yahoo, spoke of the changes to the longstanding email service, in an official blog post:
"Email is the ultimate daily habit. It's often the first thing we check in the morning and the last thing before going to bed. Why? Because it's one of the simplest and most basic forms of communication. And since it's such an important part of our daily lives, we're making a few improvements to Yahoo! Mail.
You've told us loud and clear that you want fewer distractions when it comes to email. You want to quickly login, communicate, and get on with your day. And we've listened. Starting today, the new Yahoo! Mail is fast, easy and available anywhere you go. These improvements will be available on all major platforms: Web, Windows 8, iPhone/iPod touch and Android.
We've redesigned the new version of Yahoo! Mail with speed in mind -- getting through your emails is faster than ever before. We've also made your inbox more intuitive and easier to navigate, allowing you to focus on what matters most: your messages. And, because mobile is everything these days, Yahoo! Mail now has a consistent look and feel across devices.
Over the next few days, most mail users will begin to experience the new web version of Yahoo! Mail.
We encourage you to download the mobile apps, check out the web experience, and give us feedback so we can continue to improve. We're committed to making Yahoo! Mail everything you want and more, and this is just the beginning."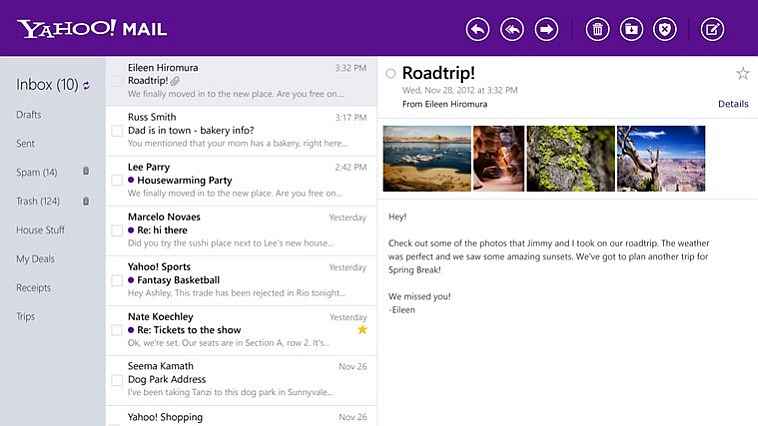 iOS users can down the app here, Android users here and Windows users here.
Mayer, 37, who is a former Google executive, is moving to revitalize Yahoo's various Web products. This is the first time that Mayer has donned the role of a CEO in an organization.
Source: Yahoo! Corp Blog