Google's executive chairman Eric Schmidt has predicted censorship around the world will end in a decade. He added better use of encryption will help people overcome government surveillance. Eric Schmidt made the statement during a talk titled ''Connecting with the World: Empowering Young Entrepreneurs for the New Digital Age'' at the Chinese University of Hong Kong November 4, 2013.
Schmidt has long spoken out against limitations to the freedom of expression and restricted Internet access around the world. Schmidt recently travelled to North Korea to support the cause.
"First they try to block you; second, they try to infiltrate you; and third, you win. I really think that's how it works. Because the power is shifted," he said. "I believe there's a real chance that we can eliminate censorship and the possibility of censorship in a decade," he added.
He stated that the people needed to connect with the rest of the world: "My view is that if we can get some connectivity, then they'll begin to open the country, they'll begin to understand other systems."
Google has long been working on encrypting data to protect users privacy. Schmidt stated that Google has recently increased the length and complexity of its encryption keys, and called it a constant "game of cat and mouse" between the government surveillance and Internet users.
Recently, Yahoo CEO Marissa Mayer also announced that it will encrypt all its internal server traffic by the end of Q1 2014. Marissa stated in a blog post the company will make Yahoo Mail even more secure by introducing https (SSL - Secure Sockets Layer) encryption with a 2048-bit key across our network by 8th January, 2014. She added that Yahoo will be adding the encryption across all Yahoo products as well as all mail partners.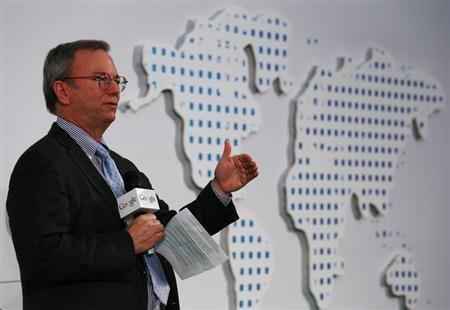 Source: Reuters