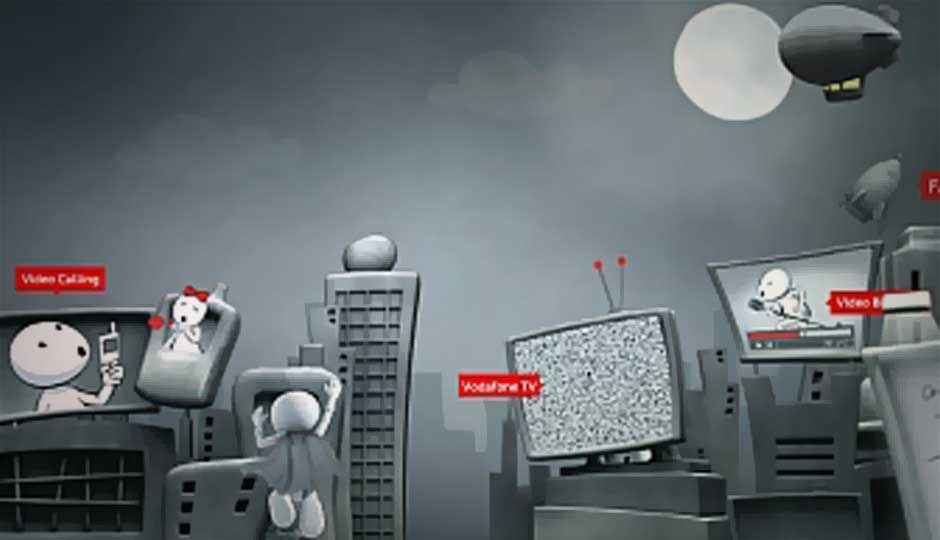 Vodafone has intensified the price war in the 3g space by slashing its tariffs by up to 80 percent. After the price revision, the second in less than a month, Vodafone's entry-level 3G data plan now start at Rs. 25 for 25MB, and goes up to Rs. 1,599 for 12GB data usages. Usage beyond the stipulated data usage on each plan will be charged at 2 paise/10KB.
Under the Pay-As-You-Go (PAYG) plan, available for prepaid customers, the rate has been slashed to 2 paise per 10 KB from earlier 10paise per 10KB. Vodafone claims that PAYG is now the cheapest 3G tariff plan in the market right now.
Vodafone is also allowing its 3G subscribers to use data from their bundled package while on net-roaming across any location in the country without any extra charge. Apart from the Rs. 25 and Rs. 1,599 data plans, there are also Rs. 45 and Rs. 100 data plans that offer 150MB (for seven days) and 300MB (for 30 days) of 3G data respectively. Also, users have a Rs. 200 plan, which offers 500MB of data for 30 days, while Rs 250 will provide 1GB of data for 30 days.
The operator is also offering 1.5GB of 3G data for Rs. 375, 2GB of data for Rs. 450, 3GB for Rs. 650, 4 GB for Rs. 750, 5 GB for Rs. 850, 8 GB for Rs. 1,250, 10 GB for Rs. 1,500, and 12 GB for Rs. 1,599 respectively. All these plans come with 30 days of validity.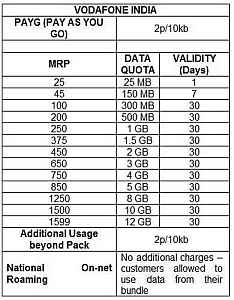 Over the last month, all major telecom operators such Airtel, Idea and Reliance have cut their 3G prices to increase revenues, and popularise 3G services in the country. The price war was triggered after Airtel launched its 4G services in the country and later slashed its 3G tariffs by up to 70 percent.
Experts, however, suggest telcos should raise rates instead of lowering 3G tariffs, as most of them are reeling under hefty debts after buying 3G licence. Moreover, after cancellation of 2G licences allocated in a scam-tainted 2008 auction, telcos need to up their revenues for fresh bids.
It's notable that the expansion of 3G has been slower than expected in the country, especially because of the high tariff rates. According to an estimate, the number of 3G users in the country is around 20 million, which is less than 2 percent of the 900 million-plus GSM user base in the country. However, with the arrival of low-cost 3G smartphones, 3G coverage might increase in the coming years.
For more, read More 3G for less: Which plans make sense for you?
Also read,