A new study says malware found in pirated software is likely to have a massive impact on the time and money of consumers and enterprises in the near future.
The study further says computer users will spend 1.5 billion hours and $22 billion on determining, repairing and recovering from the impact of malware. Global enterprises will too bear similar impact as they are expected to spend some $114 billion on the measures to deal with malware.
The observations and predictions were made by a joint Microsoft and IDC report titled 'The Dangerous World of Counterfeit and Pirated Software', which discusses how pirated software have hurt the cybersecurity of consumers, enterprises and the governments, and overall money and time invested.
The report also investigates the prevalence of malicious code and unwanted software — such as viruses, Trojan horses, keystroke-capturing software, authentication backdoors, and spyware — in pirated software, web sites, and peer-to-peer (P2P) networks.
The study uses information from a 10-country survey of 1,104 consumer respondents, 973 business user respondents, and 268 CIO/IT manager respondents.
"The cybercrime reality is that counterfeiters are tampering with the software code and lacing it with malware. Some of this malware records a person's every keystroke -- allowing cybercriminals to steal a victim's personal and financial information -- or remotely switches on an infected computer's microphone and video camera, giving cybercriminals eyes and ears in boardrooms and living rooms,"says David Finn, associate general counsel in the Microsoft Cybercrime Center.
"The best way to secure yourself and your property from these malware threats when you buy a computer is to demand genuine software."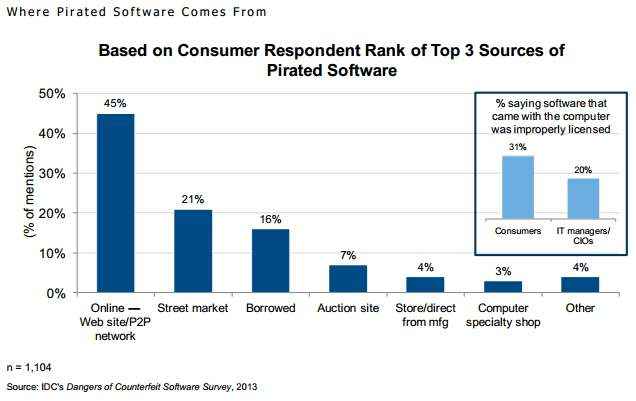 In this report, the term "pirated software" refers to software that is improperly licensed or not licensed at all whereas "counterfeit software" refers to a subset of pirated software that is deliberately presented as genuine when it is not.
The IDC had performed a similar but a limited study in 2006. The research firm points out some major changes between now and then.
"Overall we found a somewhat cleaner environment. Back then, 25% of Web sites tried to infect our computers; this time it was 14%. Back then, 33% of CDs/DVDs tested were infected or had vulnerabilities; this time only 14%. Today, browsers are much better at fending off hijackers and redirectors, and search engines are much better at avoiding highly infectious sites," noted IDC in the report.
The report also noted that the street market for pirated software has improved, making it harder to find in more and more countries. "For instance, in 2006 there was no problem finding counterfeit CDs/DVDs in Russia; this time we didn't find enough to test."
"By all accounts, the threats delivered via malware are worse today than in 2006: more criminal organizations involved, more money and data theft, and more sophisticated attacks and fraud."
You can check out the complete 'The Dangerous World of Counterfeit and Pirated Software' report here.
Source: Economic Times