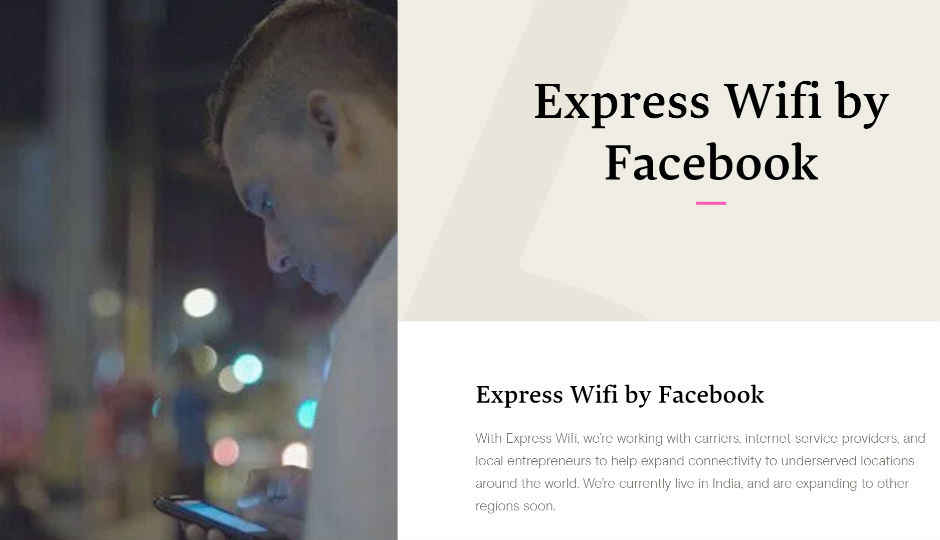 If at first you don't succeed, try, try again. After TRAI's ban on Free Basics, Facebook is trying once again to get Indian users on to its social network. This time, though, its effort is more philanthropic than earlier. The company is testing a service called Express Wi-Fi, in partnership with "multiple local ISP partners" in India. This ideally means that Facebook is providing services that will allow service providers to bring Internet to rural areas in India, through public hotspots. Not much is clear about how the Express Wi-Fi service will work, though, and all Facebook has to say is, "We are currently in the early stages of testing Express Wi-Fi with multiple local ISP partners in India."
What is Express Wi-Fi?
Interestingly, the Express Wi-Fi website mentions the company's Free Basics platform. The website has multiple promotional messages for the service, but at the bottom, Facebook asks you to "add your website to Free Basics". There is no clarity on how Free Basics figures into the Express Wi-Fi service, though. The company has run a pilot program with a local state-run telecom across 125 rural hotspots.
Having said that, reports indicate that the Wi-Fi will be 'cheap', but not free, which makes it difficult to present a walled garden like Free Basics. Facebook is most likely betting that users accessing internet through its Wi-Fi will eventually be led to the social network as well. "When people are able to purchase fast, affordable and reliable internet, they're able to explore the range of information it has to offer including news, education, health, job postings, entertainment, and communication tools like Facebook," the website says. There is, of course, some revenue being generated from the service, as users will have to purchase access to the hotspots through their data packages. So, it is possible that Facebook will get a cut of these revenues.
Facebook isn't the first to try and "connect" people from rural areas in India. The company's chief competition in this case is Google, which started providing Wi-Fi networks in Indian railway stations some time ago. According to the Search giant, it has "connected two million people" in India already. Google's aim is to connect 10 million people by the end of the year.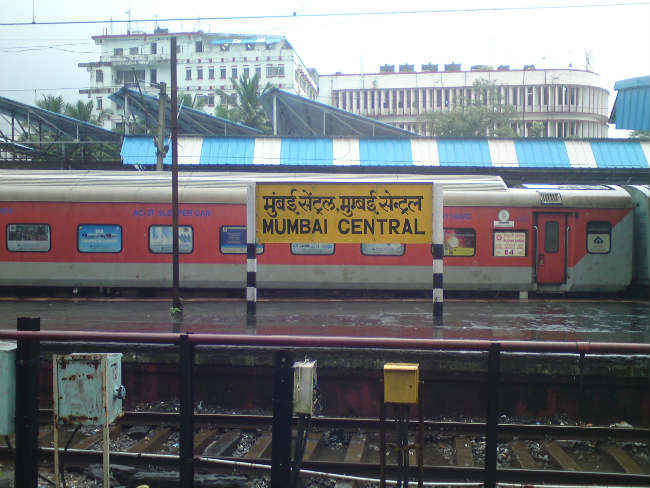 Mumbai Central station was the first to get Google's free Wi-Fi service
How does Facebook earn?
While one may question why users would choose Facebook's paid service over Google's free one, it is worth noting that the area of approach isn't the same. Google's Wi-Fi is currently confined to 23 railway stations and will expand to others as well, Facebook is presumably looking to pull closer to rural areas, with hotspots close to rural homes. This means that there is merit in both the services, given that rural areas in India lack fast Internet, and that the railways remain the most popular means of transport in the country.
The likely play from both the companies is user data. Facebook may be collecting a lot of data from users on its hotspots, which is then monetisable through other means. The same also makes sense for Google, whose main revenue model depends on targeted advertising based on user data. Both companies can charge advertisers for exclusive and targeted advertisements on their Wi-Fi networks, thereby generating enough revenues to keep the services running.
It is also worth noting that Google's Wi-Fi is free for a limited period of time, per session. So, Google also has an alternate revenue source to make up costs. That said, post the allotted free time, Google's Wi-Fi drops the speed, but doesn't block access to the Internet. Whether Facebook's service will do the same is unclear. The social networking giant could balance things by charging for entry and then allowing unlimited access at lower speeds.
An investment
Both Facebook and Google have made an investment in the Indian market with respective Wi-Fi services. The end-game for both is to get the millions of users on to their platforms and hence end up earning from them. Given the lack of clarity on how Facebook's platform works, it makes little sense to speculate whether it will be a "better" service than Google's right now. Google is obviously ahead, having started earlier, but given the sheer number of users left to be connected in India, Facebook isn't late, or far.
Other Popular Deals
Samsung A7 2016 Edition Golden

Rs. 18990 *

Buy Now

Mi A2 (Black, 4GB RAM, 64GB...

Rs. 13999

Buy Now

Redmi 6 Pro (Black, 3GB RAM,...

Rs. 8999

Buy Now
*Includes Cashback
​