If reports are to be believed, Twitter may soon launch a new online retail venture called 'Twitter Commerce', which will allow users on the social network to purchase products directly from the site. Re/code, the technology blog, claims Twitter has tied up with a US e-commerce site called Fancy, which has Twitter founder Jack Dorsey as an investor and board member.
According to a mockup posted online, the Twitter Commerce tweets will be shown inside of Twitter users streams, similar to Twitter's promoted posts. Some Commerce tweets will appear inside Twitter's Discovery section. On expanding the tweet, users will see photos of the product up for sale along with a brief description. There will also be a section for related products.
To buy products, users will have to click the "Buy with" button, which will ask users to enter their credit card and other information required for transaction. According to leaked documents, transactions made on Twitter Commerce will be "handled securely within the Twitter app".
Currently, it's not clear if Twitter will charge any fee or percentage on sales on its platform. However, the company may benefit from retailers using Promoted Commerce Tweet ad products.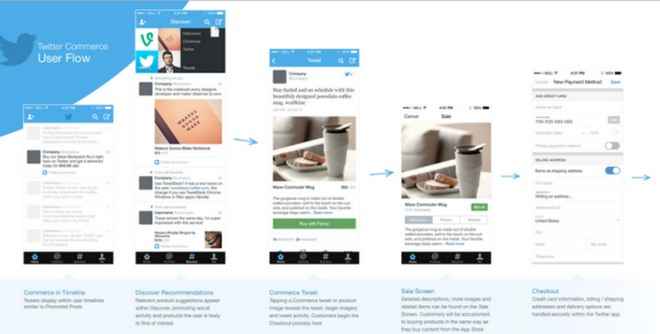 According to a Telegraph report, the micro-blogging website's venture into e-commerce is based on last year's "pay by tweet" experiments in partnership with American Express. It's notable Twitter has been making several efforts to explore options to improve profits.
According to analysts' predictions, Twitter's losses in 2013 had grown two-fold to $140.9m , with a $14.82m loss in the last three months of the year. However, revenues are predicted to have increased at a faster rate, rising from $316.9m in 2012 to $640m last year.
Facebook had made similar efforts in e-commerce segment in September 2012. It had launched the Gifts, which allowed allows users to purchase gift items for their friends via social network's desktop or mobile versions and have it delivered to their door. However, the social network scrapped the scheme due to a lack of user demand.
Do you think Twitter will succeed in its efforts to tap the e-commerce segment? Let us know in the comments section below.