Twitter users will be soon have the option to tailor the micro-blogging site's trending topics to display only most relevant subjects, which will be based on their location and who they follow. The customised trends option is coming to both its web apps and mobile apps.
"In order to show emerging topics that matter more to you, today we're improving our algorithms to tailor Trends based on your location and who you follow on Twitter," says Sara Mauskopf, Product Manager of Twitter, in a blog post.
"These Trends lists are tailored for you by default on twitter.com and mobile apps like Twitter for iPhone and Twitter for Android."
Users, however, can switch back to the standard and non-customised view of the trends. Tailored trends, will become default though. Twitter is gradually rolling out the feature to all of its users.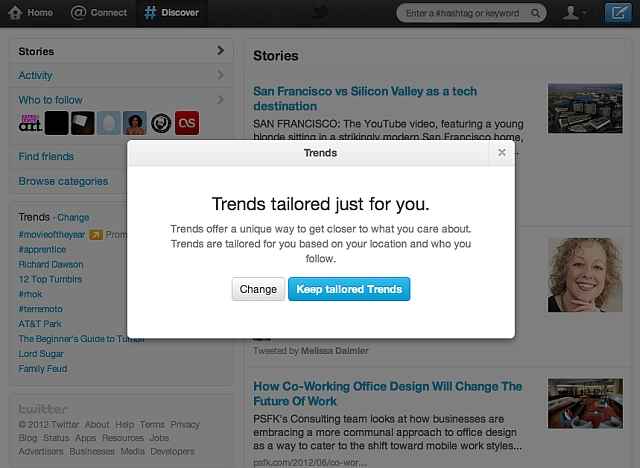 The new feature comes about a month after the micro-blogging site announced a new version of its "Discover" Tab, which shows more relevant news to users, based on people they follow.
Twitter CEO Dick Costolo recently revealed that the micro-blogging site sends more than 400 million tweets every day! Costolo also disclosed that both mobile usage and revenue were surpassing desktops. The company has been extensively pushing out new updates, including a brand new company logo.
Also read,