Twitter Inc. has started rolling out a major design overhaul of the micro-blogging site, and has updated versions of its iPhone and Android apps. The new design of Twitter resembles Facebook, as it features a more detailed profile page with more focus on the visibility of tweet conversations. According to Twitter, the new version will ensure faster performance, and help widen appeal among the users worldwide.
The new layout is mainly focusses on its three tabs: 'connect', 'discover' and 'tweet'. However, the most notable update is the detailed profile page, which shows the activity on a specific tweet, which is pretty similar to Facebook's comment. The new discover tab lets you find more relevant content, based upon you interests.

The redesign also has "Stories" segment, which shows you interesting content. The connect features shows all the tweets that mention you, retweets of your tweets and tweets of yours that others have mentioned. The revamped Twitter also includes a 'me' tab, which shows your profile picture and stats, and direct access to messages and settings.
The micro-blogging site is also aiming to build a profitable business on top of the social networking site. Twitter last year began showing ads on limited parts of the site and hopes to generate some $140 million ad revenue this year.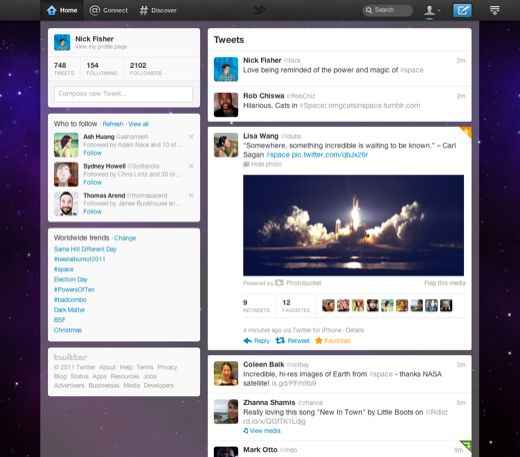 The redesign is expected to be rolled out globally over the next few weeks. "What we're announcing today is just the beginning. We now have a framework in place that we will quickly build and iterate upon to help users connect with whatever is meaningful to them," says Twitter in a blog post.
Check out the new design in this video below:
Also read,

Vote and Win!

Digit Icons of Trust 2011 Survey

Visit https://thinkdigit.com/trust to vote for your favorite tech brands in India.
Survey participation gives you a chance to win exciting gifts like wireless input devices, earphones and special edition Digit branded T-shirts.
As an appreciation of your valuable time and input, every participant will receive an assured gift in the form of Digit discount vouchers.
We encourage you to participate in multiple surveys to increase your chances of winning more goodies.