Twitter, the micro-blogging company recently announced a new feature that would allow users to click on ticker symbols, providing them with tweet search results about stocks and companies.
The new feature essentially turns ticker symbols into clickable hashtags, or in this case, 'cashtags'. Few hours ago, Twitter officially made the announcement via a tweet on their Twitter profile.
"Now you can click on ticker symbols like $GE on twitter.com to see search results about stocks and companies".
The new Twitter cashtags will get displayed on search results, just like the @reply and the #hashtag. Generally, it's easy to track or discover the user created hashtags and tweets in the "Discover" tab. Twitter is trying to apply the same strategy for its users' quest for real-time financial information, replacing some amount of reliance on Google and other services.
Twitter gave the example of General Electric ($GE) in their cashtag announcement tweet, and for now, we have to assume it will work with a variety of stock-exchanges.
With cashtags, if you click on Apple's $AAPL for example, you will be directed to all of the tweets with a mention of that company. Just take a look at the image below, and you will understand how it works.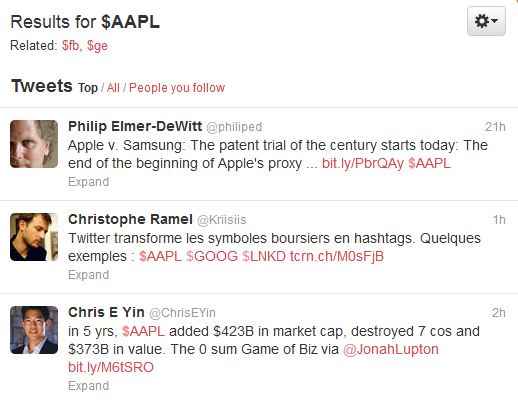 According to Howard Lindzon, the co-founder and CEO of Stocktwits, his company has offered the same features and functionalities as cashtags for years. He reportedly sold his Twitter shares last week, and blogged about the issue in a post titled: "The Twitter Hijacking of Stocktwits $ …The Cashtag"
I am disappointed of course that Twitter is hijacking our idea and time (will only confuse the masses), but Stocktwits moved beyond that basic functionality 4 years ago. In a dirty way, it's the ultimate compliment so we will take it as such for the moment and keep rolling out functionality that makes us the best real-time communication platform for people that love stocks and markets.