Micro-blogging website Twitter has released its transparency report, which sheds light on government requests and other takedown notices from nations across the world.
The data, which dates back to January 1, is available on Twitter's blog, and is said to be inspired by the recent transparency report by Google. Twitter says its policies are meant to "help inform people, increase awareness and hold all involved parties––including ourselves––more accountable", adding that the the release of their "first Transparency Report aims to further these ambitions".
According to Twitter's transparency report, the U.S. leads with 679 take down requests related to 948 accounts, of which 75% have been addressed. Japan comes second with 98 requests related to 147 accounts, 20 percent of which were addressed. The U.K. and Canada were together at the third position with 11 requests on 11 accounts, 18 percent of which led in the disclosure of data. The other nations on Twitter's list had less than 10 takedown requests.
"We've received more government requests in the first half of 2012, as outlined in this initial dataset, than in the entirety of 2011," Twitter said. "Moving forward, we'll be publishing an updated version of this information twice a year."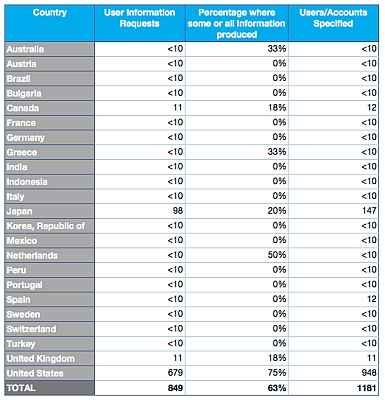 The social networking company said it will enter into agreement with Herdict, which gathers information about such filtering on the web, denial of service attacks and other blockades. "This new partnership aims to drive more traffic and exposure to Herdict, while also empowering the web community at large to help keep an eye on whether users can access Twitter around the world," Twitter added.
Also read,