Twitter has released the list of its most memorable tweets of 2014 from the 500 tweets per day that are see on the micro blogging site. The 'Golden Tweet' that is the most retweeted Tweet ever for 2014 was Prime Minister Narendra Modi election-winning Tweet in India.
The Tweet that created the biggest spike in conversation including Rohit Sharma smashing the world record for the highest individual ODI cricket score of 264 on November 13th versus Sri Lanka at the Eden Gardens in Kolkata. In the Top 10 moments, three are related to cricket including the Indian Premier League.
Apart from Narendra Modi, the top 10 most followed Indian Twitter accounts are dominated by Bollywood stars including Amitabh Bachan, Shah Rukh Khan, Salman Khan and Aamir Khan.
The top 10 most retweeted Tweets of India include Salman Khan (@beingsalmankhan) at the number two spot. Actor Rajinikanth's tweet is sixth on the list for the year. The veteran actor got over 200,000 followers in the first 24 hours and now over 1.1 million in total, due to his many fans in the country. His arrival on Twitter was the second largest peak in Twitter conversation of the year.
ISRO's Mars Orbiter (@MarsOrbiter) is also among the top 10 Tweets as it made its historic journey to reach Mars. In sports Sachin Tendulkar's (@sachin_rt) Tweet, his touching tribute to the fallen Aussie cricketer Phil Hughes is also among the top tweets of this year.
Prime Minister Narendra Modi's tweet on 16th May was retweeted 70000 times on the micro blogging site and was given the Golden Tweet honor in India. Globally the 'Golden tweet' honor went to @TheEllenShow's selfie from the March Oscars telecast.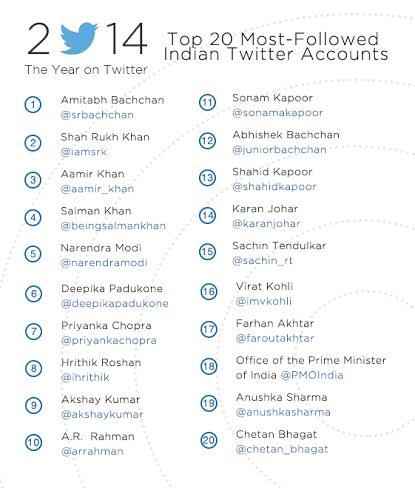 Here's a video tribute to celebrate your #YearOnTwitter in India! Enjoy some defining moments from the year gone by. https://t.co/SkauIbfdXS — Twitter India (@TwitterIndia) December 12, 2014
Top 10 Peaks in Twitter Conversation among Indians
| | | |
| --- | --- | --- |
| RANK | DATE | MOMENT |
| 1. | 13 Nov 2014 | Rohit Sharma scores 264 runs vs Sri Lanka. He claimed the record for the world's highest ever ODI score by an individual |
| 2. | 4 May 2014 | Rajinikanth joins Twitter with a message of thanks to his legion of fans and has over 200,000 followers within the first two days |
| 3. | 22 April 2014 | PM candidate Narendra Modi refrains his supporters from making irresponsible statements during the election campaign |
| 4. | 2 May 2014 | The 2014 season of the Pepsi IPL returns to India |
| 5. | 3 May 2014 | Narendra Modi gives an interview for a Hindi News channel leading to a big debate on Freedom of Press |
| 6. | 23 April 2014 | Kejriwal files nomination papers from Varanasi as Shazia Ilmi stokes controversy over communal comment |
| 7. | 23 Oct 2014 | India celebrates Diwali |
| 8. | 21 May 2014 | Arvind Kejriwal arrested for protesting on the streets of Delhi |
| 9. | 2 July 2014 | Outrage over tennis star Maria Sharapova claiming she does not know who cricket legend Sachin Tendulkar is |
| 10. | 11 April 2014 | SP leader Abu Azmi's rakes up controversy by claiming there should be punishment involved women in rape cases |
Top 20 Most Retweeted Tweets from Indian Twitter accounts
Top 10 fastest-rising Twitter hashtag trends in India
| | | |
| --- | --- | --- |
| RANK | HASHTAGS | DESCRIPTION |
| 1. | #WorldCup2014 | Refers to conversation around Football World Cup 2014 held in Brazil |
| 2. | #MH370 | MH370 was a flight that disappeared on 8 March 2014 |
| 3. | #MufflerMan | #MufflerMan refers to a campaign by Aam Aadmi Party |
| 4. | #MUFC | #MUFC refers to Football fans following Manchester United Football Club |
| 5. | #KashmirFloods | Update on JK flood relief operation by assisting the Indian army |
| 6. | #QuitAAP | Public outrage against Aam Aadmi Party |
| 7. | #IndvsEng | #IndvsEng refers to India vs England cricket match played |
| 8. | #Results2014 | Information on the Lok Sabha elections results |
| 9. | #IPL7 | Conversations around Pepsi Indian Premier League cricket tournament |
| 10. | #AusOpen | Conversations around 2014 Australian Open |
Top 20 Most-Followed Indian Twitter accounts
| | | | | | |
| --- | --- | --- | --- | --- | --- |
| Rank | Twitter Handle | Name | No. of Followers | Description | Most Retweeted Tweet |
| 1 | @srbachchan | Amitabh Bachchan | 11,818,056 | Actor | https://twitter.com/SrBachchan/statuses/514649772360089600 1946 RTs |
| 2 | @iamsrk | Shah Rukh Khan | 10,246,755 | Actor | https://twitter.com/iamsrk/statuses/519170517366886400 8,956 RTs |
| 3 | @aamir_khan | Aamir Khan | 9,866,492 | Actor | https://twitter.com/aamir_khan/statuses/426282079832129536 4,625 RTs |
| 4 | @beingsalmankhan | Salman Khan | 9,426,989 | Film actor, artist, painter, humanitarian | https://twitter.com/BeingSalmanKhan/statuses/478131192273719296 51,983 RTs |
| 5 | @narendramodi | Narendra Modi | 8,424,709 | Prime Minister of India | https://twitter.com/narendramodi/statuses/467192528878329856 - 70,537 RTs |
| 6 | @deepikapadukone | Deepika Padukone | 8,349,273 | Actor | https://twitter.com/deepikapadukone/statuses/533575410705911809 11,295 RTs |
| 7 | @priyankachopra | Priyanka Chopra | 7,914,122 | Actor,Recording Artist | https://twitter.com/priyankachopra/statuses/488695347154542594 2,881 RTs |
| 8 | @ihrithik | Hrithik Roshan | 7,574,967 | Actor | https://twitter.com/iHrithik/statuses/191201502621208579 2,403 RTs |
| 9 | @akshaykumar | Akshay Kumar | 6,685,653 | Actor | https://twitter.com/akshaykumar/statuses/514648299358273536 1,243 RTs |
| 10 | @arrahman | A.R. Rahman | 5,607,203 | Grammy and Academy Award winning musician | https://twitter.com/arrahman/statuses/402105326792482816 1,501 RTs |
| 11 | @sonamakapoor | Sonam Kapoor | 5,361,947 | Actor | https://twitter.com/sonamakapoor/statuses/325214876920328192 4,210 RTs |
| 12 | @juniorbachchan | Abhishek Bachchan | 5,334,509 | Actor / Sports Teams Onwer in the ISL & KPL | https://twitter.com/juniorbachchan/statuses/469004094905266176 4,343 RTs |
| 13 | @shahidkapoor | Shahid Kapoor | 5,061,589 | Actor | https://twitter.com/shahidkapoor/statuses/286014126893957121 1,712 RTs |
| 14 | @karanjohar | Karan Johar | 5,037,354 | Director, Producer,Writer & Talk show host | https://twitter.com/karanjohar/statuses/489308793700765696 2,193 RTs |
| 15 | @sachin_rt | Sachin Tendulkar | 4,814,118 | Cricketer | https://twitter.com/sachin_rt/statuses/400644348829650945 17,159 RTs |
| 16 | @imvkohli | Virat Kohli | 4,674,709 | Cricketer | https://twitter.com/imVkohli/statuses/537847771068260352 3,565 RTs |
| 17 | @faroutakhtar | Farhan Akhtar | 4,101,438 | Film maker/ Founder- MARD Initiative | https://twitter.com/FarOutAkhtar/statuses/286352957929304064 2,708 RTs |
| 18 | @PMOIndia | Office of the Prime Minister of India | 3,865,610 | Office of the Prime Minister of India | https://twitter.com/PMOIndia/statuses/514607723653001216 1,871 RTs |
Other Popular Deals
Moto G5s Plus Gold 64gb

Rs. 12049 *

Buy Now

Moto G5s Plus (Lunar Grey, 64GB)

Rs. 13300

Buy Now

Honor 8 Lite 64 GB (Black)

Rs. 12253 *

Buy Now
*Includes Cashback
​