Twitter has introduced a new feature that allows you to customise the organising and sharing of a collections of tweets. Called 'custom timelines', the new Twitter feature lets you create a timeline, give it a name and choose which Tweets to add manually or automatically using an API.
Twitter says its custom timelines operate under certain rules – custom timelines are created by users. Each timeline has a name and description. One who creates a timeline can also add any public tweet to the timeline. After adding the new tweets, they will show up at the top of the timeline. Custom timelines are public, and have their own url on twitter.com.
"This means that when the conversation around an event or topic takes off on Twitter, you have the opportunity to create a timeline that surfaces what you believe to be the most noteworthy, relevant tweets," Twitter said in a blog post.
Custom timelines are different from Twitter lists. It features tweets that users want to add in their timeline, not subsequent tweets from their authors – very similar to Storify.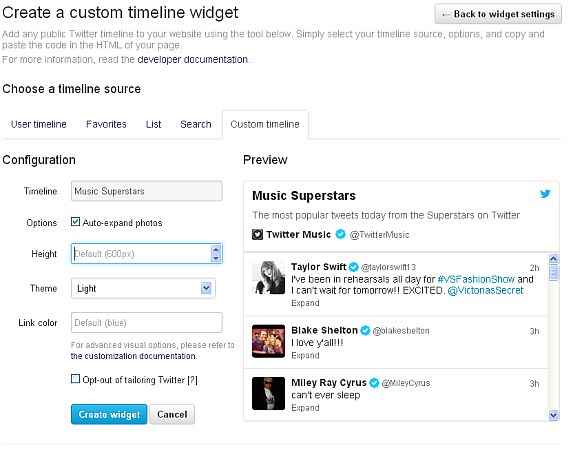 To create custom timelines and tweets to the timeline, users need to use Twitter's web-and-downloadable software TweetDeck. Custom timelines will be available to TweetDeck for Web, Chrome, and PC users over the next several days, and is slated to hit the Mac app "soon."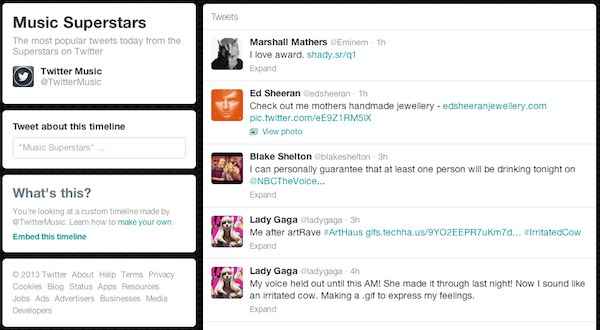 Each timeline has its own unique URL, which are of the form https://twitter.com/user/timelines/timeline-id
Music Superstars
"To add a Tweet to a custom timeline, simply drag the move icon and drop it on the custom timeline column that you would like to update," TweetDeck said in a separate blog post. "Removing a Tweet is just as easy - simply click on the 'X' icon on a Tweet in a custom timeline column and it will be removed."
Users can share custom timeline by tweeting its URL as well as embed timelines from within TweetDeck. You can learn more on creating custom timelines using TweetDeck here.