Thomson Reuters' official Twitter account was reportedly briefly compromised by a group of Syrian hackers called Syrian Electronic Army. It's notable the group had claimed responsibility for hacking several media groups' accounts - NPR (on April 16, 2013), CBS's 60 Minutes (April 21), and the Associated Press (April 23). The same hacker group had claimed to compromise Al Jazeera's website in early 2012.
According to reports, Thomson Reuters' Twitter account posted a series of violent and political cartoons for about 45 minutes. The account was later suspended. However, accounts of other Reuters sites remained unaffected.
"Earlier today @thomsonreuters was hacked," a Thomson Reuters spokesman told the Wall Street Journal. "In this time, unauthorized individuals have posted fabricated tweets of which Thomson Reuters is not the source." The account seems to be normal as now there's no spate of offensive tweets.
However, the recent spate of hacking attempts on Twitter accounts raises some serious concerns over the security on the network. It's notable Twitter recently introduced two-factor authentication procedure to reduce such events. The two-factor makes you enter a code sent via SMS to your phone whenever you sign. Read: Twitter rolls out two-step authentication system to prevent hacking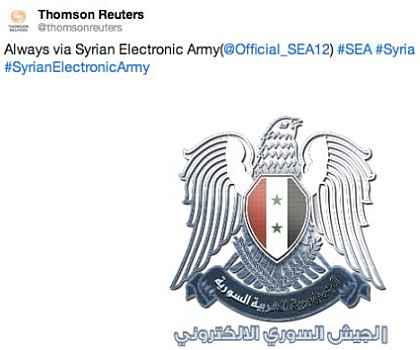 Do you think Twitter needs to do more to protect users' accounts? Let us know in the comments section below:
Source: VentureBeat