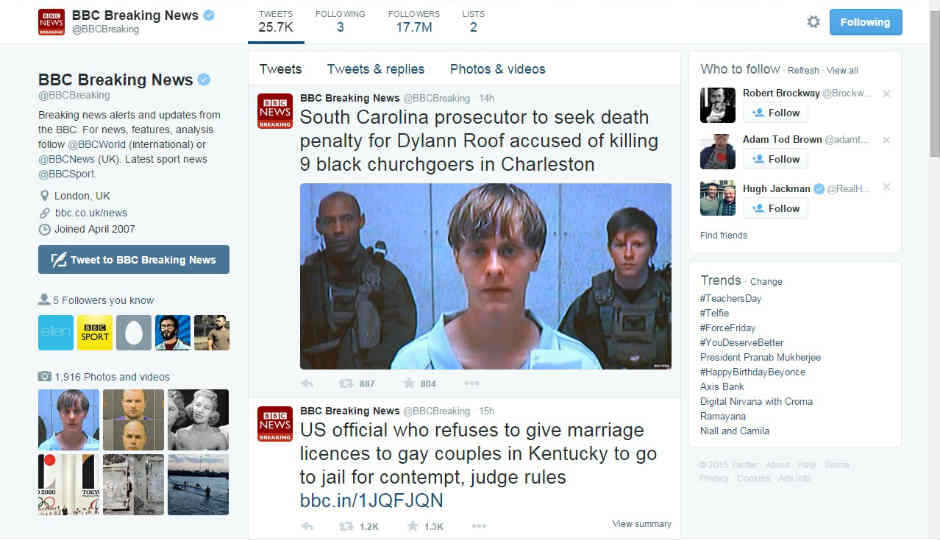 Twitter is the most popular source of news amongst all social networking sites, according to a survey. Almost 5,000 social media users in the U.S. participated in the survey, and 86% (nearly 9 out of 10) said that they used Twitter for news. Out of these, 74% said that they did so daily. The survey was carried out by the American Press Institute and Twitter, in collaboration with research firm DB5.
The survey also found that Twitter users also tend to be heavier news consumers as compared to users of other social networks, even across daily life. They predominantly follow news on Twitter and most of the time, they do so in order to pass the time. When there is a breaking news story, they generally participate in it by commenting, posting, and sharing the news. The survey included 3,713 Twitter users as well as a separate sample of 1,000 other social media users in the U.S. Out of the 1,000, 469 were not on Twitter.
Three quarters of those surveyed followed individual journalists, writers, and commentators, while almost two-thirds followed institutional accounts. Users are likely to discover new writers and journalists and follow their work beyond Twitter. The survey also found that 94% of users got their news just by scrolling through their timeline, or by browsing the tweets of the people they follow. Only 34% of those surveyed said that they get their news from trending topics, while 30% used search.
Out of the ones that don't use Twitter, 50% said that that have seen tweets. 45% of non-Twitter users got their news from TV, 33% from friends, 27% from news articles online, 22% from visiting Twitter but not signing up, and 8% from a newspaper.
These findings should be helpful for Twitter, as it has been reported that Facebook is working on a Twitter-esque app to bring breaking news stories to its users. The results of the survey should help them tweak to their service, and help deliver news faster and more efficiently.
Other Popular Deals
Moto G5s Plus Gold 64gb

Rs. 12049 *

Buy Now

Moto G5s Plus (Lunar Grey, 64GB)

Rs. 13300

Buy Now

Honor 8 Lite 64 GB (Black)

Rs. 12253 *

Buy Now
*Includes Cashback
​