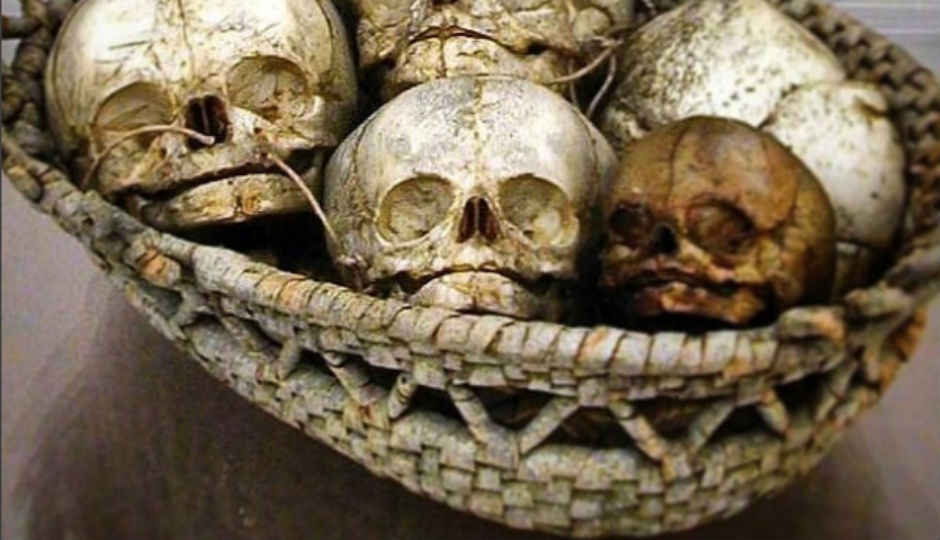 It's something straight out of the house of horrors. And it's on Instagram! Human remains, including shrunken skulls, unborn or discarded foetuses, and bones from different parts of the body are being sold on Instagram! The photo and video sharing social media platform is being used by hundreds of sellers to gain thousands of followers who are interested in watching and buying human remains, a recent report in The Vice highlighted.
Some examples of such dark and morbid (or in their words - artistic) Instagram accounts are @skullturefactory and @dolencarag, which sell products like engraved human skulls and entire skeletons. Hashtags like #skullforsale #humanhead #taxidermy and #darkarts are used in posts to advertise the sale of human skulls that can be purchased for lower than $150 and going all the way up to thousands of dollars, depending on the engravings and time period to which they belong. Small bones like jaw bones go for as much as $80 - $200.
An account even offers "an amazing European child skull. This skull is well over 100 years old of a 4-5-year-old. Complete with a fantastic patina. $1500 (£1,140)." The same account has also listed a 13-week-old foetus for $1,850.
While some Instagram accounts sell mummified skulls belonging to "tribals, cannibals or headhunters", others sell bones fragments and heads found buried in the ground. Many of the Instagrammers interviewed by The Vice said that they got their skulls and bones from antique shops and flea markets, while others have access to individual sellers. One such seller said that he got his pieces from retired dentists.
"Honestly, human bones are much easier to sell than most animals because so much is protected," a seller on Instagram told Vice. "In most countries, it is perfectly legal to own these and no papers or permits are needed. But in any case, we always check out the legal situation before shipping human remains out to another country," added another seller.
These sellers prefer selling their collection of carcasses on Instagram because the same practice in banned on other platforms such as eBay and Etsy. There is no such rule or policy framework to stop them from selling these products on Facebook-owned Instagram. A human skeletal biologist at Historic England, Simon Mays said, "human remains cannot be the 'property' of anybody" and added: "While the trade may be legal, there's a consensus that it's ethically objectionable because it encourages looting and transforms remains into a commodity and takes away their dignity. Instagram must stop permitting this trade, as most reputable sites have done already."
Cover Image Courtesy: @skullturefactory
Other Popular Deals
Samsung A7 2016 Edition Golden

Rs. 18990 *

Buy Now

OnePlus 6 (Mirror Black, 6GB...

Rs. 34999

Buy Now

Redmi Y2 (Gold, 3GB RAM, 32GB...

Rs. 9099

Buy Now
*Includes Cashback
​