Google recently released a feature in its main search titled 'Search Options', which lets users refine their search by type of content (video, forums, reviews), time of content, and a timeline of news about the searched topic. The popular feature, though, was not available for Google Image searches… until now!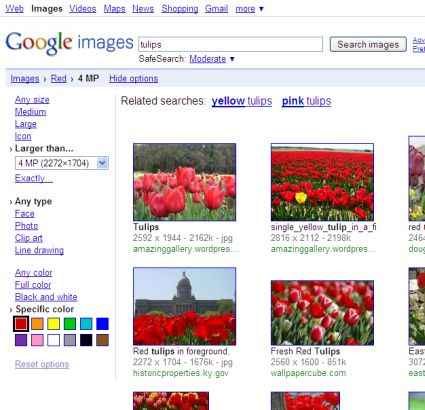 In a post on the official Google blog, Ken Dauber, Software Engineer, and Nate Smith, Associate Product Manager wrote: "This new feature offers quick access to existing tools, including search by colour and image type. Colour search will find images that are only in colour or only in black and white, or even images that contain a specific colour, such as red, pink, or green."
Users can also avail of the Search Options to narrow down specific types of images, such as photos, clip arts, line drawings etc.
"We've also revamped our size search. In addition to choosing from commonly searched-for sizes, now you can search for an exact image size or any image larger than a certain size. You can find images of practically any size, including 70 megapixels or more," the post stated.
"The new layout makes it faster and easier to combine and toggle between options. It also makes it easier for us to add additional image search options in the future, so keep your eyes peeled. Just click 'Show options...' in the blue bar on the search results page to try out any of these tools," Dauber and Smith signed off.