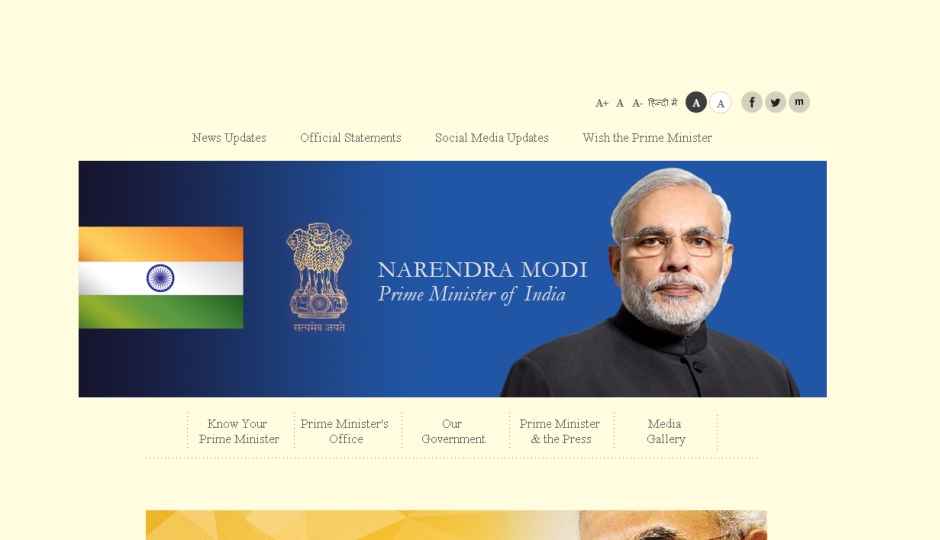 Soon after Narendra Modi was sworn in as the Prime Minister of the country, a revamped PMO India website went live carrying his pictures and a message to the nation.
In his message, Modi highlights the importance of the website as a direct communication between the government and public. He says: "I envision this website as a very important medium of direct communication between us. I am a firm believer in the power of technology and social media to communicate with people across the world. I hope this platform creates opportunities to listen, learn and share one's views."
"Through this website you will also get all the latest information about my speeches, schedules, foreign visits and lot more. I will also keep informing you about innovative initiatives undertaken by the Government of India."
You can visit the revamped PMO website at https://www.pmindia.nic.in/
The website currently features five main sections – Know your Prime Minister, Prime Minister's Office, Our Government, Prime Minister and Press and Media Gallery. There's also a section called "Wish the Prime Minister" where you can greet Modi on becoming India's 15th Prime Minister.
To interact with PM, scroll down the page and click the Interact with Hon'ble PM link on the footer. It directs you to a typical query submission page, where you can send your query and comment within 1000 characters. Check it out here - https://www.pmindia.nic.in/feedback.php
Narendra Modi has extensively campaigned his policies and ideologies through the social media. He has also stressed the importance of technology in governance. We can expect the IT and Telecommunications sectors to get big boost from the government. Also read: Modi effect: 5 ways BJP government can impact the tech landscape in India