An activist from Meerut, Dr Nutan Thakur, has filed an FIR against Facebook and a few of its members for "instigating communal passions." Filed under Section 66A of the Information Technology Act 2000, the complaint has accused Facebook and its members of abusing the Hindu religion, by allowing and creating pages that ridicule deities and religious practices. It goes so far as to say the offending pages might cause riots across the country.
In the complainant's words: "Several groups are formed by users on Facebook and one of them uses abusive language against Hindu gods and goddesses. On this site, open abuses and dirty words are used against many revered Hindu Gods and Goddesses and followers of Hindu religion."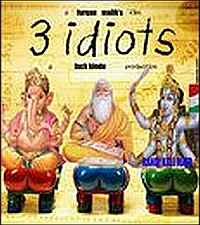 The group being referred to bears the above image on its Facebook page, depicting three prominent deities as the main characters in the film '3 Idiots.' The group's page is apparently one of many such pages on Facebook, slandering either Islam or Hinduism.
[RELATED_ARTICLE]Reacting to the outrage and the FIR, the creators of the 3 Idiots page, who are the primary accused, have stated that they will not remove it until similar anti-Islam pages are removed. Facebook itself is being accused of providing a platform for these offensive pages.
While Facebook will probably not react to the FIR at all, it is interesting to see the lengths to which people go to aggrandize their own faith by defacing others. That Facebook has become a platform for these hate wars is unfortunate, but only natural – there will always be those who abuse power, even if the power is just to create a free web page.