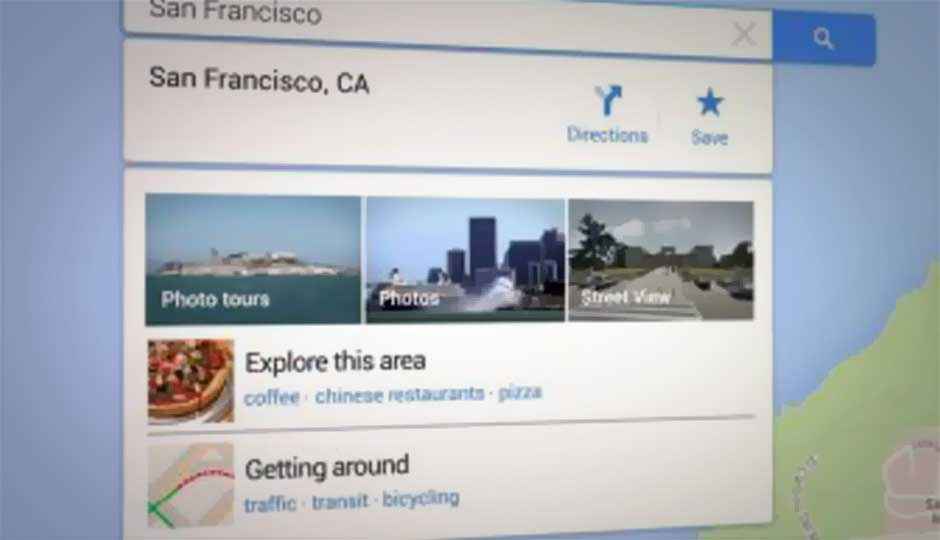 Google had given a preview of an updated web interface of its Google Maps at its I/O event. Previously accessible on invite-only basis, the new interface has been now made available to all users. The updated interface has deeper Google Earth and Street View integration, and is in line with Google's other services.
The new Google Maps lets you draw a tailored map for every search and clicks you make. Google has also made the Maps more interactive. Clicking anywhere will focus the map on that location and show you helpful things, like related places and the best ways to get there.
Google says the new Maps get better with the use. "As you search the map, star places you like and leave reviews, the map starts to adapt and can suggest things like restaurants you might enjoy or the quickest way home. In other words, the more you use the new Google Maps, the more helpful it becomes," says Google.
Google's update to Maps is based on the vector data instead of graphical tiles, which makes the Maps to load faster. There's a new "Zoom out" feature that allows you to zoom out to outerspace. With the deeper integration of Street View, users have the option to take photo tours of any location. Moreover, users can check out public transport options with comparison charts that show differences in the travel time.
You can try out the new Google Maps here. Also, learn more about the redesigned Google Maps in the video below:
Google Maps for iPhone and iPad updated
Separately, Google has rolled out a new Maps app for iPhone and iPad, days after rolling out the app on the Android platform. The update brings enhanced search and navigation features as well as Google's first dedicated iPad mapping experience.
"A dedicated tablet design brings all the features of Google Maps, including Street View, to a larger screen, which makes exploring the world from the comfort of your living room engaging and fun. Go from the Colosseum to your local pizza joint in just a few taps," explains Google about the optimised iPad experience.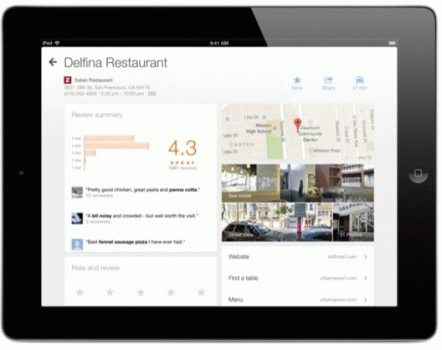 The update brings an enhanced navigation that lets you have live incident report on road closures, construction, accidents and others.
"And as always, you've got voice guided, turn-by-turn navigation, and live traffic conditions right on the map. If you prefer public transportation, Google Maps has schedule information for more than one million public transit stops around the world," adds Google.
Other important features that update brings include biking directions, explore, reviews, Zagat and offers. Read more about the update here. Download the latest Google Maps for iPhone and iPad from the App Store.