Pinterest, social networking site is looking out for its users by monitoring price drops and notifying users of this via email. Users don't have to do anything to be notified according to the company's blog post, but just keep pinning the things they like.
Pinterest will watch the price of your pinned items and notify you in case of price drops. Users will get email that will look something like "Good News! Today, your heavy pendant light pin from Room 68 is 15% less."
Pinterest has already millions on pins with price details on them so users can easily find pins that interest them. The new feature is aimed at increasing brand awareness and engagement through the social network. Pinterest has stated that the "price drop" notifications will be sent in a single email to avoid confusion.
The new feature comes after Pinterest introduced 'Useful Pins' feature that allows the user to Pin posts that are of interest to them like product, recipe and movie pins. The product Pin gives the avid shopper the latest pricing, availability, of clothes, furniture, etc. If cooking is your passion you can get recipes from bloggers and websites. The movie pin lets you see content ratings, cast members, and much more of your favorite movies.
Jeffrey Warren, Software Engineering Intern at Pinterest, added that the price drops alert feature will be rolled out slowly and have asked users to be patient if they don't get it right away.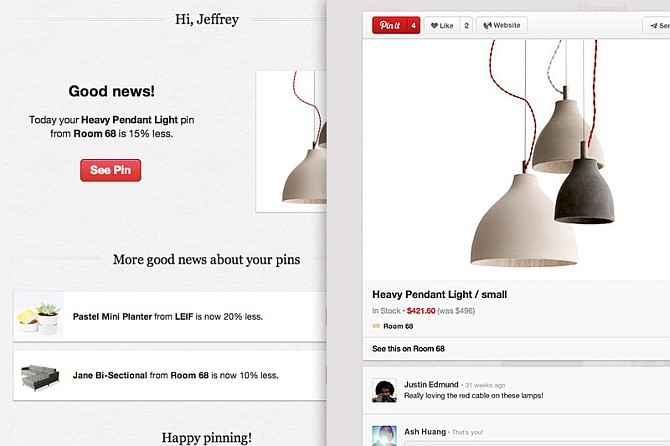 Source: Pinterest