Opera Mini, possibly the best browser for Java based mobile phones has been announced by Opera for the iPhone. While the browser is still not available for public use, it is surprising that it is there for the iPhone OS at all.

Since a while Apple has allowed for developers to create browsers for the iPhone under the condition that they use WebKit as the browser engine. Does this mean that Opera has adapted the iPhone version of the browser to use WebKit instead of their own Presto? If Opera does use its own engine, it will be forbidden from appearing on the Apple store, and will only run on Jailbroken iPhones. This is also the reason that the Mozilla Firefox browser is not available on the iPhone yet, although it will be making its way to Android soon.

With the same rendering engine for all, the strength of any browser on the iPhone is entirely based on kind of features that it provides. Here Opera has a good chance to succeed as it brings some powerful features. Opera Link can allow you to synchronize your browser data across devices. More importantly, with Opera Turbo you can save on data charges and boost speed, as the websites you access will be compressed remotely.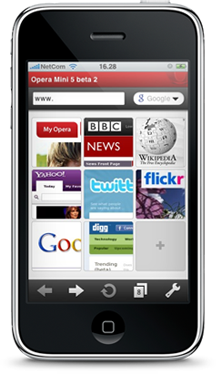 It is interesting to note that the version of Opera being released for the iPhone is Opera Mini 5 and not Opera Mobile 10, which was also released recently and is available for Symbian and Windows Mobile. Opera Mini is the Java-based and less powerful cousin of Opera Mobile. While both now have similar features, Opera Mobile is more powerful. This could be a clue to how Opera is making its way to the iPhone.

In Opera Mini, unlike Opera Mobile, the Presto rendering engine is absent. Web pages you fetch are downloaded on the Opera servers and served to you after translation into a more lightweight markup language. If the same method is used with the iPhone, the browser could pass through the Apple App Store threshold as it would not executing code at runtime. This also means that the browser would then be less powerful than Safari, although faster.

Opera is sure to have something interesting up its sleeve. More information about this will be released during the World Mobile Congress 2010, where Opera will also unveil a number of Opera-powered devices, and new beta versions of Opera Mini and Mobile, along with a beta of Opera Mobile 10 for Andorid. Their new cross-platform Widget manager is also to be unveiled.