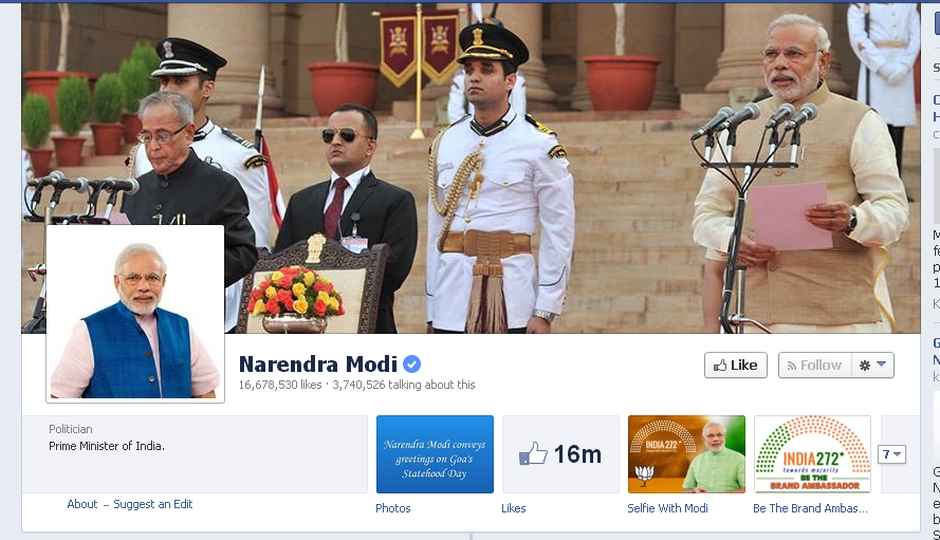 Narendra Modi's popularity on social media continues to grow. According to reports, Modi's official Facebook page has the second highest fan following for politicians after US president Barack Obama. Moreover, Modi's page is the fastest growing for any politician or elected official worldwide.
"Modi continues to have the fastest growing page (for the last day, week and month) of any politician or elected official worldwide," Andy Stone from Facebook policy communications is quoted as saying.
Modi kicked off the first phase of the general elections with 12.46 million fans on the Facebook. Soon after he was ppointed by President Pranab Mukherjee as the next Prime Minister of the country, figures grew to 15.245 million fans. According to Andy Stone, Modi's page surpassed Mitt Romney, the former Republican presidential candidate during the elections phase.
Modi's popularity grows on Facebook
As the time of writing this article, Obama has 40,698,656 likes, while Modi has 15,354,062 likes on Facebook. Modi, however, has greater growth rate on Facebook (1.171 per cent) as compared to Mr Obama's 0.305 per cent. On 16th May, the day of counting, mentions of Modi grew by seven times on the social network.
"Since elections were called on March 5th, Facebook users in India have been engaging with their friends, the candidates and political parties to discuss the 2014 Lok Sabha elections," Stone said.
The new feat comes shortly after Narendra Modi's victory tweet broke the record of most retweeted tweet ever from India. Soon after the poll results suggested at a landslide victory for his party, Modi posted on Twitter - "India has won!
India has won! ???? ?? ????? ????? ??? ??? ???? ???? — Narendra Modi (@narendramodi) May 16, 2014
India's 2014 #TwitterElection: 58M Tweets & @narendramodi's victory Tweet becomes the most RT'd Tweet ever from India pic.twitter.com/9xEI74h7VP — Twitter Government (@gov) May 16, 2014
Narendra Modi has been very active on the social networking websites, which certainly helped him connect more with youth and build is pro-youth image in the elections. Also read: Modi effect: 5 ways BJP government can impact the tech landscape in India
Source: TOI