Microsoft has silently launched its social network, So.cl, which had been in development for almost a year. The new Social Networking website is said to help students connect with each other.
"We expect students to continue using products such as Facebook, Twitter, LinkedIn and other existing social networks, as well as Bing, Google and other search tools. We hope to encourage students to reimagine how our everyday communication and learning tools can be improved, by researching, learning and sharing in their everyday lives," says Microsoft on So.cl's FAQ page.
Pronounced as "Social", the social network, Microsoft, says is not pitted against Facebook or Twitter. Instead, it is an addition layer to the existing social networking concept – and accepts log in via Facebook or Windows Live account.
However, So.cl is quite similar to other social media sites, as it allows users to share pages of interest, assemble montages of media, discuss on any topic. By default, all searches in So.cl are public. But users can mark their content as "private" and can delete as well. The layout looks somehow similar to Google , also inspired from Facebook, Twitter and Pinterest.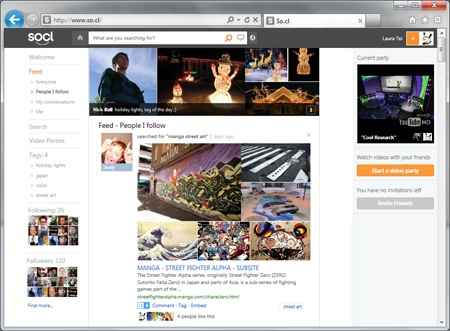 Like Facebok, users can follow other So.cl users or follow interests such as art and films. Users can share their activity on the social network with other users. Clicking on the "Everyone" feed, users get to see what all So.cl users are searching for and sharing. Users can also choose to post their So.cl activity on their Facebook wall.
One of the major highlights of the So.cl is the "video parties" feature, which enables users to create a slideshow of videos. The videos can played in one sequence, and other party members are allowed to add new videos to the playlist and discuss with each other in a chat window. The feature, inspired by YouTube's video sorting, also allows users to skip videos they did not find appealing.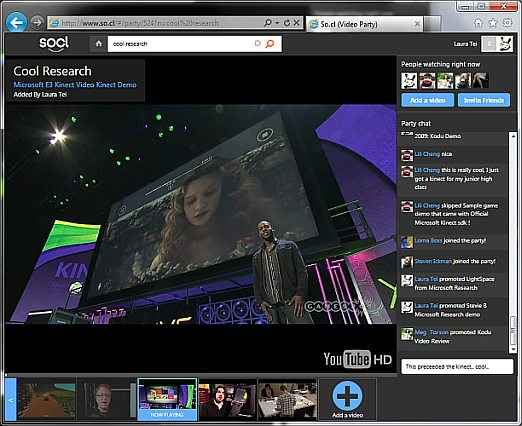 Though the So.cl search is powered by Bing, and uses the public Bing API's to display search result data, the social network is not a Bing product. To know more, visit. So.cl.
Also read,