Microsoft has been taking dig at its rival Google with its Scroogled campaign for quite some time. And now, the Redmond, Calif.-based software company has further intensified its campaign against Google with an online store, featuring merchandise mocking Google's policies on users' privacy.
The online store, called Scroogled, has anti-Google coffee mugs, shirts, and hats. The product description for the Keep Calm While We Steal Your Data mug says: "Put 15-ounces of your favorite beverage into this stoneware mug to let the world know that even though Google is trying to make money on almost every aspect of your digital life, you're still calm. And fully caffeinated."
The product info for Scroogled Logo Hat says: "Hate being Scroogled by Google? Hate the sun in your eyes? Then you're in luck. This 100% cotton, one-size-fits all hat is a perfect way to avoid both."
There's more. The Scroogled I'm Watching You T-shirt says: "Do you use Google Search? Or Gmail? Or Google Chat? Or Chrome? Then Google is watching you…all the time. Printed on an American Apparel 50/50 t-shirt, pre-washed for minimal shrinkage."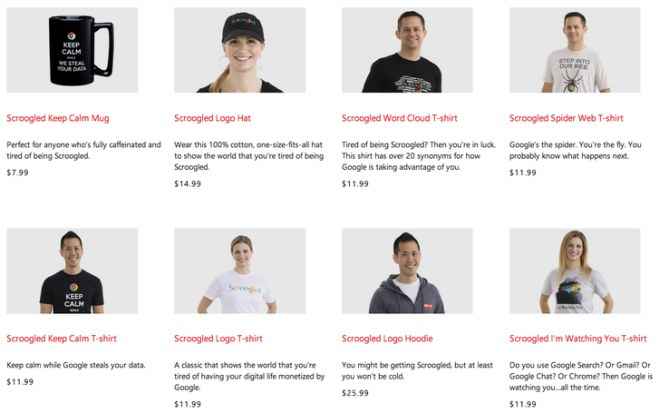 According to reports, the store is part of Microsoft's a year-long campaign against Google's policies on users data. Scroogled campaign was recently expanded to include Google's use of private Gmail data in serving ads.
According to an Ad Age report, Microsoft does not aim to make money from the online store but rather make consumers aware about Google's privacy practices. "The Scroogled gear is a fun way for them to do that," a Microsoft spokesperson is quoted as saying.
Recent Microsoft's parody of Google Chrome ads showed a bouncing ball tracking how Google accesses users' data to target them with ads. Check out the leaked Scroogled video below:
What do you think of Microsoft's Scroogled campaign against Google? Let us know in the comments section below: