Microsoft's Metro design interface has started spreading far, with the company implementing the fresh new look on most of its products and services in recent months, including Windows 8, and Xbox 360. The Redmond giant will also be bringing the Metro UI to Hotmail, and, the company's homepage - Microsoft.com.
The software giant has recently launched a preview page with its newly optimised design interface, with a feedback option for visitors. It is a distinct possibility that Microsoft will launch the new Metro UI look of the website at the same time as the release of Windows 8.
We compared the current look and the upcoming preview look of the website and got some interesting results. The preview design of the website features a streamlined look and Metro interface tiles with the large sized text, which seems to provide an easier navigation option to users.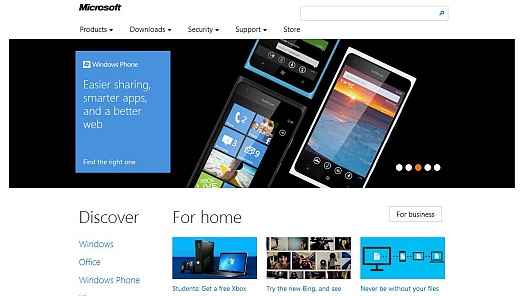 Microsoft Preview Look
The Metro UI-like tiles and large sized text should benefit users with touchscreen devices, as the selection of links will now be easier than before without zooming in. Microsoft had redesigned its website's interface back in January, but the things we don't like in the current look are the small sized text and lack of touch-friendly navigation.
The new preview homepage of the website uses a fluid design that helps the site change the width of the content dynamically. That is why the website fits exactly on any screen with any device. If you are using smaller devices to visit Microsoft's website, you may need to scroll down to get at the contents of site. But don't worry, because you will get the exact layout with same contents on all devices.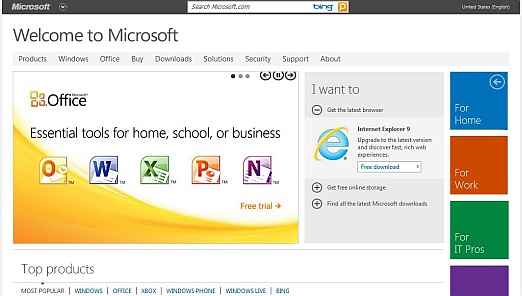 Microsoft's Current Look
Currently the new design is only in preview mode, but the visitors can provide feedback to Microsoft on the new design by visiting the preview and clicking the "Feedback" button on the right side of the page.