Texting may still be cool in the world of BBMs and WhatsApp, but imagine a tool that lets you easily communicate with your voice without spending a dime on the web. We aren't hinting at Skype, but at Croak.it – a brand new way to share your voice over the internet.
Launched last week, Croak.it's mantra is simple. It lets people interact using 30 second voice notes generated over unique URLs to share anywhere on the web. Croak.it does this through a web app, mobile app and a bookmarklet.
Croak.it is the brainchild of two IIT Kharagpur students, Srinivasa Teja and Protik Roychowdhury, conceptualized back in January 2011. After launching it within campus, the application became an instant hit, helping the two founders realize Croak.it's potential on the web. The fact that it all began from an impromptu bathroom singing competition at their campus dormitory, is either a tribute to their batchmates' lousy voices (a croak!) or a hat-tip to Croak.it's amphibian ambassador. Or both.
To experience firsthand what Croak.it is all about, simply visit https://croak.it. Not only are you greeted by a logo that happily reminds you of Froggy Jump, but a large button encased inside a wood-paneled ancestral radio immediately draws your attention, inviting you to "push" it and "croak". We recommend doing just that, provided you have a built-in microphone in your laptop or desktop PC.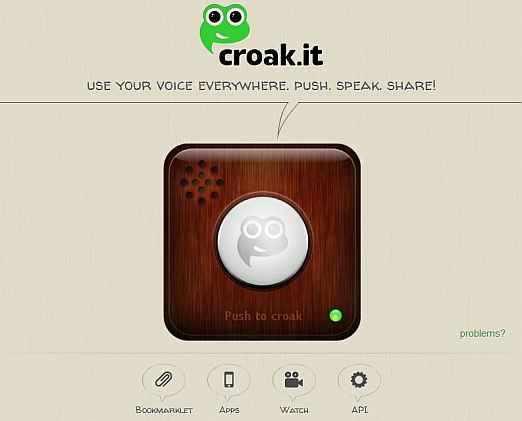 After hitting the "croak" button, a countdown timer informs you of the 30 second time limit – that's all the time you have to record a voice note. Once you finish speaking, your brand new "croak" is saved and the console reveals a unique URL to hear your croak or voice note. One-click buttons to copy and share your croak on Facebook and Twitter also appear. Croak.it also lets you adjust the pitch and tempo of your voice note – a thoughtful post-processing feature.
Croak.it's also available as a mobile app on iOS and Android platforms for now, and it is simple and easy to use as well – we tried the iPhone app and found it even simpler to use than the existing web app.
According to its founders, Croak.it is determined to make interactions over the web simple and fast. Through its API, Croak.it makes it easy for web developers and online businesses to incorporate this unique voice service onto their platform. Imagine live chat widgets on websites replaced by a "croak" button? It's nice to have that option.
The beauty of Croak.it is it just works like a charm. It doesn't promise you the moon, but it does what it aims to do pretty darnn well, just as advertised – Push, Speak, Share. We can see how Croak.it tries to bring the focus back on voice communication over the web, and it can be especially useful in an environment shackled by the constraint of written words.
Whether Croak.it will realize its founders' dream to "revolutionize" the way we communicate through the web remains to be seen. But for now, it's a useful new way of communicating with your voice, something we haven't done enough.
So yeah, go "Croak" some.

Other Popular Deals
Honor 7X (Black, 4GB RAM, 32GB...

Rs. 11999

Buy Now

Redmi 5 (Black, 3GB RAM, 32GB...

Rs. 9999

Buy Now

Honor 8 Lite 64 GB (Black)

Rs. 12253 *

Buy Now
*Includes Cashback
​