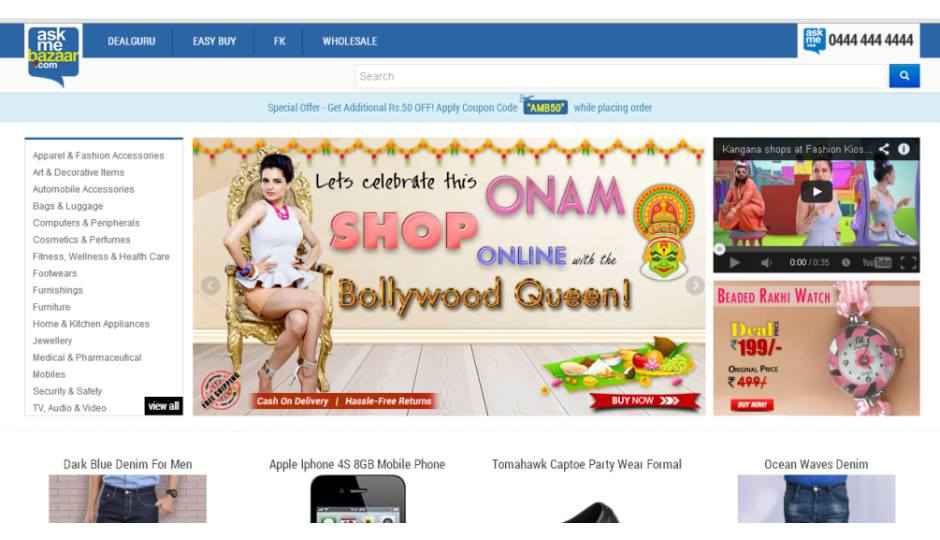 Evolution of the e-commerce segment in India is very interesting. Not only the segment has diversify over the years, but we have also seen the e-commerce players trying out different models such as marketplace and online classifieds. The new models have apparently yeilded positive results for the e-commerce players. However, most of the e-commerce players are focussing on buyers, sellers are an equally important aspect of the segment. More sellers ensure more choice for customers. E-commerce sites such as askmeBazaar are focussing on sellers, and helping small and medium business to sell their products to buyers from across India.
We had an opportunity to interact with Mr. Ashish Kumar, Head of Technology- askmeBazaar.com, ask about the focus on sellers, how does the company monetise and his opinion on the current and future state of the e-commerce segment.
Despite being in its nascent stages, e-commerce segment in India is already getting crowded. How does Askmebazaar.com stand out from the rest?
We believe that one stage of consolidation has already happened in the industry despite perceived crowd. With the great amount of monies that have flown in the industry, courtesy investor interest, there are many smart entrepreneurs who have figured out how to fit their companies into different stages of eCommerce workflow. While some companies have focused on various aspects of the backend and logistics network that is required to service the buyers and sellers, some have focused on payments, whereas some have focused on the consumer experience and last mile delivery. We therefore feel that the fundamentals are only improving for everyone in the industry.
In this entire segment, most companies have obsessed lot more on buyer acquisition and how to extract deals out of sellers which makes the buyers transact. This is where we are different. As a company, we (GetIT) have been serving sellers for the last 30 years through Yellow Pages model and we believe we understand them very well. Our sellers in the country are very smart and they know their buyers and not all of them need to offer only deals to be able to sell to their buyers - this is the strong belief that has encouraged us to create a strong technology-backed distributor model that helps a seller sell their products to buyers across the country through a channel that suits them.
They can choose to list their products on our askmeBazaar platform, or they can create their own website using the only eCommerce Developer Network in the country that we have built and use our infrastructure to create orders on their website and service through us - all in a manner that they think works the best for them. We further believe that this is the only model that is sustainable in the long run and will help both buyers and the sellers.
What is the main USP of Askmebazaar.com? What are its other highlights?
We are modelled as a Bazaar. A Bazaar's model is to give services to sellers to set up their shop and build enough catalog and range of products for the buyers to come to Bazaar and transact there. A Bazaar is a place where both the sellers and the buyers are happy to transact on their own terms and the Bazaar doesn't dictate the transaction terms. This is exactly what we are doing in the digital world. We have built technology backed infrastructure that a seller can use to promote their products to buyers, offer payment / COD and logistics service that charges them ONLY if a transaction is successful and also offer other monetization strategies for other agents to be incentivised to generate orders for a seller.
With us, people don't have to spend millions of dollars to set up the infrastructure to create and run their eCommerce business. We have enabled this infrastructure using a Developer Network (askmeBazaar Developer Network) and have signed 50+ development agencies who can work with the offline retailers and build their own end-to-end eCommerce application on top of our infrastructure very quickly.
How many sellers/buyers are on board currently? How much traction is from smaller towns? What are your future projections for growth?
We currently have around 15,000 sellers selling through us. We generate 2000 transactions a day and are on a very ambitious growth path.
We are seeing even number of transactions from the various zones of the country. We are in our early stages of the growth to be talking about various segments but our infrastructure allows us to be able to generate orders as well as service orders from the smallest towns of the country. Currently we have targeted sellers in all towns with population of more than 5 lac and we are going to be targeting even smaller ones shortly. We are already seeing buyer orders being generated from smaller towns.
How does Askmebazaar.com monetise its services?
We charge a very small flat fee per successful transaction from our sellers. We make monies when our sellers make per transaction.
Please explain your back end system? What technologies are being used?
We have built our technology to cater to very small transactions as we believe that large part of our country's transactions are very small but multiple in number. This may look like a small change but requires one to imagine the backend in a very unique way, and yet keep it very simple.
A seller still interacts with us in a way that is most convenient to them and that happens to be voice in many a cases. In spite of the great advancements in technology, a large number of sellers in our country do not want to go to computer every time a order is generated or when they have to service the orders. We have a dedicated phone number for our sellers to help them out with this process and this number is then backed with strong technology to automate the remaining tasks of fulfilment.
Customer service is one of the main concern areas in the e-commerce segment. How much focus Askmebazaar.com has on that?
We have dedicated customer care numbers and email address to help customers. If the buyer isn't happy with any product, we pick up the product from them and return it back to the seller and refund the buyer their monies. This entire transaction is captured by our review system to further classify both sellers and buyers which will help predict future transactions. A seller has great incentives to keep their buyers happy in our platform - just like a shop services a buyer in a Bazaar.
Do you monitor performance of sellers using your platform?
We track every single data point that goes through our platform, and we have our internal rating of how a seller is performing. We accordingly create our seller management packages that will help our sellers in future. We believe that if the country has to progress from a economy where only 3% of retail transactions are happening online to any higher number, we must invest in training and improving our sellers. So, while we should monitor performance, we also must use them to improve them periodically.
Do you see any near competition in your segment? How do you plan to compete with others?
We are very happy to see competition. We believe that the market is huge and we want to enable 200,000 sellers to get advantage of eCommerce. We are only at 15,000 sellers today and competition will help us reach that number sooner.
Please comment on the current state of e-commerce segment in India. What challenges do you foresee, especially for your segment.
Seller education to be able to sell online in a manner that suits them the most is what is the largest challenge facing industry today. Most other big players have the platform that have forced the sellers to become mere suppliers, which is something no seller wants. That is what we are trying to solve as we believe that is the only sustainable model.
Offering perpetual discounts to buyers to get them to buy isn't a solution and several companies have been burning investors cash to fund this. We therefore need a eCommerce infrastructure that someone can create and can be used by multiple sellers from the country without any upfront cost to be able to reach and service their buyers from across the country.
It is not a super-market model which chases gross sales volume, it is a bazaar model which chases number of transactions and interactions - and that is what we are building. We have come a long way and we are on a very ambitious trajectory and have all that it takes us to succeed there.
Other Popular Deals
Samsung Galaxy J7 Nxt 32 GB...

Rs. 10990 *

Buy Now

Nokia 7 Plus (Black, 4GB RAM,...

Rs. 25900

Buy Now

Honor 8 Lite 64 GB (Black)

Rs. 12253 *

Buy Now
*Includes Cashback
​