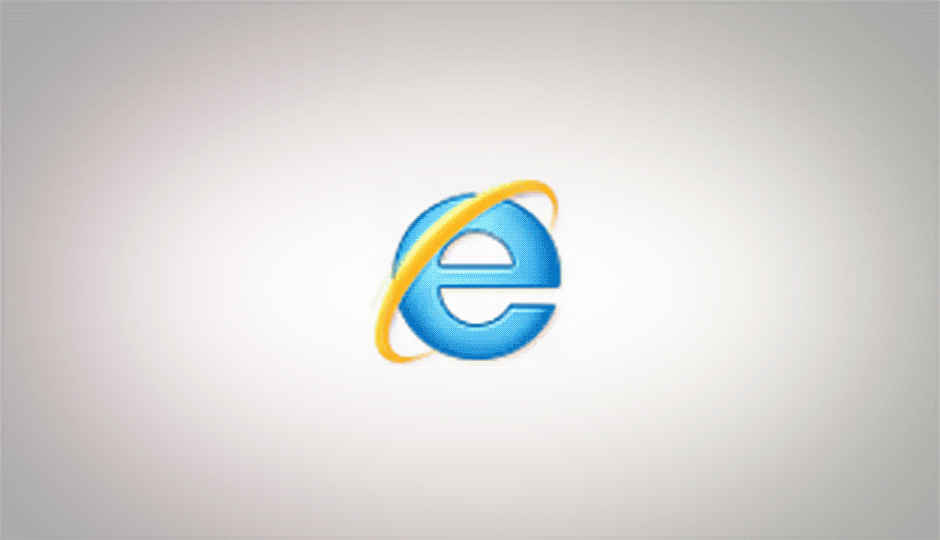 I'll admit, I wasn't very impressed by the first preview of Internet Explorer 9, however the it became clear as soon as Microsoft released a build of IE9 that they were indeed serious about the future of their web browser. Since then Microsoft has released three more builds with incrementally improving performance. Internet Explorer 8 is not a bad browser, if you are willing to suffer its poor performance, so when I learnt that that very annoying aspect of IE was soon to go away; it came as a pleasant surprise.
Now Microsoft has finally delivered the first Beta version of its latest browser, and we must say it is impressive. Is it perfect? Certainly no, not even for a beta. Does it deliver the best performance? Not always. However, it is a humongous step above Internet Explorer 8 — a step in the right direction we might add — and paints a good picture of the browser and the web to come.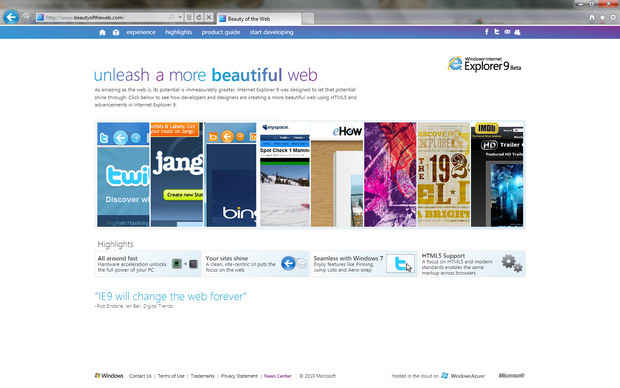 We had the pleasure of interacting with Pankaj Ukey — Director Windows Client, Consumer and Online, Microsoft India — who demonstrated the capabilities of the latest version of the browser, and answered some of a queries about Internet Explorer 9 and the path that lies ahead for their browser. What follows is our overview of Internet Explorer 9 laced with his inputs and the information he provided us.
Content in Focus
Internet Explorer 9 comes with possibly the least browser UI-chrome yet. All browsers seem to be taking a lesson from Google Chrome in this. Ever since Google came out with possibly the most minimalistic design for a browser yet, other browser developers have followed suit, not only in minimising the non-content area of the browser UI, but also in having tabs-on-top and as few menus as possible —although this originates from IE7.
Internet Explorer too goes for a tabs-on-top approach, and combines the search and URL bar —calling it the "One Box"— but takes it one step further in combining the tab bar and the "One Box" in row to save even more vertical space. The UI still wastes a little space above this, but you'd probably need that to move the browser around.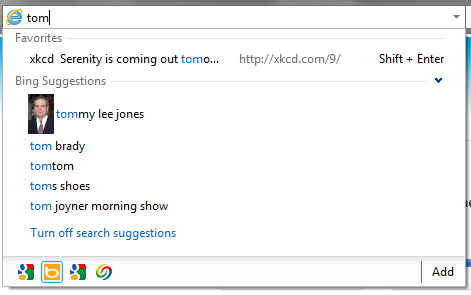 The browser has only one menu with all the popularly used features, an approach that Google Chrome has taken in version 6, Opera in version 10.5 and Firefox will be taking with Firefox 4. The old style menu is still accessible by clicking the Alt key though.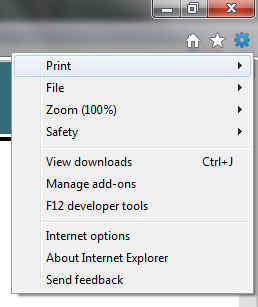 Even so there is one trend Microsoft is forgetting. The very reasons browsers moved from multiple windows to multiple tabs is because people like to open many webpages at the same time. We have reached a time when the number of tabs have grown to the point that even tabbed browsing is becoming inconvenient. At such a time while Mozilla Firefox is devising new tab managing mechanisms — Panorama — Microsoft has given you half the width of your screen for your tabs. This may be OK for people with large screens but what about netbooks with a mere 1024 pixels across the screen? With Internet Explorer 9 you will have to juggle tabs across multiple windows. Luckily they have made this easier.

What Microsoft is trying to emphasize is that web is all about the content, and the browser UI is merely a distraction, the lesser the better. By reducing the UI and making use of the latest HTML5 and related standards, Internet Explorer 9 is able to provide a more immersive and rich experience.
To ensure that even the richest web media content runs smoothly on your browser, Microsoft is making use of the GPU on your system.
GPU Acceleration
Recently in a lot of browsers have focused on improvements to core JavaScript performance with there being a constant race to become the fastest browser on Earth — a spot currently occupied by Google Chrome. However, these speed improvements do not always translate to a fast, smooth and rich internet experience.
As we get richer media content on the web, and as websites use more HTML5 features such as Canvas and video, along with CSS3 features such as animations, and shadows the burden shifts from the browser's JavaScript engine to the rendering engine. It doesn't matter how fast your browser's JavaScript engine can generate vector shapes, the browsing experience will suffer if it is not able to render them fast enough.
| | | |
| --- | --- | --- |
| | | |
| Internet Explorer 9 Fish Tank demo | Internet Explorer 9 Amazon Book Shelf demo | Internet Explorer 9 Flickr demo |
For this purpose, Internet Explorer 9 includes support for using technologies introduced in Windows 7 called DirectWrite and Direct2D. These technologies allow IE9 to tap into your GPU to speed up the browsing experience.
Due to the absence of these technologies in Windows XP, Internet Explorer 9 just won't be available for Windows XP, although it will work on even the lower-most versions of Windows Vista and Windows 7 (Starter and Home Basic versions which come without Aero). This is unfortunate, although in perspective, while Windows XP is was just the last-to-last version of Windows, it also came out nearly a decade ago!
For those who are not aware of the purpose of the GPU, it is an additional processor found on all modern computers which is used by Games, 3D content and by Windows Vista / 7 for its Aero effects. GPU stands for Graphics Processing Unit, and it usually underused unless you are playing a game. By using this otherwise dormant part of your computer, Microsoft is able to enrich your browsing experience.
So how much difference will it make?
Internet Explorer 9 is by no means the leader in JavaScript performance, and running common benchmarks will show that even now, it lags behind Google Chrome, Opera and Safari, however the problem with most such benchmarks is that they run purely JavaScript tests, or otherwise test features which are not visible. When it comes to rendering rich graphics currently, Internet Explorer 9 leads the flock. Take for example the Psychedelic Browser Test by Microsoft, Internet Explorer receives a score of 1800 RPM on our test system, while Google Chrome 7 —which otherwise beats IE9 in JavaScript benchmarks — gets only a 56RPM score!. The only competition Internet Explorer 9 gets is from Mozilla Firefox beta of 4 with GPU acceleration enabled which come close at around 1750RPM. Even so Microsoft is a clear winner when it comes to the Speed Reading Test Internet Explorer 9 gets a score of a mere 8 seconds while Firefox 4 gets 66s.
It is clear that GPU acceleration is going to become an essential part of browsers in the future as the internet begins making full use of newer standards. Which brings us to web standard support in Internet Explorer 9.
Web Standards — HTML5 in IE9
To be clear Internet Explorer does not support all of the cutting edge HTML5 features. Mr. Ukey explained that Microsoft will instead be focusing on supporting the most common and stable standards which are in use.
Technically HTML5 isn't a standard / W3C recommendation yet, and parts of the specification still change. For open source browsers this means an incremental update to get a fix, however with IE's comparatively long release cycles it is better of supporting only that which is well defined. However even in that, Internet Explorer 9 is a little fussy.
Since Internet Explorer has, slower release cycles we asked Mr. Ukey how Internet Explorer would evolve from here on. Would we see faster releases of the browser without tying them to releases of Windows? Would be see Internet Explorer 9.1, 9.2 updates? The reason we asked this was that by the time Internet Explorer 9 would come out, other browsers would probably already have caught up with it. To continue leading, Internet Explorer would have to evolve faster.
For one Mr. Ukey pointed out that Internet Explorer 9 beta was already available just a little over a year after Internet Explorer 8 came out, and came with such a huge performance improvement to boot. This in itself should show how serious Microsoft is about their browser. While it is still not clear whether we will see IE 9.1 etc., there will be more platform previews, with Platform Preview 5 already available. Microsoft will continue releasing updates to IE9 every 8 weeks, and Mr. Ukey claims that Microsoft will keep a look out for other parts of the standards that mature and become popular to implement them in future versions of IE9.
This seems reasonable enough as web standards which are not stable are unlikely to be in use either, and web standards which are not it use need not be implemented.
What use more HTML5 features than web applications? Let's see how they fare.
Web Applications in IE9
Internet Explorer 9 comes with a much better experience for Web applications that behave even more like native desktop applications now. If you are running a web application that is supported on Internet Explorer 9 you will instantly be able to gain access to a few unique new features.
With IE9 you have a new option similar to Google Chrome's "Create Application Shortcuts…" which creates a single-site-browser for any website. In IE9 you have the option to add a site to the Start Menu, in which case it will create a shortcut for the site in your Start Menu, clicking on which will open the site in its own custom IE window. There is a simpler way to create such a shortcut to the website. Simply drag and drop the tabbar of the website to the taskbar or the start menu.

Sites that support this feature of IE9 will be able to customize the colour of IE's back and forward buttons and will show the site's icon prominently on the browser UI next to the back / forward buttons. Not only this, web applications using this feature will be able to customize the Jumplist menu for the application! Check out Rediff's Songbuzz for a live example of this. Facebook too uses this and exposes four "Tasks": "News", "Messages", "Events" and "Friends".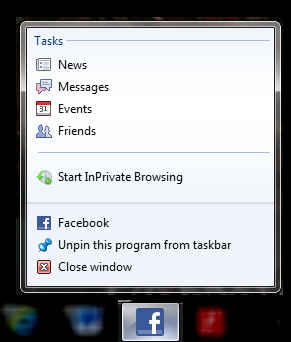 Not only this, web applications will also be able to use other features of the Windows 7 taskbar, such as taskbar notifications and media control. Applications, which have notifications to display, can display small overlay icons over the icon in the taskbar. To see a live demonstration of this check out Facebook; if you receive a message, it will show up as a small icon in the Windows 7 taskbar.

Integration with the Windows 7 taskbar is possible for media applications, which can hook into the media control features of the taskbar. For those who haven't explored this feature, some Windows 7 applications such as Windows Media Player can use the taskbar to display media playback controls and thumbnails. Microsoft has a nice demonstration website for this: https://ie.microsoft.com/testdrive/Browser/channel9/
Best of all, all these features are implemented using metadata provided by the websites. Other browser vendors can therefore choose provide similar features using the same metadata.
Let us end things now be taking a broad look at the experience with IE9 in general.
The Internet Explorer 9 Experience
We already had quite a good idea of the performance characteristics of Internet Explorer 9 thanks to the Platform Previews. What's new is the new Internet Explorer user interface and some features that come with it.
Internet Explorer 9 beta comes with much better integration with Windows 7 features especially when it comes to supported websites and web applications. It comes with a much cleaner interface, which should have offered at least a little more customizability. Hopefully with some feedback they will add this before the browser releases.
What else? Tabs! Internet Explorer 9 now has Google Chrome-like tab tear-away features. As in, you can simply start dragging a tab and detach it from its window into its own. You can merge a tab into a window too. As you drag a tab away from its window, or back into it, the web page will continue doing what it's doing. If you were playing back a video, it will continue to play as you drag a tab from one window to the next. You can drag a tab and move it to either side of the screen to maximize in that half of the screen. Just as you can with other applications in Windows 7.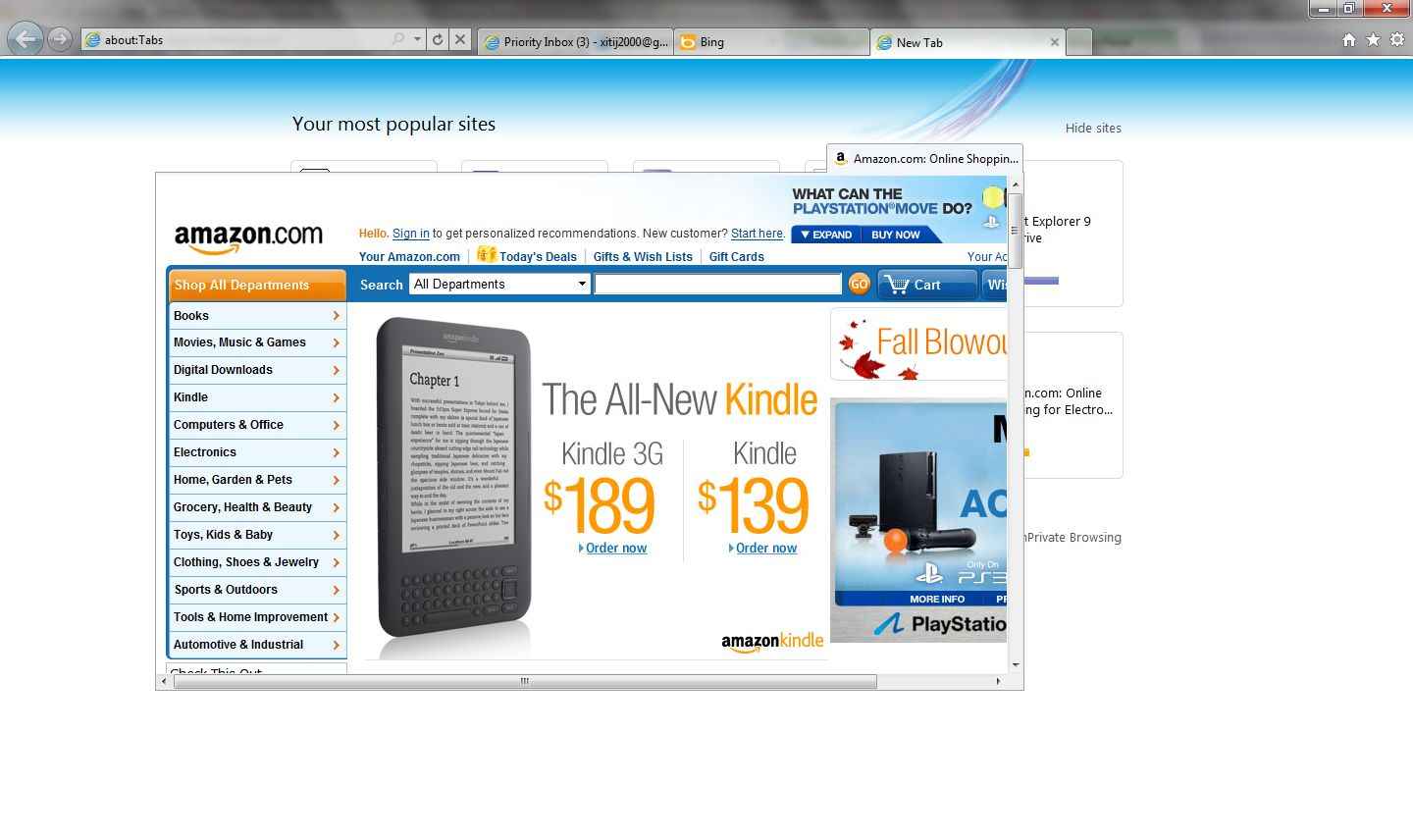 Internet Explorer also comes with a rich and useful new tab page which not only displays popular sites, but also how actively you use them. From here, you can open any of the sites, remove them from being shown, drag and pin them to the start menu or the taskbar, and reopen your previous tabs and sessions. You can also launch an "InPrivate" browsing instance from here.
The download manager in Internet Explorer 9 too has been overhauled visually and functionality-wise, but remains a single-threaded downloader; so you'll probably want to keep your current download manager. On the plus side, the download manager is capable of gauging the security of what you are downloading to ensure that you are not downloading malware.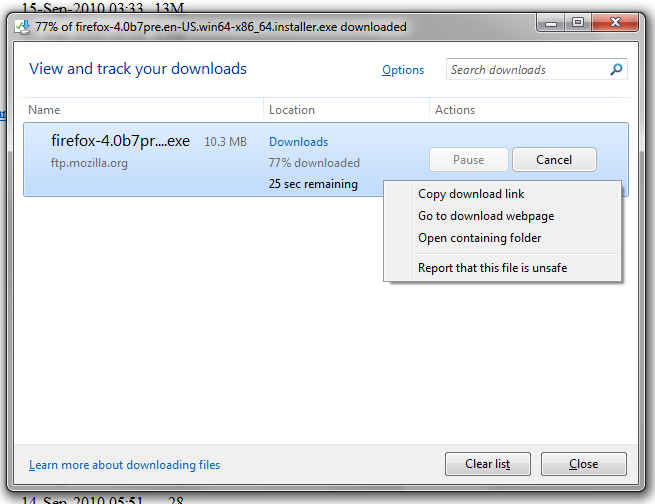 Popup notification in Internet Explorer are also now less disruptive, as they simply show a small notification at the bottom of the page which can be dealt with later as you browse a page.

One of my favourite features popped up the first time I launched IE9. It showed a benchmark of all the addons installed for IE, and showed how much time each took to start, thereby delaying the launch of IE. You can then set a threshold and disable any applications that add too much time to the start-up.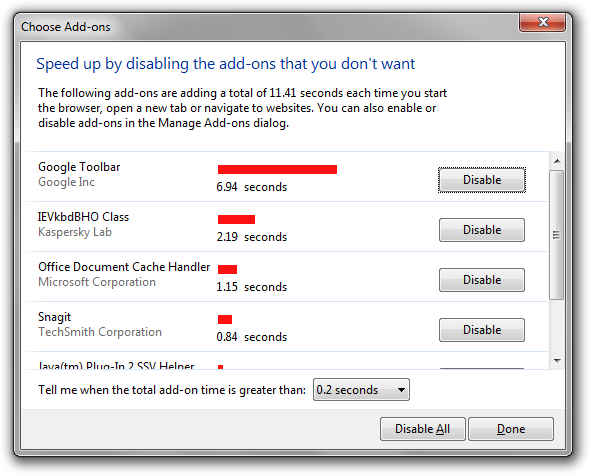 Overall, Internet Explorer 9 is a strong competitor to the current generation of browsers despite its sufficient but lacklustre JavaScript performance. It represents a significant move ahead for the browser and is sure to set the target for best graphics performance.
We look forward to seeing more of this brilliant browser, and congratulate Microsoft for finally coming back on the standard track with this browser.