While we talk about professional networking websites, there are very few websites apart from LinkedIn that have made a name for themselves. ApanaCircle.com, a popular Indian professional networking website, is one of the successful ones.
We had an opportunity to interact with Yogesh Bansal, Founder and CEO, ApnaCircle.com, who shed light on a range of issues such as why there are very few Indian Social Networking sites and challenges in the social media segment.
It has been around 7 years since the launch of ApnaCircle.com. How has the journey been so far?
Back in the year 2006 (when there was no Facebook/Twitter) bringing a 2.0 platform to India was new, innovative and challenging. And then finding the right kind of self-motivated people to work with me was another difficult part. On the other hand was the fear of a clutter in the segment, a clutter of dot coms. The most challenging aspect of the social media business is the pace of innovation and it is the most rewarding to see the numbers and scope increasing daily.
The concept of an Indian professional networking website was very unique when the service launched. Still, there are very few professional networking sites from India. What could be the possible reason?
Like I said, the most challenging aspect of the social media business is the pace of innovation. Along with it comes the technology and social media know how. Not everyone can foray into the social media industry, maintain and upgrade it.
How is ApnaCircle different from other social networking sites?
Our USP lies in our GLO-CAL strategy, as ApnaCircle is India's only largest local cum global professional network. Unlike other global networks, ApnaCircle.com is the online global network made for Indian professionals while possessing the customized and invariably consumer friendly features to help consumers leverage the global exposure through world's second largest global network, ApnaCircle - Viadeo - Tianji.
There are some state of the art features that we have for our users which they would not find on any other social networking site across. Few we could name is our Recruiter tool, Institute Pages and so on
How many active subscribers does ApnaCircle have currently? Which age-group has the most presence on the network? Please share some figures.
ApnaCircle has over 3 million subscribed users in India. The site serves a younger demography with an average age ranging from 25-30.
Smartphones are becoming highly popular among the young generation. How do you plan to tap this base?
The apps market is growing bigger every day. Android being a household name has captured a major market in India. We launched our Iphone app in 2011 and considering the pave of mobile we launched our Black Berry App in 2012 and our Android App recently. We understand the criticality of mobile and the big role it has to play. We are also in talks with a few local partners in India to pep up the mobile usage.
LinkedIn has its second largest subscriber base in India after the US. How do you plan to compete with such international networking sites?
ApnaCircle began as an Indian social professional network. The origin has always been Indian. So yes, we are the only local players who have succeeded to get where we are, all the other players if you see are international. We are aware there is a big market to capture and the nos. are only growing.
There might be first movers, however, professional networking captures or caters to a need which is never ending in the consumer market, i.e., the need for business and career opportunities. An individual requires branding and it should be his professional obligation to do so. As that not only gives him control on what others view about him but also opens up an avenue of opportunities. Talking from an Indian point of view, Indians are culturally and mentally bent onto education and career. Families go out of the way and support them in doing so. Given an appropriate return on investment they would not mind spending on themselves even on two different networks.
Where do you see ApnaCircle 5 years from now?
ApnaCircle plans to concentrate on the product and work towards making it user friendly. The product has seen recent changes like the new profile, Company Pages, new recruiter, skills etc. The group recently raised a round and a major chunk of the investment is planned to go into product development. In India as of now, ApnaCircle plans to concentrate on getting a critical mass on the site and then roll out its monetization model.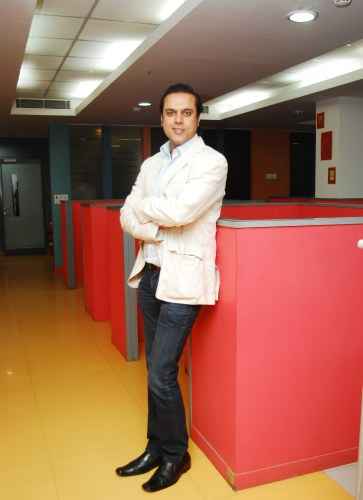 Yogesh Bansal, Founder and CEO, ApnaCircle.com