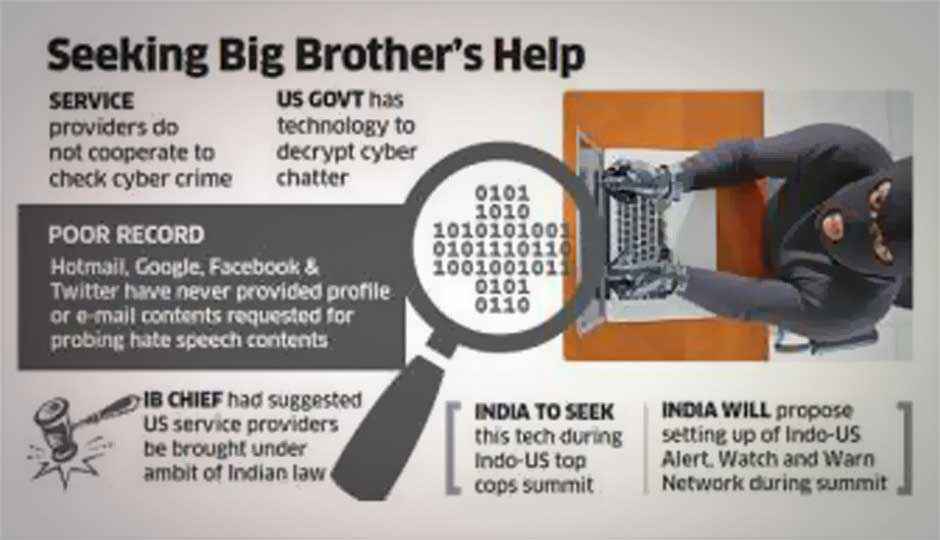 India will ask US to share its technology to decrypt conversations over chat platforms like Whatsapp, Skype, Wechat, etc. According to a report India is proposing an 'Indo-American Alert, Watch and Warn network' of law enforcement agencies of both countries to ensure rapid co-operation in cyber crimes.
According to an agenda note circulated by the Union Home Ministry ahead of the Indo-US Police Chiefs conference on December 4-5, India is planning to ask US to share there technology to decipher messages and will tell US that the above-mentioned chatting services pose a "challenge" to security agencies to intercept communications. The two-day meet will be inaugurated by Home Minister Sushil kumar Shinde and attended by US Assistant Secretary for Policy (Homeland Security) David Heyman and US Ambassador to India Nancy Powell among others.
The agenda note stated, "The availability of their web servers in India is required for legal interception of communications in real time for timely action by security and intelligence agencies. The communication over these services is encrypted and the encryption-decryption technologies available with the service providers will be required by security agencies even if the facility for lawful interception of these communications is extended to security agencies in India. The technology in use by US agencies may be an area of co-operation."
India is also planning to complain against US based services providers like Hotmail, Google, Facebook and Twitter who don't provide profile or e-mail contents requested by India for investigations and do not remove hate speeches from their Social Networking sites.
"In many instances, hate speeches on various sites have created communal violence within India. Even in such important matters, service providers have refused to remove contents from their servers blocking the same from public viewing citing the legal provisions of the country where their servers are based," the agenda note says.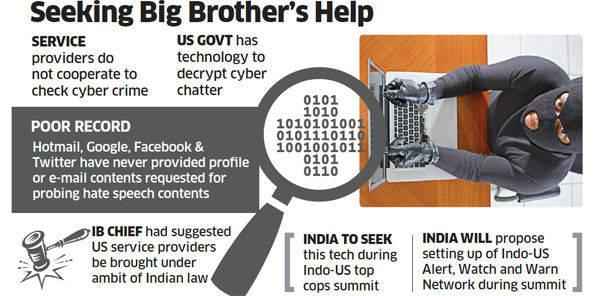 Source: ET