According to a report by cloud computing firm Akamai Technologies, the average internet speed is expected to jump by 40-50 per cent to 1.8 Mbps in the next 12 months. The hike comes on the back of increased investments in high-speed fiber network and affordable data plans.
India saw an average internet speed of 1.0 Mbps in the first quarter of 2012 which has increased to 1.3 Mbps in the first quarter of 2013. That is an increase of almost 0.3 Mbps, but India still remains behind 113 countries, according to Akamai Technologies Director of Products for Asia Pacific and Japan, Bruno Goveas.
The latest Akamai Technologies 'State of the Internet' report states that India has a peak speed average of 10.6 Mbps. India's average internet speed grew by more than 20% in the past year but lags behind other Asia Pacific countries like South Korea (15.7 Mbps) and Japan (10.9 Mbps). The broadband adoption rate in India still remains below 10%.
Goveas adds that in the recent months cable operators and service providers are adding high speed fiber direct to homes and are offering high speed data plans especially in Tier 1 cities. This comes on the back of users accessing high speed internet on their smartphones and service providers giving some affordable data plans to meet the demand.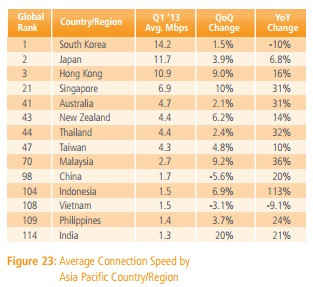 "We expect growth in speeds from users in Tier II and Tier III cities as well, and not just Tier I, given the investments from telcos, and with users accessing the Internet from mobile phones," Goveas further added.
According to CISCO's Visuals Networking Index (VNI) forecast (2012-17), the number of Internet users in India will increase to 348 million by 2017, making it the fastest growth globally. The increase in internet users will be driven by smartphones and the Indian mobile data traffic will grow at 4 times faster than Indian fixed IP traffic from 2012 to 2017 constituting to 32 per cent of total IP traffic.
Source: TOI