Despite a lot of hue and cry over web censorship last year, Google's latest transparency report reveals the government requests to share data from Internet users saw a "steady" surge in the second half of 2012. The report ranks India second among the governments who made the most requests to share users data.
According to Google's latest transparency report, India stood second with as many as 2,431 requests for data about 4,106 users. The U.S. topped the list with 8,438 requests for information about 14,868 users. France, Germany, Britain and Brazil filled out the top six.
"[The data] shows the steady increase in government requests for our users' data continued in the second half of 2012, as usage of our services continued to grow," says Google in a blog post.
"User data requests of all kinds have increased by more than 70 per cent since 2009. In total, we received 21,389 requests for information about 33,634 users from July through December 2012."
Take a look at the figures provided by Google: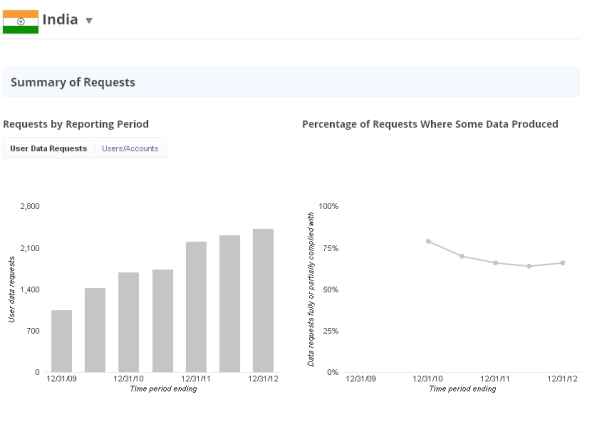 It may be recalled Google had ranked India second in its previous transparency report.
The Indian government has already come under criticism for its alleged attempts to impose web censorship. Though the government has denied it intends to censor the Internet, it has stressed for having a web monitoring mechanism. Last year, various Internet companies were dragged to the court for having objectionable content.
According to official figures, the government had ordered 690 webpages/URLs for having anti-national, objectionable and hate content last year. Out of 690 webpages, 663 were blocked during the last year.