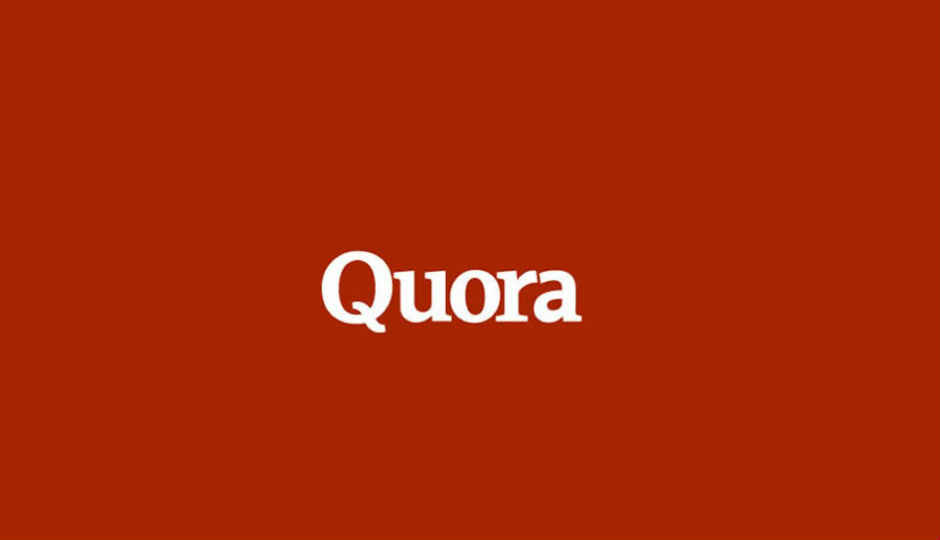 On the surface, Quora might seem like another ask a question-get an answer website, but scratch the surface, and you soon realise that Quora is much, much more than just that. Quora is a platform that encourages people to write succinct questions and high quality answers to these questions that are engaging and informative.
Since its inception, Quora has grown with features that aim to provide a better experience to the user in terms of the quality and variety of content they are able to view. Quora provides a number of ways to interact with other members and to curate a feed of personalized content, but taking advantage of some of these features is something that newcomers may have trouble with. In order for you to make the most of this wonderful platform, we've compiled a list of some of tips and tricks to using Quora effectively.
Getting Started
First things first, what is Quora? According the official definition, Quora "aims to be the easiest place to write new content and share content from the web" (from https://www.quora.com/about/) Put simply, it is a medium for creating and discovering content that you find interesting, in the form of questions, answers, or standalone posts. The site also actively encourages you to interact with other Quora users, so there is certainly a 'social' aspect to it. However, Quora is NOT a social network along the lines of Facebook / Twitter / Tumblr. Quora is not place to post status updates or photos of yourself, nor is it a place where your worth is measured by your follower:following ratio. Neither is it a younger version of Reddit (no trolling allowed!), though it does have a similar looking upvote/downvote and credit system. On Quora, your 'worth' is measured by the quality of your activity; the type and frequency of questions you ask, answers you write or upvote, and posts you curate on boards (more on this later).
Quora's features
Like we said, Quora is about more than just questions and answers. Quora provides several tools aimed at enriching your experience on the site. Some of these are:
a. Promoting Questions / Answers
– Quora encourages quality content, so if you find a really intriguing question or a particularly well written answer, you're allowed to 'promote' it to a set number of people. By doing so, the question/answer will show up in the feed of people who're following you or the topic under which that question is filed. Promoting something will cost you credits, depending on the number of people you decide to promote it to.
b. Views
– Probably Quora's most controversial feature, Views on Quora are a way to let people know who has been viewing a particular question, answer or post and what led that person to that question. They're meant to be an analytical tool to writers, to enable them to better understand their audience. The feature is completely optional, but gives you a better understanding on who's interested in what type of content. Quora respects your privacy, so this feature is not available on adult content.
c. Embedding Content
– All items posted on Quora can be shared with anyone on the internet, provided credit is given to the author. To make this process easier, Quora lets you embed content from Quora onto other websites. To use this feature, just highlight the text you want to embed, and select embed. The site generates some HTML code that you can add to your website. You can also add a Quora 'follow' button to your website – Use the HTML code on https://b.qr.ae/qfollow and select a button style. Paste this code in the relevant section of your website/blog to let people follow you from outside the main website.
d. Ask to Answer and Invite to Answer
– If you'd like to see your question answered by a specific person (an expert in the field, perhaps, or someone who's answered a lot of similar questions) you can request them to answer the questions, in return for Quora credits. You can also ask someone who's not on Quora (but who is in a position to answer your question) to answer the question by using the 'Invite to Answer' feature.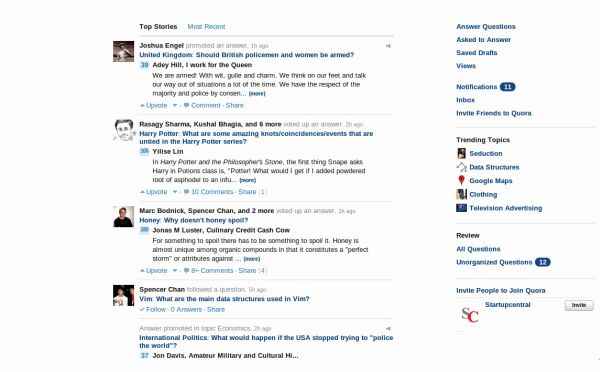 Follow a diverse set of users to curate an interesting feed
Quora Etiquette
Quora is moderated on the basis of the 'Be Nice' policy (https://www.quora.com/Be-Nice-Quora-policy) , which asks that all Quora users treat each other with "civility, respect, and consideration". Quora is not a place to start flame wars or troll others mindlessly (save that for Reddit or The Verge's comment threads) Users are supposed to respect other users' viewpoints and beliefs, even if they strongly oppose their personal ones. Though Quora doesn't have a definite policy on upvoting/downvoting answers, it's acceptable to upvote an answer that is well written, answers the question satisfactorily and enriches the Quora universe. You can also 'Thank' users for their answers and posts by clicking on the grey 'Thank' button. As for downvoting, any content that is too in-your-face, a rant, irrational or doesn't really answer the question should be downvoted.
Using boards effectively
Boards on Quora are among its most underused features, and taking advantage of boards can enhance your experience on Quora many times over. Though boards are typically used to curate interesting content, they can also be used for other purposes. You can create a 'Read it Later' (private) board where you can post long, interesting answers that you haven't had the time to read fully. You can use it as a research tool to post relevant answers or links about a particular topic. If you're collaborating with a fellow Quora user on a topic, you can start a board where both can post. You can use it as a personal blog or diary to post. Boards can also be used as a general purpose bookmarking tool if you want to have all your interesting links in one place.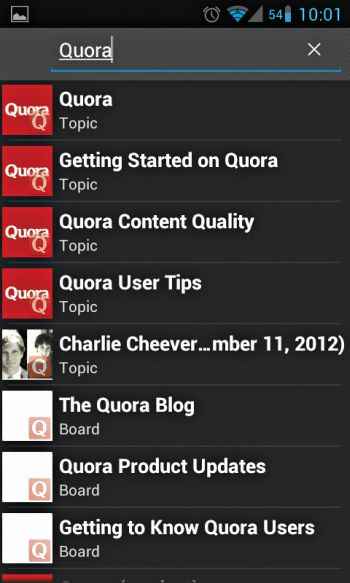 Quora as a searchable item in Android's Search app
Quora Hacks
There are a lot of little known features on Quora that can further enhance your Quora experience. Some of them are:
a. Convert virtually any page (question, topic or board) into an RSS feed by appending /rss to the page's URL. This feed can be added to a feed aggregator such as Google Reader for easy browsing. This is particularly useful if you're interested in a particular page but don't want to receive a barrage of notifications. Or if you want to follow a board or question from a mobile device that's not running iOS or Android (Yes Blackberry and Windows Phone users, we're looking at you), you can add the feed to a feed reader on your device.
b. Ask to Answer is free if the two users are mutual followers. So if you're following a person who's following you back, you won't need to part with your precious Quora credits to ask them to answer.
c. Quora formatting – Quora lets you format the text in your answers depending on the context. For example, code can be highlighted using the relevant syntax highlighting by placing the code between the [code] and [/code] tags. You can specify the language too. Eg: [code python] print "Hello" [/code]. Similarly, mathematical expressions can be specified using the LaTeX notations by enclosing them between [math] and [/math].
d. Search for content on Quora from Android's universal search – If you're using the Quora app on an Android device, you can add Quora to the list of searchable items to search for and add questions from your home screen itself.
e. If you come across an answer that you think is very well written and deserves to be viewed outside of Quora (even if it's one of your own) you can have it published on the Huffington Post or Forbes by submitting it to Kat Li (https://www.quora.com/Kat-Li) for consideration.