Google's come a long way from the research project it used to be back in 1996. From the world's first commercially successful search engine, this company's branched out to become one of the world's most trusted cyberworld corporations. From delivering your emails and showing you the way home to managing your money and social life, The Big G takes care of it all. Although this has made several people more paranoid about trusting a virtual entity, it does seem to make life a lot more convenient in more ways than one. There are several features Google offers that haven't been explored to their full potential yet, and some that most people may know absolutely nothing about. Here are a few interesting facets of Google's widespread portfolio that you should know about:
Plan your free time with Schemer:
Everyone plans, plots, and schemes. Google's Schemer is like having a social networking website solely for the sake of your own personal plans and schemes. It's the 'Facebook events' of websites. A place where one can make plans to Goa and call a mixed group of friends (and, if you're feeling socially experimental, then maybe a bunch of complete strangers that you couldn't possibly know anything about). The app could use some refining and possibly a touch of publicity but it has potential for harebrained plans and arranging cultural events and rallies, maybe even a flash mob or two (an authentic flash mob. Not the planned stuff that happens in malls and public places in India). Admittedly, the range of this app is somewhat limited for our country, but there is a scope for improvement, and one should keep an eye for any kind of update.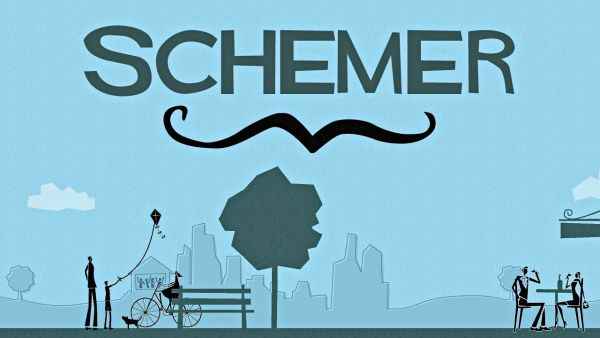 Google's Schemer
Jazz up your text with Google Fonts:
Google Fonts (which was previously called 'Google Web Fonts') is an open source database of fonts available for both private and commercial use. The font developers use this as a platform to display their talent, and you can make your website and professional showreel look a
bit more unique than it would have otherwise.
Look to the Google Sky:
A spin-off of Google Earth, Google Sky goes a few light years beyond physical experience. Putting together data and extrapolations of NASA and other space agencies, this software brings stargazing straight to your computer screen. Not quite like having the Hubble at your fingertips, but the closest we can get to that.
https://www.google.co.in/sky/
Organize your thoughts with Google Keep:
Much like the numerous diary apps on the Apple, WP8 and Google Play stores, Google Keep is an app to consolidate your daily thoughts and ideas in one place and store them on the cloud. At first glance, Google Keep does absolutely nothing different. The only reason one would suggest this feature to you is the fact that it syncs data with the very popular Google Drive. This makes it easier for people to sync their Keep notes with every device they own, making it a virtual storage space for those inspiring moments where you need to write your thoughts down for reference, and then can't remember when you need to because it's on your PC (or in the classical way, you wrote it down on the first piece of paper you found, which vanished a few minutes later. Download the app from your respective phone app store and find out more about this feature at:
https://dgit.in/googlekeepintro
Code your way to Dart:
Not to be confused with DoubleClick, which used to be called Google Dart, Dart is Google's self-developed open-source programming code. Its initial purpose was, in the words of Mark S. Miller, "ultimately to replace JavaScript as the lingua franca of web development on the open web platform." It is a class-based, single inheritance, object-oriented language with C-style syntax. It was designed to be so simple that even beginner developers could use it.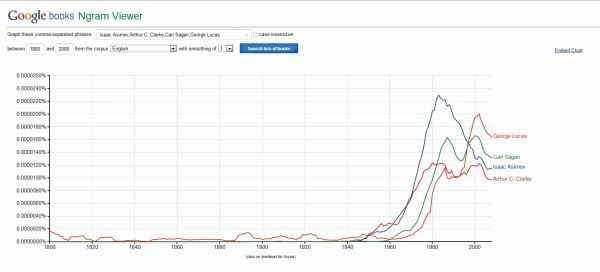 Isntances of Asimov, Clarke, Sagan, Lucas appearing over time
Expand your research with NGrams:
Google's Ngram Viewer is a handy little tool. It lets you search millions of books over half a millennium for keywords. This comes in handy when you're trying to find trends over a period of time. The Ngram Viewer also has advanced options to make this more effective. This helps expand your search if you're looking for keywords that are specific parts of speech or if you want to combine keywords.
Multilingua Franca avec Google Chat Bots:
Google Translate's chat bots are an interesting feature for Google talk. If you tend to chat with people of a certain nationality very often, it makes typing in their language much easier. Adding a chat bot is quite easy:
Add them to your GTalk
list with the domain '@bot.talk.google.com' (for example,
the English-French bot would be called 'en2fr@bot.talk.google.com')
Type in what you need translated, and the bot will reply with the translated text. Check the image for an example.

Google Chat Bots can be a lot of fun
Manage Your Website and Business:
Webmaster Tools, coupled with Google's Data Markup Helper and Places for Business has made website management a skill more easily available for people. These tools help monitor a site's health, traffic and eyeballs.
Google's Places for Business: Google's Places for Business is the LinkedIn of enterprises. It's a place where you can consolidate all the information you need to put forward with respect to running your own business enterprise. It's a great instrument in the hands of people who can really use it to its full potential. It's also good for entrepreneurs who want a place to meet people and expand their influence in the right circles. Check it out:
https://dgit.in/tntwbms
Trendy and Insightful:
Google Think Insights and Google Trends is very useful for people who want to study emerging patterns in the behaviour of the masses. Keeping an eye open on this helps people know more about their constantly changing target audience.
Google Trends (as the name suggests) tracks the trends of people online based on searches run and pages which have been more frequently viewed by people. Try it out:
https://www.google.com/trends/
Google Think Insights does the same, but with some more detail. It gives the user a list of studies conducted, trends and ideas across industries, platforms as well as audiences in one place. Everything from high-level visions to deck-ready data points is tracked and laid out. The website is effective, clean, and easy to use.
https://www.google.com/think/
Finding those who are lost:
Google People Finder is Google's initiative to help people in times of crisis when families and loved ones are separated from each other. When there is a major natural crisis, GPF creates a database of information provided by organizations and people in general in case they find someone who has been lost in the chaos. This information is available online for people looking for their loved ones, possibly from the other side of the globe. Currently GPF has been running databases on people still missing in Japan as well as the casualties of Typhoon Yolanda in the Philippines. It's an admirable effort, and seems to be quite effective in its own right. It may not always have good news, but it does offer closure to people who have lost track of their family and loved ones in crises, one way or the other
https://dgit.in/googlepeoplefinder
As mentioned before, Google's come quite far from the search engine it used to be. Over time, it has expanded to occupying a more prominent space in modern culture. It has captured the trust and (almost blind) faith of people all over. Quite the street cred.