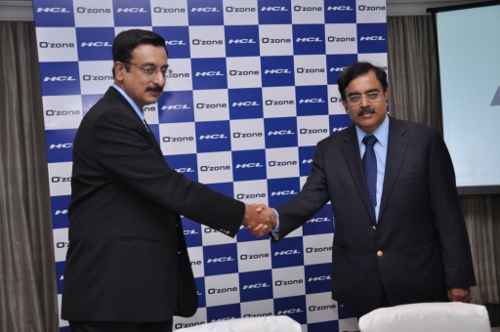 HCL Infosystems, India's premiere hardware, services and ICT Systems Integration Company, today announced the launch of HCL O'zone - an end to end cloud based computing solution service for its customers. With this launch, HCL Infosystems has revolutionized the existing cloud framework with its new Infrastructure as a Service (IaaS) and Software as a Service (SaaS) platforms, thus broadening the scope of development in areas of application delivery and infrastructure deployment & management.
HCL O'zone promises to deliver the benefits of reduced capital expenses, increased data security, increased flexibility through server consolidation, reduced power & cooling usage, green computing through minimizing hardware & software investments and disaster recovery. The solution intends to also extend 24X7 technical support to manage scalability and deliver optimum performance.
HCL O'zone is said to offer a wide-array of services with multi-tenancy enablement, performance testing, pricing structure management, service catalogue management, provisioning & administration, access control & policy control, service delivery platform integration and application management enablement.
Elaborating its commitment to the progressive changes in technology, the company has also launched cloud based solution HRMate - a bilingual web based solution to cater the needs of Human Resource and Payroll Department of any organization and partnered with Wellogic to roll out India's first Healthcare Information Exchange Platform on the cloud.
HCL Infosystems has proposed to cater its state-of-art cloud based services to enterprises, mid-sized organizations (SMBs) and SOHOs with the flexibility to have technology landscape monitored remotely on a regular basis while enabling the availability for full use of tools & resources hosted in a secure environment. The seamless working environment of the HCL O'zone framework is expected to ensure a flawless delivery model and provide real time back-up available with three cloud centers in Delhi, Mumbai and Chennai.
With the market transforming itself to embrace the cloud concept, there seems to be an immediate need for cloud-ready hardware. Being an opportunistic pioneer, HCL Infosystems has complemented its cloud offerings with a comprehensive range of cloud-ready laptops, desktops, thin laptops, servers, thin clients and cloud data center in its hardware portfolio.
With all the set pieces in place, HCL O'zone is projected to fulfill the following end user's prime computing requirements:
1)Increased savings - cloud services ensure sustenance on borrowed resources including software (Software as a Service), hardware (Infrastructure as a Service) and platform (Platform as a Service). Thereby the user only has to pay for services on need basis reducing cost of operation.
2)Increased uptime - HCL's robust infrastructure promises to offer you 24x7 service availability with 99.99% uptime service levels around the globe, wherever you are located.
3)Increased security - HCL Ozone is reportedly configured to deliver out of the box secure environment with the ability of remote monitoring and centralized database control to fulfill user's everyday online access needs.
4)Increased Flexibility – With the ability to run and share applications on cloud, the end user doesn't have to worry about scalability and performance. Whenever, there is a performance bottleneck or load escalation, the performance could be boosted by requesting the helpline or the Ozone support team to increase capacity or release more resources.