Google India today announced the winners of its Web Rangers initiative, an effort to promote a safer Internet experience for young users, held across the country. Witnessing hundreds of entries across various schools in cities across the country, students submitted their applications in the form of sketches, videos as well as apps, and were judged on the basis of their creativity, reach and impact. The top 5 winners of the competition are Mavika Boyini from Hyderabad, Vaidehi Reddy from Pune, Kanish Chugh from Ghaziabad, Raviteja Anumukonda and Neya Saravanarajan from Chennai. The winners will be awarded chromebooks and tablets.
Web Ranger #1 MavikaBoyini, NASR School, Hyderabad
Mavika's cartoons are based on the grandma's rule. She explains it like this: If you think your grandma won't like it, don't post it! You can find all her cartoons regarding her tips to keep the Internet a friendly place for everyone in the form of colorful cartoons here.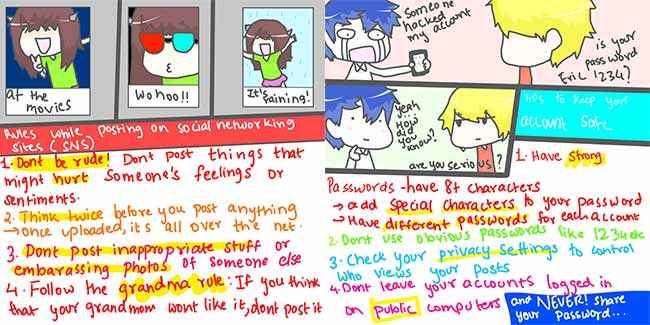 Web Ranger #2 Vaidehi Reddy, Army Public School, Pune
Vaidehi Reddy follows some simple steps to stay protected in her video.
Never reveal your home address or personal details,
Never share your password and sign out from emails.
Be very careful when you share your photos,
Never allow illegal downloads!!
Web Ranger #3 Kanish Chugh, DLF Public School, Ghaziabad
Kanish Chugh tried his hands at something different and developed an anti-phishing game that teaches you how to spot fake logos. Websites with fake or Bogus logos often try to trick you into giving them your personal details or other confidential information.
Web Ranger #4 Raviteja Anumukonda , CHIREC Public School, Hyderabad
Very often we keep updating our list of the stupidest and the most commonly used passwords, that can be easily cracked, resulting in harming your identity. Vlogger Raviteja Anumukonda focuses on the most common passwords that one should avoid using as it makes the person vulnerable. He also shares four tips on one can create strong passwords which will take years to hack!
Web Ranger #5 Neya Saravanarajan, The Hindu Senior Secondary School, Chennai
Neya Saravanarajan's Mr. Two Faces is a song which reminds us to keep a check on our privacy settings for all our online accounts. This helps us to stay safe on the Internet and not reveal any unnecessary personal details.
Applauding children's efforts, Sunita Mohanty, Director, Trust and Safety, Google India, "The internet is truly a great place for innovation, creativity, and entrepreneurship! As India approaches half a billion Internet users, Google's Web Ranger's Program aspires to empower young Indian netizens to make responsible choices online and provide them with the right tools and knowledge to make these choices. A big thank you to all the young people who shared with us their brilliant ideas and campaigns and helped us in our endeavor to make the web a safer place,
In case you were wondering, Web Rangers is a part of Google's global program that it runs across countries including New Zealand, Israel, Turkey and the Czech Republic. Web Rangers is responsible for providing training to help teens create their cyber safety campaign and enable themselves along with their peers to think about their online behavior and how to be safe, online. The participants are asked to create and run their own online safety campaigns, encouraging young people in their schools and communities to consider issues such as the effects of cyberbullying, managing one's own digital footprint and online tricks and scams.
Other Popular Deals
Samsung Galaxy J7 Nxt 32 GB...

Rs. 10990 *

Buy Now

Honor 7X (Black, 4GB RAM, 32GB...

Rs. 11999

Buy Now

Nokia 7 Plus (Black, 4GB RAM,...

Rs. 25900

Buy Now
*Includes Cashback
​