The independent market research company, eMarketer, forecasts that mobile search spending will increase by 82 percent to reach 9 billion while desktop ad search spending will decline by $1.4 billion, or 9.4 percent from last year. The research firm predicts that overall, mobile advertising spending will rise to $40 billion by 2018.
The research company says that the change is because of Google, the most important search engine. Last year approximately 75 percent of the internet giant's search revenue came from the desktop. But it is estimated to decline by almost 66 percent this year as paid clicks on Google shift toward mobile devices.
The report also highlights that Google's revenue from search ads declined for the first time last year and will continue to decline by another 7% this year. However the overall U.S. ad revenue will increase due to the rapid expansion of the mobile ad market.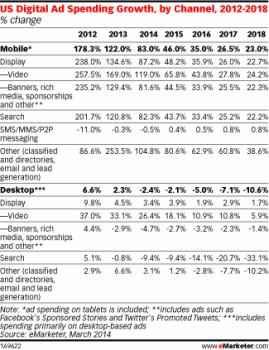 eMarketer report states: "In 2013, 76.4% of the company's search ad revenues came from desktop. However, that share will fall to 66.3% in 2014 due to a $770M decrease in desktop search ad revenues year over year. At the same time, the company's mobile search revenues will increase $1.76B, totaling approximately one-third of Google's total search revenues. Key contributors to Google's mobile search growth include its Enhanced Campaigns and Product Listing Ads, both of which contributed to increased click share on mobile throughout 2013 and will continue to do so."

The company also says that in the field of Google's overall ad revenues, mobile search is gaining significant share. "Up from 19.4% in 2013, mobile search will comprise an estimated 26.7% of the company's total ad revenues this year."
eMarketer's 'Worldwide Mobile Phone Users: H1 2014 Forecast and Comparative Estimates' report says that global mobile phone users will rise to 4.55 billion by 2014 end. Smartphone users base will grow to 1.75 billion, driven by increase in sales in developing countries including Asia-Pacific and Africa.
Source: eMarketer