Google is reportedly testing a redesign to YouTube that makes its video sharing network look a lot more like its Social Networking website, Google . According to reports, the update is available to a small number of users right now.
A screenshot of the redesign suggests YouTube now looks similar to Google layout. The black side bar has been replaced with a white one, while the layout is simplistic. The middle feed, however, is now widened and features larger video thumbnails. The bar on the right hand side for recommended videos looks very different, and now it has a video in larger size on the top, which is similar to what appears on Google News.
As you can see in the image above, the redesigned YouTube is cleaner and follows Google's standard redesign for all its products, which the company started to roll out in mid-2011. The screenshot hints the two services are likely to be integrated very soon.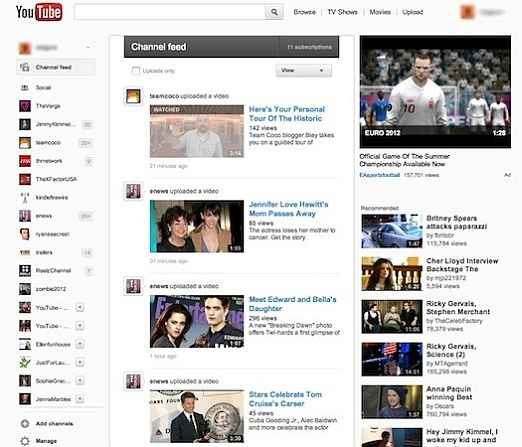 Screenshots of the redesign were published by Engadget, which claims the images were provided by a user who is participating in the test.
Notably, the YouTube redesign comes almost six months after Google overhauled the video sharing site. In the last update, Google overhauled YouTube's front page and added deeper social media integration. Last update brought customised YouTube channel line up feature, recommended channels personalised home page feeds, along with links to share on social networking sites such as Google and Facebook.
Google earlier this year claimed that its video sharing site YouTube had surpassed 4 billion video views every day and over 60 hours of video upload every minute.
Source: Engadget
Also read,
Google applies for .lol and 49 other top-level domains
YouTube turns seven; gets 72 hours of video upload per minute
YouTube updates Shows page for Indian audience