Google has restored offline functionality to some of its apps, allowing users to access Gmail when they are not connected to the Internet. The company has already kicked off rolling out the offline functionality to Gmail, Docs and Calendar. The Gmail users will now be able to begin synching some volume of emails locally and even read messages offline. The Calender and Docs apps are scheduled to get full-fledged offline functionality in the coming days. [RELATED_ARTICLE]
To start using the offline features, the users are required to install offline-access apps from the Chrome Web store. The app for Gmail is called Gmail Offline, which Google says, is powered by HTML5 and based on the application used in the tablets, which works without Internet access as well. The users will be required to download separate apps for Docs and Calender from the Chrome Web Store. The new offline functionality will be available for both home and office users.
Once installed, icons of the offline apps will be featured on the Chrome browser, prompting the users to use them for their offline work. According to Google, the Gmail application will run on its own user interface, while the Docs and Calendar offline apps will work in background.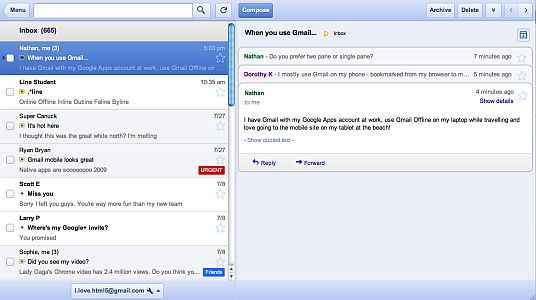 "Google Calendar and Google Docs let you seamlessly transition between on- and offline modes. When you're offline in Google Calendar, you can view events from your calendars and RSVP to appointments. With Google Docs you can view documents and spreadsheets when you don't have a connection," says Google in its blog post.
"Offline editing isn't ready yet, but we know it's important to many of you, and we're working hard to make it a reality. To get started using Google Calendar or Google Docs offline, just click the gear icon at the top right corner of the web app and select the option for offline access."
Earlier, Google had been offering these offline functionality via its Gears browser plug-in. Unfortunately, Google halted its development last year. The users were able to access Gmail and Calendar offline through Gears but not Docs.
The new move indicate at Google's growing focus on HTML5 for providing offline access for its apps. It is expected that Google's offline functionality will come to apps beyond Gmail, Docs and Calendar in near future.
Also read,