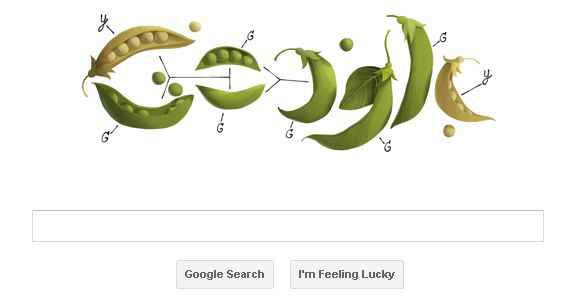 Google has paid tribute to Czech-German Augustinian friar and scientist Gregor Mendel on his 189th birth anniversary by putting up an assortment of green peas as its home page logo, better known as Google doodle. When clicked upon, the doodle directs the visitors to the search result page with "Gregor Mendel" as keyword. The doodle, quite innovative, refers to Mendel's study on the inheritance of certain traits in pea plants. [RELATED_ARTICLE]
Gregor Mendel (July 20, 1822 – January 6, 1884) is also known as the "father of modern genetics". Mendel's study on pea plants showed that the inheritance of traits follows particular laws, which were named after him. Contributions of Mendel weren't recognised until the early 20th century. Several independent rediscoveries of his laws helped establish the foundation of the modern science of genetics.
The Mendel doodle, unlike some of the recent doodles, is static. Google of late has frequently replaced its home page logo with a doodle to commemorate events and birthdays. The Les Paul doodle and Lunar Eclipse doodle were some of the animated, interactive and dynamic doodles in recent times.
The artistic take on its home page has helped Google gain immense popularity over the past few years. Google doodle team has put up doodles on events with national or international importance. The doodle themes also ranged from news events to important dates in the history.
Also read,