Search giant Google has made its redesigned Google Maps embeddable in websites and Blogs. The embedded maps will function same as the full website and will remember the users past searches and display ads accordingly.
Google states that it will be soon rolling out the ads feature, based on the users past searches and interests and show them in different color. The report added that the existing embeds will still display in the old maps style. Ken Hoetmer, Product Manager, Google Maps API revealed the news via the official Google Geo Developers blog.
Hoetmer wrote, "This new on-map design will allow relevant local businesses to connect with your users, similar to the ads you currently see in the new Google Maps and Google Maps for Mobile." As part of this release, Google has also updated the Google Maps/Earth APIs Terms of Service in order to enable it to launch new APIs with advertising.
Here's how you can embed Google Maps:
- Make sure how the map you want to embed appears in the current map display
- Click on the bottom of the left panel
- Copy the HTML under 'Paste HTML to embed in website and paste it to the source code of your blog and website
Users can also customize and preview the map according to your preferred size, preview the map and once you are happy with it you can copy the HTML in the box at the bottom of the window. However users will not be able to embed Traffic maps and some other Maps features yet.
The search giant overhauled its design and launched the redesigned Google Maps in May. Initially the app was launched in beta and could do only basic searching and browsing. Since then Google has added a lot of features and easy shortcuts that it missed in beta.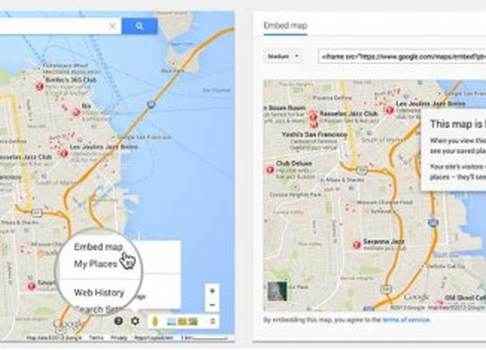 Source: DNA